10 Tips for Re-Opening the Workplace
Navigating the return to work will be a learning process for all of us, and I believe we need to view it as more of a transition than a switch to a new normal.
Posted: July 6, 2020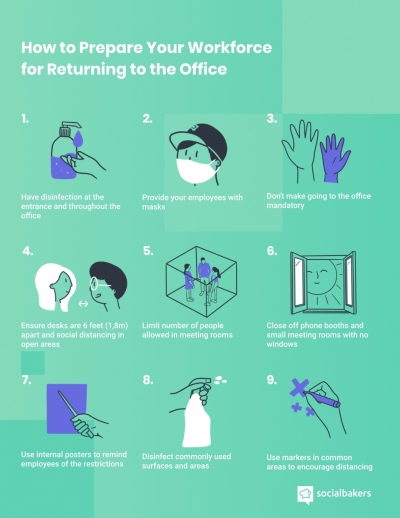 As the conversation shifts from whether and when businesses and schools might re-open, to how they might do so safely, it is clear the COVID-19 pandemic will have a transformative effect on the workplace. In some ways, the pandemic merely accelerated the pace of existing trends—the backlash against open-plan offices designed to mimic crowded newsrooms predates COVID-19, for example. In others, keeping employees healthy and minimizing the risk of contagion will require companies to invest not just in redesigned physical spaces and technology tools, but in a culture that drives engagement and connection and in supporting employees who do double duty as caregivers.
Socialbakers has always been flexible in allowing employees to work from home, and we have all the necessary tools to ensure that those working remotely can be productive. While the learning curve has been steep for other organizations, the hard-won lessons about how to facilitate or participate in videoconferences, how to maintain connections and a sense of team while apart, how to work efficiently and effectively from home, and how to motivate a remote team will help inform what happens next, after shelter-in-place orders are lifted or adapted.
Still, many employees prefer to spend at least some time in the office and companies must adapt. Here are some of the measures we are taking at Socialbakers' offices around the world, which we hope might be helpful or instructive.
1. Take note of public health recommendations and re-opening guidelines in the cities and states where your offices are located. If you have offices in more than one location, consider whether you want each office to adapt to local guidelines or whether you prefer to adopt the most stringent recommendations across all offices, even those located in an area with fewer restrictions. There are advantages to both approaches.
2. Even if you are able to re-open completely, consider giving employees the choice of working from home or coming into the office. What employees value most isn't necessarily the ability to work from home, it is the trust and flexibility of their manager and employer. Give them the agency to determine what works best for them and they will reward you with loyalty and engagement.
3. Ask that all meetings include a link so any participant can participate remotely. At Socialbakers, every single meeting invitation must have a Zoom link for remote participants.
4. Consider re-opening in waves or rotating teams in and out of the office so not everyone is in the office at the same time. This will make it easier to maintain a safe distance between staffers.
5. Reconfigure the physical space by rearranging the furniture. This includes both workspaces and meeting rooms. Set strict limits on the number of people who can meet in each conference room. Others can join in via Zoom or other videoconferencing options.
6. Discourage travel unless absolutely necessary. Sometimes it is important to get on a plane, but most of the time, business can be handled from afar. This measure has the added benefit of helping you save money on travel expenses.
7. Order hand sanitizer in bulk quantities and make it available throughout the office.
8. Provide branded masks everyone can wear with pride. Consider making extras—including in children's sizes—that employees can share with family members. This is a relatively inexpensive way to promote that you are an employer who cares. This is also a great opportunity to purchase masks from non-governmental organizations (NGOs) that support people with special needs to help them through these times.
9. Support employee caregivers. Whether or not your managers or executives have children, they need to know whether schools and daycares are open or closed and find ways to support parents who may have children who need supervision and care. Be sure to support parents (not just moms) and normalize the fact that fathers need to take on more responsibilities at home when schools are closed or when children are assigned to do distance learning, too. By finding ways to subtly (or not-so-subtly) encourage 50/50 partnerships at home, you will be helping your female employees be more productive, too.
10. Focus on culture. With technologies such as Slack, Zoom, Monday.com, and many other cloud-based collaboration tools, teams can be as productive as they are in the office, if not more so. One important point to remember is that it's not the tools that make employees productive. It is the company values, the employee engagement, and the clarity of the leadership that drive productivity.
I hesitate to use the term, "silver lining," when referring to a pandemic that has caused so much loss of human life and that may disrupt our economies for some time to come. But I am hopeful that its hard-earned lessons about connecting and collaborating from afar will have a lasting and positive impact on the world of work. Businesses are already a little less HQ-centric and hopefully that will continue. The ideas, insights, and concerns of employees outside of headquarters are carrying more weight these days. No one has the "advantage" of being able to promote their agendas in person with executives and managers. Employees who work from home or from satellite offices are no longer an afterthought. Hopefully, these gains will become permanent since companies will need to harness the very best ideas to move forward successfully, without regard to where the sources of those ideas happen to be located and work.
Navigating the return to work will be a learning process for all of us, and I believe we need to view it as more of a transition than a switch to a new normal. Leaders will need to make sure they are enabling real two-way communication with employees, encouraging them to share any questions they have or challenges they face as a result of changes to the workplace. If leaders are able to show employees the steps they are taking to keep them safe and secure, while enabling them to be productive, the COVID-19 crisis may end up being an opportunity to not only strengthen the corporate culture, but to increase employee engagement and boost productivity in the long run.
Yuval Ben-Itzhak is CEO of social media marketing platform Socialbakers. He is a frequent commentator in the media, speaking on topics such as the future of mobile, consumer dynamics, and disruptive innovation. Prior to joining Socialbakers in 2017, he served as CTO at Outbrain. Before Outbrain, he served as CTO for five years at AVG Technologies, where he was instrumental in taking the company public in 2012. He was the CTO of Finjan, and in 2000 founded the Web application security pioneer, Kavado.