Are We in Mind?
Is it time for Behavioral Biometric Measures (BBMs) use across Learning and Development domains?
Posted: September 17, 2019
As I completed my graduate studiesin Training and Development in late April 2018, I sought an edge or opportunity to differentiate myself among the myriad talented Learning, Training, And Organizational Development professionals. Motivated by the challenges of Special Education and Behavioral Challenged students within classes I was substitute teaching in while in graduate school, I became fascinated by the potential of using Behavioral Biometric Measures (BBMs) to analyze attitudes, emotions, and actions of learners across everyday Learning and Development (L&D) domains. Just as those special learners wanted to be in mind and successful in the classroom, will we as practioners be "in mind" as we seek to enhance our ROI and transfer of training across learning and development in order to justify our own expenditures, time, stakeholder responsibilities, and sustainability? 
As such, I decided to integrate an 18-question research survey across BBMs, which included the platforms and products of companies such as Imotions and CoolTool within my final capstone (Kalahan, B., (2018, April). EAC 692 Capstone Project: Behavioral Biometric Measures Across the Learning and Development Domain. Unpublished Manuscript, North Carolina State University). I share a glimpse of my research survey utilizing a Qualtrics panel and its outcomes to inspire you to take a deeper dive into your own knowledge of or use of BBMs while understanding that BBMs academic research is ever evolving even as I share this.
The 2018 Behavioral Biometric Survey
The goal of the self-administered online 18-question exploratory survey was to discern attitudes, opinions, and adoption of BBMs by education and training practitioners across various industry Learning and Development domains, given economies of scale of hardware, software and interfaces. The time-driven survey, run with a cutoff of 24 respondents (actual 24 +3), was considered valid and reliable. It utilized a Qualtrics panel and was deemed worthy of generalizing across practitioner populations. Respondents' company sizes (revenue) range was from $25 million to $10 billion. 
Broad Objectives
Determine respondents' self-knowledge of Biometrics and BBMs 
Determine respondents' and their employer's utilization of Biometrics and BBMs 
Determine respondents' and their employer's preferred application of BBMs 
Determine respondents' preferred utilization of BBMs across departments and employee levels, including platforms, interfaces, and trending wearables 
Determine barriers to utilization and adoption of BBMs across respondents and employers 
The survey project was projected to create discourse and excitement across the burgeoning education and training domains that can benefit from BBMs. Examples of these key areas surface in leadership, training simulations, games and virtual reality, instructional design, training evaluation, adult learning, change management, ethics, risk and error management, onsite work validation, and attitudes and wellness. Any item, tool, product, or instrument a Learning and Development practitioner can create or implement use of can be evaluated for the ethical best practice of design, utilization, and application by the company and the learner via the use of BBMs that include eye tracking, galvanic skin testing, ECG, EEG, and facial expression analysis. 
In Mind or Behind 
As Training/Learning and Development practitioners, we keep in mind the need to prove the value of our work to stakeholders at all levels of concern. Striving to determine if BBMs can lead to maximizing L&D actionables such as instructional design, transfer of training, continuous performance improvement, company ROI, employee and corporate wellness, ethics and corporate responsibility, employee retention, and protecting the human resource facing technology and global market adjustment work challenges, we have no desire to be behind our competition. Determining what's in mind of the multigenerational workforce with BBMs can define human data in a way not yet captured across Learning and Organizational Development, realigning hundreds of millions of dollars invested in misdirected training and learning initiatives. That is due to economies of scale in BBM platforms, hardware, software, and wearables, plus the company's capacity to deliver measurements with ethical and efficacious personnel. 
Respondents to the survey included 1 CEO, 3 Training Directors, 1 Chief Learning Officer, 6 Training and Development Managers, 4 Instructional Designers, 3 eLearning Specialists, 2 Education Professors, and 7 Training Specialists working across industries with annual company revenues ranging from less than $25 million to $10 billion. The self-reports were asked to express their expertise across Biometrics. Some 59 percent indicated that they were at a novice level, 33 percent average level, and of the 27 (7 percent) deemed themselves to be at an expert level. 
Connectivity and Intersects 
The complete 2018 Behavioral Biometric Measures Survey is available to you at BBMs Survey.  
For brevity, I have selected three survey highlights to encourage your own focus and research of the potential adoption and utilization of BBMs for your organization. (The graphics are downloadable at the end of this article.)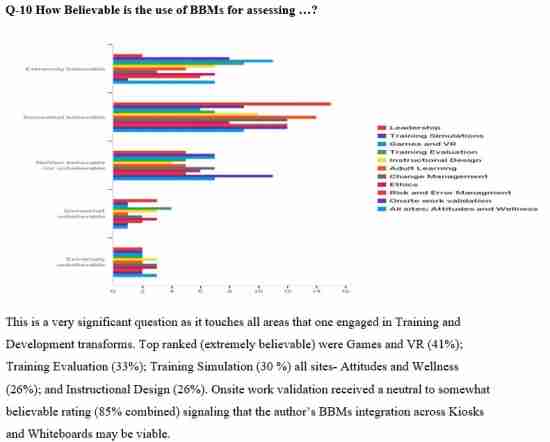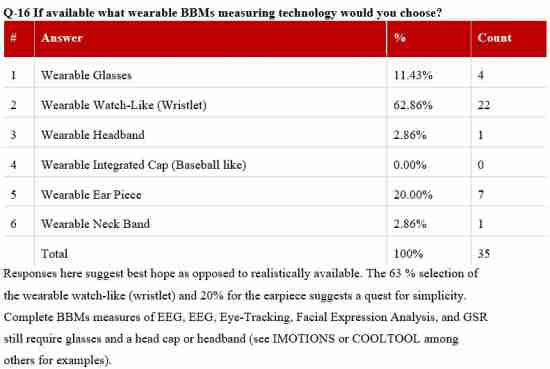 Summarily, the survey results indicate it's Time to be in Mind: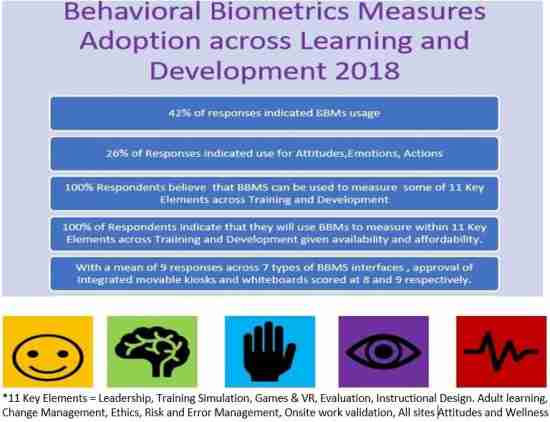 While barriers to adoption such as budget, space for platforms, ethical concerns, impracticality of wearables, employee disinterest, and more research required are possible, the survey data indicate that Training, Learning, and Organizational Development practitioners can be enthusiastic and adopt use of BBMs. BBMs can substantiate L&D work and maximize stakeholder ROI and alignment. Every day, academics at major global universities and colleges are conducting formal research across many of the areas the survey referenced. While results of this survey are generalizable, further research is needed. BBM platform, hardware and software companies offer training for currently popular uses of these measures. We should consider our own research experiments independently or in collaboration with such companies, as BBMs can purpose our tactical and strategical Training and Development regardless of the size of a company. Our evolving global technology-driven business environment drives the question: Will our training and development be sustainable if we are not asking, "Are We in Mind"? 
Brian David Kalahan, M.Ed. is a proponent for the use of Behavioral Biometric Measures (BBMs) across Training and Development. His personal brand is "Are We in Mind?" He previously earned a B.S. in Business Administration, as well as his more recent M.Ed. in Training and Development with North Carolina State University. He stresses the need for all educators to be in Mind for all learners from K-adult ages.