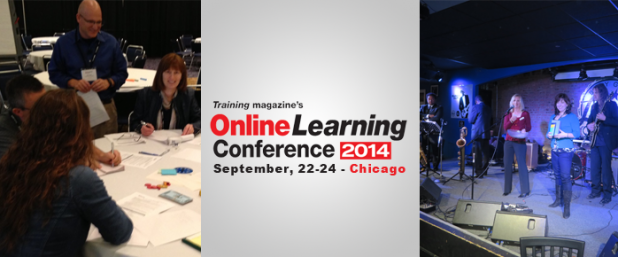 Online Learning 2014 dates and location announced!
Posted: August 30, 2012
Mark your calendar for Online Learning 2014 Conference, Chicago, McCormick Center, September 22-24, 2014.
Join our mailing list here to be notified when registration opens.
The Online Learning Conference is produced by Training magazine and Lakewood Media Group, LLC. Training magazine is written for training, learning and performance professionals and has been the preeminent voice in the training industry for nearly 50 years.
This conference gives attendees the very best in skill-building content. Tracks include:
• eLearning
• Mobile Learning
• Social Learning
• Virtual Classrooms
• Games & Simulations
• Instructional Design
• Development Techniques, Platforms & Tools
• Cognitive Science & Retention
Testimonials
The passion for innovative solutions and ideas at the conference motivates and inspires all learning professionals.
Dave Okey, Group Leader: Instructional Media Group, Diebold Inc.
The tips and techniques you can learn from the conference can put your organization on the frontier of developing friendly and fun training.
Shawnice Powell, Content Control Rep, Paychex
Of the conferences I attend and speak at, Training Magazine puts on the most practical, relevant and useful events in our industry.
Greg Owen-Boger, Vice President, Turpin Communication
This conference was a great opportunity to get an intimate approach to learning and development and what is changing in the environment.
Gina Brummels, Sr. Trainer, ConAgra Foods