The Domino Effect of Investing in Sales Manager Training (Part 1 of 3)
A recent study shows that companies that had the confidence to allocate more than 50 percent of their sales force training budget to sales managers generated significantly more revenue than companies spending less. The differential was as much as 15 percent.
Posted: October 30, 2018
We recently were involved in a multi-year study to examine how organizations invest in training their sales managers and what impact this training has on company performance. The study was done in conjunction with the Sales Management Association and included 213 companies with 25,800 sales managers (see Figure 1 below). Many important insights emerged, and I'm delighted to share these to you in a series of three articles.
In this introduction, we'll look at the sales roles surveyed and the typical training programs offered by the companies. In the second and third articles, we will look at the types of training managers actually receive, the impact on the organization, and why leaders should institute different, more impactful training to realize a greater ROI.
FIGURE 1: Survey Demographics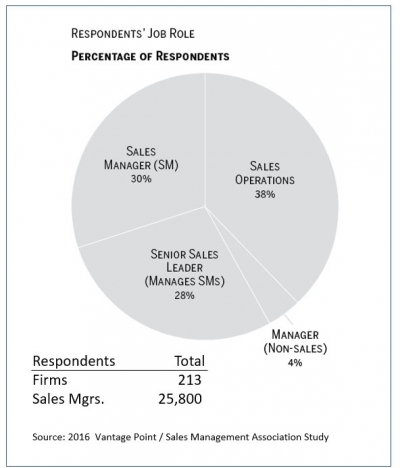 The Business Case for Sales Manager Training
There has never been a stronger case for better sales management and coaching. Sales managers are failing, and the percentage of salespeople at quota continues its steady decline. Top Sales World noted that 2017 was the first year in which the percentage of salespeople at quota dipped below 50 percent. Furthermore, roughly 16 percent fewer salespeople are at quota today compared with four years ago. Clearly, sales leaders, as well as Learning and Development professionals, must work hard to turn around the Titanic!
Our best chance for getting more salespeople to desired performance levels is to improve the effectiveness of front-line sales managers through training. As more and more organizations understand that sales managers are the key lever to improved sales performance, they commit more time and resources to train this important sales role.
Does Sales Manager Training Really Make a Difference?
The most fundamental question we considered was this: Does training sales managers really make a difference? And more specifically, is it worth taking sales managers out of the field to teach them new skills? Shouldn't we avoid that disruption and just train our salespeople instead?
More than 37 percent of organizations in our study had increased their overall sales training budget from the prior year. Of the firms investing specifically in sales management training, the greater the budget allocated to training sales managers, the better the resulting manager performance. Figure 2 shows the increase in performance based on the increase in sales manager training. Of note, companies that had the confidence to allocate more than 50 percent of their sales force training budget to sales managers generated significantly more revenue than companies spending less. The differential was as much as 15 percent.
FIGURE 2: The Impact of Greater Sales Management Training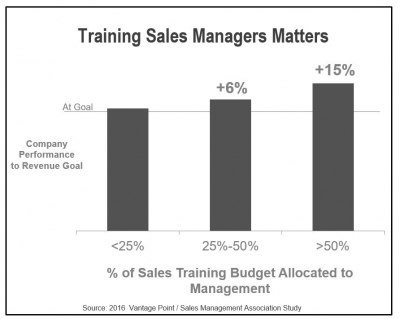 What Sales Manager Training Topics Are the Most Important?
Our study, therefore, provided concrete evidence that training sales managers works: Companies that invested in training their sales managers outperformed companies that didn't. The next logical question was: What kind of training should be provided to maximize the return on investment?
We first wanted to determine which training topics were considered by sales leaders and Learning professionals to be the most important for the sales manager audience. Figure 3 reflects the top five topics by order of importance. This list is probably not a surprise, since four out of five topics relate directly to what sales managers do on a regular basis: sales coaching, assessing rep performance, teaching on product offerings, pipeline management, and forecasting.
FIGURE 3: Perceived Importance of Sales Management Training Topics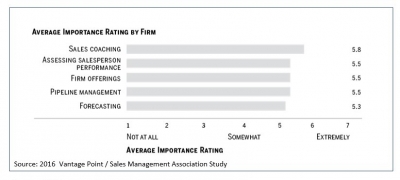 The fact that sales coaching by managers is perceived to be the most important topic is consistent with some of our earlier findings. When we evaluated three separate needs analyses conducted by our clients, coaching was always one of the top two topics deemed most important for sales manager training. Assessing salesperson performance, pipeline management, and forecasting are also critical job functions of the sales manager, warranting their high ranking.
The only surprising item was that firm offerings was the third most important topic. Firm offerings are a highly popular topic for salesperson training; however, it seemed odd it would be of such high importance to sales managers, considering that forecasting and pipeline management are vital to firm performance.
What Topics Are Actually Trained?
The next questions we explored was: What type of training do organizations provide to their sales managers, and is it aligned with what companies believe is most important? Figure 4 indicates the percentage of companies that train each of the top 14 management training topics.
Surprisingly, only one of the top five topics perceived as most important made it into the top five most trained topics. The five topics believed to be most important are, in fact, not the top five top topics trained. Clearly there is a disconnect between what sales leaders know to be important and what they authorize for training material. Herein lies one of the most important underpinnings for declining sales results: We train our sales managers on the wrong things.
FIGURE 4: Sales Management Training Delivered by Topic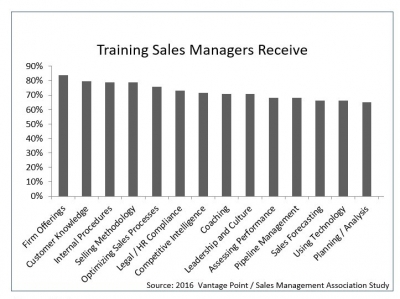 In the next article, we'll delve deeper into the training sales managers receive and why it is not necessarily appropriate for them.
Michelle Vazzana is the CEO and a founding partner at Vantage Point Performance, a leading global sales management training and development firm. She is co-author of "Cracking the Sales Management Code: The Secrets to Measuring and Managing Sales Performance." Vazzana is also author of "Crushing Quota: Proven Sales Coaching Tactics for Breakthrough Performance" due out in October 2018. Vazzana is a prolific researcher and speaker on the topic of sales management and leadership, having conducted the most extensive research to date on the topic of sales coaching practices. She has more than 34 years of successful sales and management experience.