The Domino Effect of Investing in Sales Manager Training (Part 2 of 3)
Training managers on how to assess sales performance produces roughly four times the return on investment compared with sales methodology training.
Posted: November 27, 2018
This is the second part of our examination of a large multi-year study that showed how organizations that invest in training their sales managers do significantly better than those who do not. We will look at the types of training managers actually receive and the impact on sales performance. Part 3 will examine alternative and more impactful training available to realize better ROI. (Part 1 is available here.)
The study, done in conjunction with the Sales Management Association, included 213 companies with 25,800 sales managers. We found companies allocating more than 50 percent of their sales force training budget to sales managers generated significantly more revenue than companies spending less. The differential was as much as 15 percent. We also found that sales coaching was the No. 1 area thought to be impactful, yet it was only ranked eighth in terms of actual training provided. What's going on?
Sales Methodology Training Yields the Lowest Return
The most prevalent training sales managers receive targets things salespeople do. The graphic below illustrates a breakdown by topics related to salespeople versus topics related to management and leadership. Six of the seven most prevalent topics are salesperson topics.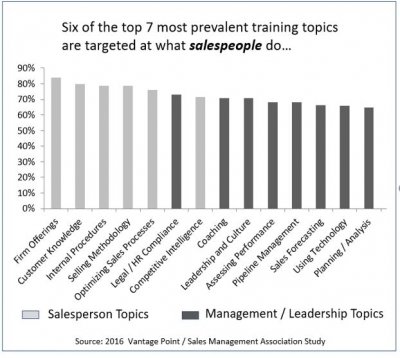 Of the top five, companies most often outsource selling methodology, while the remaining six typically are done via training developed and deployed internally. Methodology training often consumes a large portion of sales training budgets, but how much of an impact does this type of training have on performance? We found an inverse relationship between prevalence of training a certain topic and impact of that training on performance. In other words, the most frequently taught topics had the lowest impact on performance.
Believe it or not, sales methodology training yields just 3.9 percent in positive impact on performance. One of the primary reasons for such poor results is that sales methodologies typically attempt to train an entire salesforce to behave in one specific way—a one-size-fits-all approach. Research by Dr. Leff Bonny of Florida State University found that any one sales methodology, not matter how robust, was only effective approximately 25 percent of the time.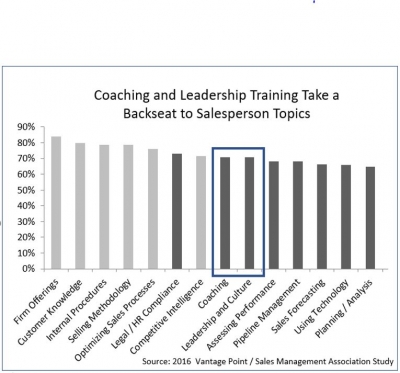 On the other hand, both coaching and leadership training have more than twice the impact on performance compared with sales methodology training at 9.2 percent and 8.6 percent, respectively. Maybe we should focus on what sales managers do?
The Sales Management Training with the Highest Yield
Our study found that the topics most needed to succeed in the sales manager role are the topics least likely to be trained. As indicated in figure above, the last five topics on the list are the ones most highly related to the sales manager role. Assessing sales performance, pipeline management, forecasting, use of technology, and planning and analysis are all integral to the sale manager role.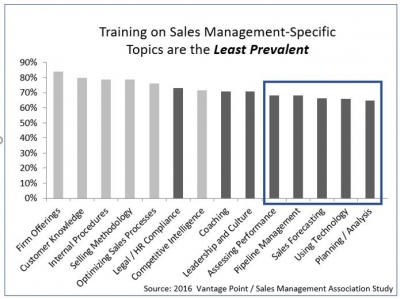 The more closely aligned the training topic to the sales manager role, the more that topic will affect return on investment. Effectively training to these last five topics generates a return significantly higher than the return for the others. See the graphic below.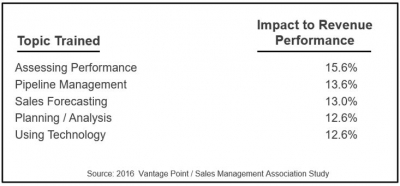 When organizations make a concerted effort to train on topics highly related to sales managers' day-to-day reality, there is significant return. Training managers on how to assess sales performance produces roughly four times the return on investment compared with sales methodology training. Pipeline management, forecasting, planning and analysis, and using technology are close behind, with return on investment roughly three times that of sales methodology.
Train managers on topics pivotal to their jobs, and the result is a higher percentage of salespeople making quota.
Michelle Vazzana is the CEO and a founding partner at Vantage Point Performance, a leading global sales management training and development firm. She is co-author of "Cracking the Sales Management Code: ­­The Secrets to Measuring and Managing Sales Performance." Vazzana is also author of "Crushing Quota: Proven Sales Coaching Tactics for Breakthrough Performance," just released. Vazzana is a prolific researcher and speaker on the topic of sales management and leadership, having conducted the most extensive research to date on the topic of sales coaching practices. She has more than 32 years of successful sales and management experience.
---