Evaluation 3.0: The Rise of a New Era in Learning Evaluation
Post-training support solutions, such as digital self-coaching tools, will become a new way of collecting solid post-learning impact analytics on both employee behavior and company performance.
Posted: September 13, 2018
Learning and Development (L&D) professionals are constantly on the lookout for the latest technology that will shake up the established order and usher in a new vision of learning. Learning evaluation will not be spared by these changes. The way we evaluate learning could dramatically change in the coming years, thanks to emerging technologies giving ever deeper and more accurate insights.
The Corporate Learning Landscape Is in a Constant Revolution
From e-learning to learning in the workplace, the way we deliver learning to employees has changed dramatically over the last few years with a complete shift in mindset. Today, it's up to learning to adapt to the employee and get delivered anytime, anywhere, on any device. One of the main challenges faced today by learning technologies is to effectively curate relevant and individualized content for every person.
So How Is Learning Evaluation Changing?
Learning evaluation has started its metamorphosis to face the challenges in store and is adapting to the way people learn today.
Let's first look at how knowledge evaluation is evolving. Traditionally, learning evaluation would be considered as a separate moment from learning. Stated differently: You learn, then you take a quiz to see what you have understood and integrated. That is the traditional way of doing it. But now, artificial intelligence- or AI-based adaptive learning solutions can analyze the way each learner interacts with the content, detect preferences and weaknesses, and adapt the content in real time. Considered to be breakthrough technologies until recently, these solutions are spreading fast and becoming more efficient by the day.
What about impact evaluation has on the company's performance? Clearly, this represents the next step and the next challenge for learning evaluation. Just as we measure knowledge while we are still learning, we should be able to measure any behavioral changes at the moment the person is trying to apply these changes after training.
Tools that Evaluate AND Boost Learning Impact
When you talk about learning impact, an essential question comes to mind: How do you improve learning efficiency and help learners bridge the gap between learning and doing? If research has proven that the simple fact of evaluating bolsters training implementation (International Journal of Training and Development), how can we further encourage this?
New digital post-training support solutions are being developed to help learners apply what they have learned. Based on coaching techniques and meant to be true companions, they help each person reflect on what he or she has learned, provide the support to build an action plan, and identify opportunities to apply learning, overcome obstacles, and accompany change management.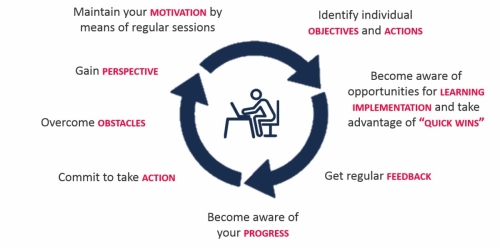 The main goal of these solutions is to help turn learning into concrete actions, thus, maximizing learning impact and increasing engagement. Another noteworthy aspect is that they take learners down a reflective path, producing an unparalleled amount of data about their learning and post-learning journey.
Why then is it so interesting to be able to work out the information provided by these solutions? For three main reasons:
They are solutions that call for a reflective mindset and encourage learners to undertake an in-depth analysis of their successes or difficulties. The information collected is, therefore, much more reliable compared to a survey people tend to answer rapidly. It also reflects a much more authentic mirror image of reality.
The information also can be much more detailed than what you can have with a simple survey. Post-learning support solutions can provide insights on the entire learning and post-learning experience. They, therefore, can collect information about all factors that positively or negatively influence learning impact: work environment, a company's learning culture, time management, a manager's involvement, a learner's motivation…With this understanding, L&D teams can better identify the levers they can act on to improve training effectiveness.
They provide a reward to respondents, encouraging them to complete the process. Because, let's face it, survey fatigue is increasingly common, and a 10 percent response-rate survey is useless.
Today, the combination of the xAPI standard and new learning analytics tools is giving increasingly accurate insights about learning activities and knowledge acquired (Kirkpatrick levels 1 and 2). Similarly, post-training support solutions, such as digital self-coaching tools, will become a new way of collecting solid post-learning impact analytics on both employee behavior and company performance (Levels 3 and 4). In the future, these analytics could even serve broader purposes, becoming essential to the company's talent management strategy.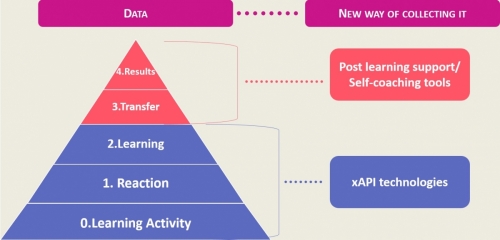 Founder and CEO of forMetris, Laurent Balagué has been helping his clients to improve their learning performance for 12 years. He works with all types of stakeholders in this industry: corporate universities, global or local L&D departments, government entities, and training providers. forMetris solutions now are used by more than 500 L&D teams across 16 languages. Prior to creating forMetris, Balagué was a consultant for McKinsey & Company, and a Lean manufacturing expert at Faurecia.