Get Modern or Get Going: Why L&D Is at a Crossroads
L&D team members need to work together to figure out what their value contribution is to drive change and enable growth within the organization, while becoming a trusted advisor to the CEO and elevating the L&D function.
Posted: January 9, 2018
If you were to ask CEOs what they expect from their Learning and Development (L&D) function, most would say they need their people to align to the changing needs of customers—no matter what their role or function across the organization. In the current world of work, where CEOs are shifting their business strategies to become more customer-centric, it's more important than ever to tap into the unique learning needs of employees to realize business outcomes.
Yet CEOs often view L&D and HR departments as ineffectual and non-strategic. Lacking ways to evaluate ROI and sustained behavior change, they are unable to show evidence of their value. Thus, begins a vicious cycle that leads to a crossroads: Adapt or be outsourced.
While this may seem like a bit of a gloomy situation for L&D and HR, in fact, it is these very situations—the inflection of business change and adaptation—that actually are huge opportunities. By acknowledging where things stand today, L&D and HR are offered a new purpose: to deliver learning experiences that equip employees with the right knowledge and skills, and connecting those experiences to measurable behaviors that create value for the business.
To further explore this opportunity, we conducted research in conjunction with Human Capital Institute (HCI). While we inquired about perceptions and attitudes about L&D's value, we also strove to understand what a modern L&D approach would look like, one that eventually could evolve L&D into a business-within-a-business, with performance measures that are traceable to C-suite priorities, and benefits that show key stakeholders the impact L&D can have on the organization's bottom line. (See the end of this article for research highlights.)
Through interviews with L&D leaders from more than 200 organizations, and a research survey fielded to practitioners, we examined perspectives from both L&D providers and their internal customers on the individual and organizational capabilities of the L&D function, and what their general feeling was on the impact of said functions.
It's no secret many companies have recalibrated how they do business as a result of advances in technology, empowered customers, and the move to a digital workplace. These are major shifts that are compelling business leaders across every function to rethink their approach in driving and contributing to business outcomes. For L&D, in particular, there is also a lack of clarity as to how to approach the challenge: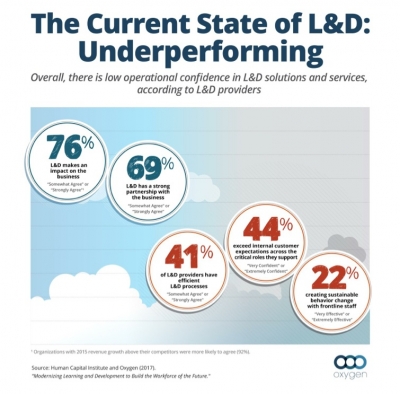 Because of the low confidence as rated by the L&D providers themselves, more than half (62 percent) surveyed have changed L&D structure and operations in the last two years. Just as critically, following a familiar theme, we confirmed that many L&D leaders are unable to connect these changes to a quantifiable business impact.
It is clear L&D leaders must rethink their approaches to understanding learners and the best approach toward delivering that measurable impact. In our new, complex, and ever-changing world of work, attention spans are short, content is on demand, competition for talent is tough, and, in some cases, the talent simply doesn't exist. How then, can L&D best enable change and growth in people to be a true business-driving function? Our research hints at where you can start:
Align the L&D function and people to create more business impact; drive measurable business impact through a new operating model that evolves the services function that will enable Customer Operations L&D to transform the learning experience.
Deploy more efficient L&D processes by improving repeatability and consistency of essential L&D processes to ensure adoption of learning content.
Deliver better and faster enablement content, by reengineering the way you approach learning by creating, updating, and delivering learning content to be delivered faster, be more consistent, adopted, celebrated, and rewarded.
Improve business partnership, by more closely collaborating and integrating with stakeholders (IT, business integration, product, and training managers).
When we explored the approaches taken between different types of organizations, we noted that high-performing organizations (HPOs) have higher revenue growth irrespective of the size of the organization compared to low-performing organizations (LPOs). Thirty-seven percent of HPOs report above average revenue growth for 2016 compared to 20 percent of LPOs. What were some of the practices used by the HPOs?
The research showed that more savvy L&D organizations focused on their impact to business results by aligning the learning needs of employees to the business strategy, while lower-performing organizations tended to be unable to demonstrate impact because they do not properly evaluate and communicate ROI and effects on sustained behavior change:
Leverage of new skills and technology. High-performing organizations are focused on upskilling L&D team members and investing in technologies, while low-performing organizations are increasing their staff and budget.
Use of blended modalities. Both groups are increasing the number of peer-to-peer learning opportunities and the number of self-paced online courses, and creating trainings in-house rather than using a third-party vendor. HPOs are more likely to reduce the number of formal classroom trainings compared to LPOs. HPOs consistently invest in technology and training for L&D practitioners. They also provide more breadth and depth of L&D offerings to the audiences they support.
There's no doubt, L&D and HR are at a crossroads in defining and demonstrating their value and impact to the businesses they support. But the opportunity is incredibly promising: What other function has the position and mandate to step up and be the enabler of success—for employees and the company itself—across the different roles in an organization?
The bottom line: L&D team members need to work together to figure out what their value contribution is to drive change and enable growth within the organization, while becoming a trusted advisor to the CEO and elevating the L&D function.
RESEARCH HIGHLIGHTS
69 percent of providers think L&D has a strong partnership with the business, yet less than half (41 percent) think they have efficient L&D processes.
High-performing organizations are upskilling L&D team members and investing in technologies, while low-performing organizations are increasing their staff and budget.
The most common metrics assessed by L&D teams relate to affective/attitudinal and employee engagement, but frequently, these are not tied to business outcomes.
75 percent say realistic training environments are very important, but only half say they are currently available at their organizations.
High-performing organizations are increasing self-learning options, while low-performing organizations are increasing classroom training
In high-performance organizations, most often, L&D is a specialist team reporting to the HR function.
Low-performing organizations are more likely to have their L&D team reporting to business unit leaders.
Juliana Stancampiano is CEO of Oxygen, which architects and delivers engaging learning experiences that help organizations delight their customers. Oxygen works with leaders across Learning, Sales, and Customer Experience functions to define future roles that are more productive, and future organizations that are more profitable.