Hermann Ebbinghaus, Diversity and Inclusion Training, and the Curse of the "Forgetting Curve"
We often end up, somewhat begrudgingly, with "one and done" diversity and inclusion training where, at a certain point after completing the training, employees go back to their old ways in the workplace and the objective of the training is lost.
Posted: March 3, 2020
Hermann Ebbinghaus (1850-1909) was a German psychologist who pioneered the study of learning and memory by carrying out a series of memorization experiments on himself. After acquiring his Ph.D. from the University of Bonn, a young Ebbinghaus traveled across France and then England teaching school children when, in an old bookstore in London, he came across Gustav Fechner's book, "Elements of Psychophysics." Fechner's approach to experimental psychology motivated Ebbinghaus to conduct experiments where he systematically analyzed his memory—a fascination that would lead to his seminal work, "Über das Gedächtnis" (1885) or "Memory: A Contribution to Experimental Psychology." While he is probably best known for coining the term, "the learning curve," it's his lesser known "forgetting curve" that has the power to transform the way we think about how to equip our teams around diversity and inclusion. 
What Is the Forgetting Curve?
The forgetting curve focuses on one of the seven kinds of memory failures: transience, the process of forgetting that occurs with the passage of time.
To determine how long people are capable of retaining totally new information, Ebbinghaus tested the mettle of his own memory. Using words without any prior meaning (that later would be called "nonsense syllables") such DAX, BOK, YAT, he studied, memorized and then tested his retention over a period of time. He did this for years, using various combinations of the words, ultimately determining that the words he didn't revisit for a month he had all but forgotten (he found a consistent 21 percent retention rate at 31 days). 
In other words, within 20 minutes, our ability to retain brand new information begins to leave us, and after 31 days we really start to forget.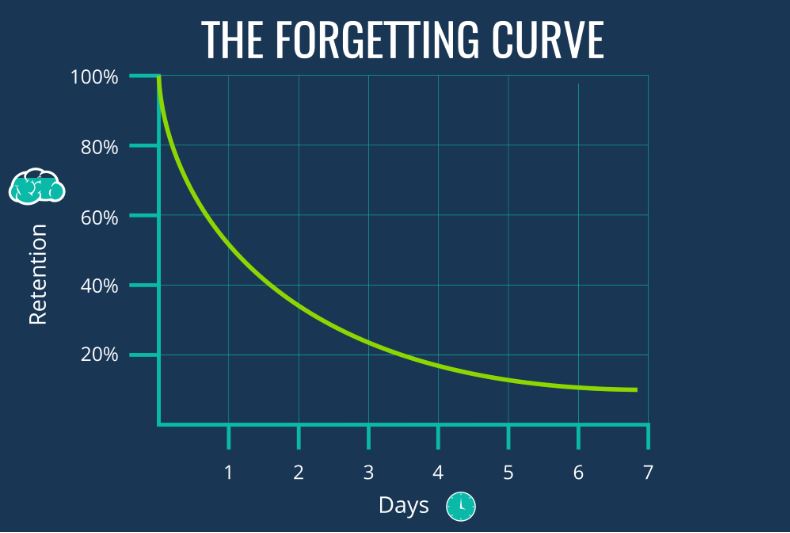 Source: Growth Engineering
The Diversity and Inclusion Learning Curve 
Let's leave Ebbinghaus with his nonsense syllables for a bit, fast forward to 2019 and say hello to Josh Bersin. Bersin originally trained as an engineer and today is the founder of Bersin by Deloitte, which provides research-based Human Resources (HR) solutions and considers corporate diversity and inclusion (D&I) a key to an organization's success. Research shows that diverse teams outperform teams that are more homogenous, that companies with women board members are more successful, and that organizations with inclusive cultures make better decisions. According to Bersin, who spent 25 years in product development management and marketing, "in today's global business environment—filled with challenges in demographics, skills and culture—companies that build a truly inclusive culture are those that outperform their peers."
Now imagine you are leading diversity and inclusion initiatives at a large employer. Your organization is forward thinking, and considers D&I both a business and Human Resources strategy. There's a major responsibility on your shoulders to ensure that everyone from leadership to front-line staff have a thorough understand of D&I, and that inclusive practices inform your strategic objectives. That probably means that, at a minimum, your learning needs look something like this: 
Recruitment and Onboarding
Unconscious bias in resume screening and in interviews
Role of culture in recruitment and selection
Competency-based interviewing 
Inclusive employee onboarding
Communication
Culture and workplace interactions
Understanding cultural competence
Bridging differences in diverse teams
Intercultural development inventory
Leadership
Cultural influences on leadership
Performance management
Workplace conflict management
Chairing inclusive meetings
That's quite the learning curve. Whether you need to design and deliver training for all staff or the D&I-focused Employee Resource Groups (ERGs) on these topics, there is pressure to get everyone up to speed quickly and put these practices to work. 
The standard training solution for this is generally in-person workshops in a group format—and rightly so, as the objective of such trainings usually includes everything from increasing awareness to enhancing communication skills and fostering respect for individuals. The tricky part here is, unlike functional trainings where the core focus often is to enhance knowledge, D&I training aims to change behavior. Asking employees to change the way they do business, and even the way they look at themselves and the world, doubles the training challenge. 
At the same time, it is not practical from a budget point of view to have internal or external D&I trainers go about doing ongoing reinforcement training for the entire organization. And even if they did, managers don't want to have their teams out of work and regularly stuck in classroom sessions. So we often end up, somewhat begrudgingly, with "one and done" D&I training where, at a certain point after completing the training, employees go back to their old ways in the workplace and the objective of the training is lost. So what happened?
Fighting the Forgetting Curve in Diversity and Inclusion Training 
What happened is what Ebbinghaus demonstrated in 1905, that the human mind is designed to forget information that is not reinforced in quick succession. After 114 years, it's still true—According to the forgetting curve, less than a week post-in-person training, if the content is not reinforced, 75 percent of what was learned will be lost.
So how can we reinforce in-person training quickly and effectively?
One potential solution is online D&I training, through a mobile and Web-based technology platform. Diversity and inclusion training ultimately is aiming for a key outcome, and changed behavior, which means immediate feedback in the form of positive reviews or "smile sheets," cannot effectively measure a training intervention's impact. For D&I training to be truly effective, it has to be followed through with reinforcement. That is why e-learning is powerful and ideal with its ability for microlearning and video-led formats. 
At present, there aren't many diversity and inclusion online learning technologies, but Crescendo D&I and the TRIEC Learning hub have online options that have both been adopted by Human Resources and D&I professionals. What's needed next is a higher uptake of these existing tools, as well as engagement with them to ensure they are offering timely, relevant, and applicable content and resources. 
It's time we heed Ebbinghaus' forgetting warning and enable our employees with D&I-specific learning technology, so new knowledge can be remembered and have the impact on our workplaces that we all seek.
Raj Dam is the Employer Relations manager at the Toronto Region Immigrant Employment Council (TRIEC). He has a background in sales and marketing in the technology sector in India, and is passionate about the ways e-learning can reduce barriers to knowledge.