How L&D Leaders Can Save Their Companies from Extinction
Organizations need to retrain current employees and cultivate talent from within, and it's time for L&D leaders to take the stage. Here's a three-step framework to help you get started.
Posted: November 10, 2017
Studies predict that 40 percent of companies on the S&P 500 won't exist in 10 years—they're just not keeping up with changes in technology and consumer demands. If you're in a position to shape your company's learning and development strategy, you're also in a position to keep it off the extinction path. But you'll need to challenge traditional models of corporate L&D to succeed.
The traditional role of an L&D leader is to train employees in the skills they need to do their current jobs or lead people. New skills have filtered into companies at a relaxed pace, mostly through hiring, and recruiting staff have had the luxury of courting expert candidates from around the globe. But now, new skills aren't optional—they're a constant, painful need. And nationalistic politics are threatening to make recruiting from abroad more challenging.
Organizations need to retrain current employees and cultivate talent from within, and it's time for L&D leaders to take the stage. Here's a three-step framework to help you get started.
Step 1: Do your research on future trends
Yesterday's L&D leaders based learning plans on bottom-up input from employee surveys or assessments. Tomorrow's leaders will need to dig deeper.
Engaging an outside workforce consultant isn't a bad place to start, but to really hone in, you need to talk to the employees in your organization who are most passionate about keeping up with trends. Look for programmers who dabble in side projects using niche frameworks, and managers who restructure their teams based on the latest operations strategy research—these "learning futurists" are your most important allies.
Meet with your learning futurists face-to-face, and ask them about the skills they think your company needs. If you've picked the right people, you'll come out of those meetings with lists of programming languages, management frameworks, marketing tools, and much more. Use those lists to inform your next step—building a roadmap and sourcing resources for your company's learning program.
Step 2: Map roles, skills, and content
To build out a learning program, you need to know three things:
Roles: What are the most popular and growing job roles in your company? Where are the functional gaps?
Skills: What skills do employees need to fill those in-demand roles?
Content: What resources will you use to train your employees on the skills they need?
You'll have some insight into the second point, and possibly the first, from your workforce consultant and your learning futurists. Work with your company's executives and HR team to fill in any blanks. Then, sit down with cross-functional stakeholders to map skills to roles—this is how you create targeted learning plans for every in-demand role in the organization. Each learning plan should include specific, highly relevant skills (e.g., specific languages and frameworks for developers), as well as broad competencies, foundational theories, and soft skills such as communication and leadership.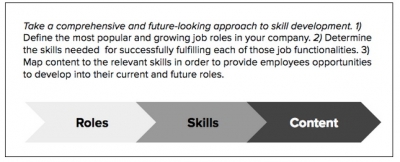 Now your plan just needs content. Don't skimp on research or rigor at this step. Read up on curricula and faculty bios, talk to providers, and discuss options with key stakeholders, including your workforce consultant and learning futurists. Look for focused resources that will help employees build skills while providing enough depth and foundations to enable meaningful learning. Get the content right, and you'll have an effective program with high engagement; get it wrong, and none of the work you've done up to now will translate into results.
Step 3: Define and celebrate progress
It's not enough to mandate that every employee in your company spend X hours learning. For your program to be successful, you need to develop concrete learning goals tied to regular check-ins.
Here's an example: I recently spoke with one of the largest banks in the U.S. about its developer training program. All of its front-end developers are required to complete a series of training courses upon joining the company, and developer performance is measured with a scorecard to ensure that completion of the training translates to strong performance on the job. These are the kinds of concrete, short-term requirements and assessments you need to implement to make sure your program is on track.
Goals and check-ins are also a chance to celebrate progress. Recognizing employees who are completing courses, applying new skills in their jobs, or teaching their colleagues is how you sustain motivation and make learning a part of your company culture. Give bonuses, track progress on a leaderboard, or just send congratulatory e-mails—those little moments of celebration will add up.
Above all, don't be timid. To make an impact on your company, you're going to have to depart from L&D traditions—maybe in some dramatic ways. But that's what it takes to keep up with dramatic change in a new economy. As an L&D leader, you can ensure your company's long-term survival and help your employees thrive in jobs that may not even exist yet.
Leah Belsky is the vice president of Global Enterprise Development at Coursera, an online education company with a mission to transform lives through access to high-quality education. At Coursera, Belsky leads the company's work with employers to close global skills gaps. Prior to joining Coursera, Leah was a senior executive at Kaltura, an Intel Capital-funded video technology company, worked at the World Bank and National Institutes of Health, served on President Obama's Technology Policy Committee, and remains a member of the Council on Foreign Relations. She is a graduate of Yale Law School and received her undergraduate degree from Brown University.