How to Select a Web Conferencing Solution that Beats Your Employees' Ad-Hoc Choices
If your company's provided solution for Web conferencing was non-existent, fragmented, or rarely used before the pandemic, now's the time to take control and implement a Web conferencing solution that works for everyone.
Posted: June 17, 2020
It's a typical day of meetings and client engagements at your company. One team is holding its morning scrum over Microsoft Teams. Another is discussing a project using Zoom. Meanwhile, a client call comes in requiring a connection over Skype for Business. Of course, your CEO insists that everyone use a new solution made by a startup that no one has ever heard of before because it supports virtual reality.
After weeks of forced remote working during the COVID-19 pandemic, does this situation sound familiar? If so, it's time to select a Web conferencing solution that will get everyone on board and shine light onto this creeping shadow IT situation.
With remote work suddenly becoming the norm, many companies were shocked into a new mode of collaboration. Without the option to chat face-to-face, workers are turning to Web conferencing solutions in droves. For example, Zoom had only 10 million users at the end of 2019, but by the start of May 2020, it reported having 300 million users. How many of those users are workers seeking an ad-hoc solution to collaborate with their colleagues? We don't know for certain, but if you were to place a wager, it's likely a high number.
If your company's provided solution for Web conferencing was non-existent before the pandemic or was in place but sat mostly unused and outside of employee awareness, then it's also a good bet you have a shadow IT problem on your hands and face a fragmented-solution problem. It's time to take control and implement a Web conferencing solution that works for everyone by factoring in these key considerations:
Cost: When free for now isn't free forever
When many jurisdictions first began lockdown measures that prevented workers from going to the office, Web conferencing vendors began offering up access free of charge. Google Meet is the latest example offering its solution for free as a method for attracting users.
The standard to receive a Web conferencing service for free is driven by consumer expectations, because a video chat is often just an app download away for individual users. It's also a great way to inspire a "grassroots" (re: shadow IT) movement in your company to get the software officially adopted. After all, if most of your employees are already using something, why not just adopt it?
That may be the right answer, but it might not be, as well. Consider the full cost of adopting software that is offering free access during the pandemic. If you become tied in to the software and it requires payments in the future, how much might it cost per user? Also, if the service is free as a norm, then the old adage, "If you're not paying for the product, you are the product," applies. Consider the price you may be paying by providing access to user data.
Many companies may have access to certain Web conferencing solutions bundled into other services. For example, Office 365 users can access Microsoft Teams for free. So make sure to take stock of what your current vendors are offering.
Security: Beyond hacking
Most Web conferencing security issues that have been grabbing headlines over the last few weeks haven't been about hackers identifying vulnerabilities in code and exploiting them (although there have been those, too), but rather are connected to poor configurations related to default settings and user error.
One black mark for Zoom that's come along with its success is the phrase, "zoom-bombing," entering the popular lexicon. The term simply refers to an unwanted participant sharing their screen—often with lewd content. But with a couple of tweaks in the meeting setup process, the unwanted sharing can be avoided. This just goes to show that security considerations go beyond merely thinking about zero-day exploits and patches. Here's a complete picture of what to consider: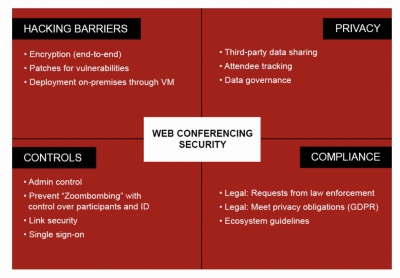 Organizations that must follow strict compliance regimes will have to make sure their Web conferencing solution can do the same. The norm among vendors is to now offer Web conferencing via a cloud solution. Will the data centers used mean data is stored or routed outside of your jurisdiction? What if a user makes a request for their personal data to be retrieved from a Web conferencing vendor —will they be able to meet that request?
Again, consider data-sharing policies beyond compliance requirements. Many vendors that offer Web conferencing solutions have business in other areas, as well. Consider if they are likely to use data collected about your firm for other purposes. Some have an up-front commitment about data privacy. For example, Zoho promises not to share any data with third-party services, including for its Zoho Meeting solution.
Will People Actually Use It?
Even the most cost-effective and secure selection won't help you if workers don't adopt it. Carefully consider the requirements your users have for a Web conferencing solution. This is best done by consulting them directly. Better yet, recruit a small team of beta testers to pilot a potential solution before trying a company-wide implementation.
Among the Web conferencing solutions on SoftwareReviews.com, users give high marks to Web conferencing software that offer a good experience in sharing applications, sharing their screens, and in the quality of the audio and video stream. Other features to factor into your selection will include support for a dial-in bridge, the options available to facilitators, file transfer, a whiteboard function, and instant messaging.
Don't settle for a Web conferencing solution that works for your budget and security needs if there's not a good sign users will embrace it. Otherwise, you'll be back to square one with fragmented solutions creeping in from the shadows and making everyone's collaboration efforts hectic.
As a Research director in SoftwareReviews' CIO practice, Brian Jackson focuses on emerging trends, executive leadership strategy, and digital strategy. After more than a decade as a technology and science journalist, Jackson has his fingers on the pulse of leading-edge trends and best practices toward innovation. Prior to joining Info-Tech Research Group, he was the editorial director at IT World Canada, responsible for the B2B media publisher's editorial strategy and execution across all of its publications.