Learning in the Flow of Work Won't Work Unless It's Personalized to the Learner
Leaders need to advocate and design work so that it integrates (without penalizing) different learning styles, requiring an organizational mindset shift.
Posted: September 22, 2020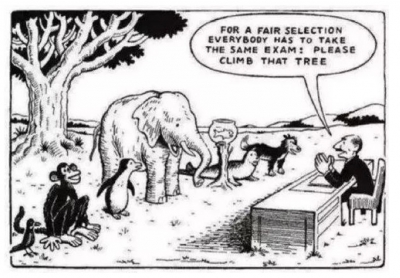 Everyone learns differently.
I have seen firsthand that when learning is personalized to meet the needs of the individual, growth is rapid and sustained. This has become clear to me from my experience raising my two boys, both of whom have Autism. Autism, or autism spectrum disorder (ASD), refers to a broad range of conditions characterized by challenges with social skills, repetitive behaviors, speech, and nonverbal communication. With a combined 11 years of experience creating the right learning environment for Ethan and Aaron, the incredible progress they have made has made me an advocate and believer in personalized learning. While Ethan and Aaron are both autistic, how they learn, their learning agility, and capabilities could not be more different and further from each other. As the saying goes, when you've met one child with Autism, you've met one child. There is no one type of Autism, only many.
Autism brings its share of learning difficulties, varied in forms of academic, social, communication and life skills—just about all categories of skills we as humans need to live a fully functioning and independent life. My experience has taught me that a learning disability (or as I like to call it, "different ability") is not a problem with intelligence or motivation. Children and adults who learn differently aren't lazy. Their brains are simply wired differently. This difference affects how they receive and process information. This can lead to trouble with learning new information and skills and putting them to use, the same problem businesses are facing as workers grapple with learning new information and skills and putting them to use in this new world of work. This has created a $240 billion global market for corporate training and education platforms (Josh Bersin). This begs the question: With so many resources and advanced technologies at our fingertips, why isn't learning boosting productivity?
Simply put, a one-size-fits-all approach to learning will not deliver the desirable outcomes to increase productivity.
An Organizational Mindshift
Everyone learns and retains information differently. Technology continues to evolve to enable learning in the flow of work. The next iteration is for leaders to advocate and design work so that it integrates (without penalizing) different learning styles, requiring an organizational mindset shift. For example, observing my kids over the years, I've learned that Ethan is mostly a visual learner, and learning is retained with simple one-step directives, lots of pictures, practice, and gummy bears being his preferred reward. An avid reader, he naturally gravitates to short stories and books. Aaron, on the other hand, is capable of handling multiple directives, reads long stories, and requires some visuals for context, and does not need a reward—he is a teacher's dream. Requiring Ethan to read long stories with Aaron has proven to be non-beneficial.
Similarly, in business, the expectation that all workers have access to the same information ,and therefore, should learn the same has proven to be non-beneficial, creating a multibillion-dollar industry aiming to crack the code on how to reach each learner.
Access + Personalization
Corporate learning is being continuously reimagined. Learning in the flow of work—as coined by Josh Bersin—has become wildly popular, and many companies have designed learning so workers have information anytime, anywhere. Advanced technologies also have made this shift possible. This is a giant step in the right direction of providing workers with the right information at the right time. But I've learned access alone is not the enabler. Access coupled with personalization is the real driver for learning new skills and retaining and using them. Having access to a learning site/app anytime, anywhere on any smart device is good, but if the content is not designed to meet the needs of the particular person, learning is hard to achieve.
Corporate learning has gone through many iterations in how learning is designed and disseminated—it is my belief that the next wave of iteration for increased productivity is going to be personalized learning. This is backed by research. As one of my favorite thought leaders of our time, Heather McGowan, says, "The future is learning." This makes our ability to learn the new currency for success. Therefore, in addition to providing access to learning in the flow of work, the worker's preferred learning style must be taken into account. To move the needle in this $240 billion learning and development space, and to create real value for each learner, access and personalization need to be at the center of corporate learning strategies.
Ray Narine specializes in creating progressive employee experience programs that meet the needs of today while upskilling for the future. She has worked at multiple Fortune 500 brands and is currently associate director of Talent and Organizational Development at Consumer Reports.