Mission Critical: A Fully Developed Learning Technology Strategy
With a vast array of solutions at their disposal, organizations without a clear learning technology strategy can't leverage their technology for maximum effectiveness and performance improvement.
Posted: May 26, 2016
KEY FINDINGS
One-third of companies do not have any learning technology in place.
Organizations with more developed technology strategies see bigger increases  in productivity and engagement.
More advanced learning technology strategies are more likely to require informal and experiential learning functionality.
Companies with stronger learning technology strategies are less likely to want to switch providers.
Source: 2016 Brandon Hall Group Learning Technology Study (n=302)
With a vast array of solutions at their disposal, organizations without a clear learning technology strategy can't leverage their technology for maximum effectiveness and performance improvement.
The No. 1 learning and development priority for organizations through 2017 is the exploration of new and emerging technologies. According to Brandon Hall Group's 2016 Learning Technology Study, this is more important than developing the overall learning strategy, linking learning to performance, or improving measurement. In fact, the No. 4 priority is exploring new modalities, which goes hand in hand with exploring new technologies. It signals that technology's role in learning continues to grow exponentially. And the biggest technology priorities? Social and mobile.
Yet, despite the incredible breadth and depth of learning-related technologies available, many organizations have yet to implement any of them. Even those that are utilizing technology often find themselves without a clear strategy, which can hamper effectiveness.
Learning Technology Deployment
One-third of organizations say they have not implemented learning technology, although the vast majority of these companies plan to implement solutions in the near future. Among those organizations that already have rolled out their learning technology, most of them fall into the "Standardized" category. Even though there is technology in place, there really is no roadmap for the future, and the solutions are not integrated with any other systems.
Figure 1: Learning Technology Maturity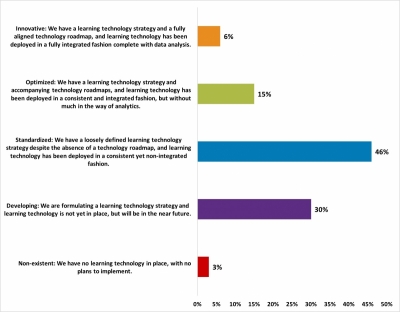 Source: 2016 Brandon Hall Group Learning Technology Study
The rest are either "Optimized" or "Innovative." These companies have a fully developed learning technology strategy with a roadmap to the future, and have integrated their solutions with other enterprise systems. The biggest difference between these two groups is that the much smaller Innovative group has gotten to a stage where it is using analytics to understand learning technology's effectiveness and impact on the business. While there may not be a huge distinction between the "Optimized" and "Innovative" organizations, there is a chasm between them and the "Standardized" companies.
Technology's Impact
When organizations roll out technology of any kind, it is typically because they are trying to solve a problem and have a positive impact on the organization. The challenge is that when technology is deployed without a well-thought-out strategy and roadmap that looks to the future, the impact is not usually as strong. As we all know, even the best solution cannot fix a poor process. So companies that deploy technology in a "let's see what works" fashion may see some positive results, but they are relatively hit or miss.
While there is a general correlation between deploying learning technology and improvement in both productivity and engagement, the impact is much more pronounced among those companies with a more developed learning technology strategy.
Emerging Technologies
It's hard to think of social, mobile and other technologies as new or emerging because they have been around for the better part of a decade (or longer). However, when it comes to learning, organizations are still trying to understand how to best leverage these technologies. If companies want to deliver truly blended, well-rounded learning experiences, though, they are going to have to figure it out. Without them, companies will be stuck focusing on only formal learning—the classroom or the e-learning course.
These newer technologies have become a necessary element for delivering informal and experiential learning. Yet companies with less mature learning technology strategies are not focused on this. In fact, exploring new technologies is fourth on the list of learning and development priorities for the Standardized group, and it is No. 1 for the Optimized/Innovative group.
Even more telling is the type of functionality these different groups say they need from their learning technology solutions. As Figure 2 (below) shows, organizations with a less mature learning technology strategy simply do not see informal learning functionality as essential or critical to their businesses.
Figure 2: Importance of Informal Learning Functionality (Essential/Critical)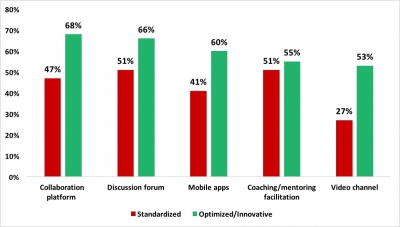 Source: 2016 Brandon Hall Group Learning Technology Study
Strong Strategy = Higher Satisfaction
In the end, the companies that have not yet fully developed their learning technology strategy end up less satisfied with the technology they have. Across an array of 14 different informal learning functionalities, the highest average satisfaction rating is a 2.08 on a scale from 1 to 4. That equates to a grade of D from the Standardized group. Keep in mind, this is from the companies that actually have these functionalities in place, despite being in the Standardized group.
The satisfaction ratings for the Optimized/Innovative group crush the Standardized ratings, with the lowest average score being 2.29—higher than the Standardized group's highest. The highest rating for the more mature group is 2.81. The story is the same for experiential functionality as well, as seen in Figure 3 below:
Figure 3: Satisfaction Rate for Experiential Learning Functionality (4-point scale)

Source: 2016 Brandon Hall Group Learning Technology Study
The pattern continues even throughout formal learning functionality such as classroom scheduling and e-learning course management. Regardless of the type of learning or the functionality/feature, those organizations with a more advanced technology strategy see better results.
What this all leads to is enough dissatisfaction that Standardized organizations are more likely to look to switch providers. Given the nature of a technology switch, this is no small undertaking. The level of stakeholders, users, content, and data involved means a truly challenging endeavor. Yet without a proper strategy, companies are more likely to find themselves in this position, and furthermore without a proper strategy, their selection and implementation of a new technology may fail to meet expectations. It becomes a vicious circle.
 Figure 4: Companies Looking to Switch Learning Technology Providers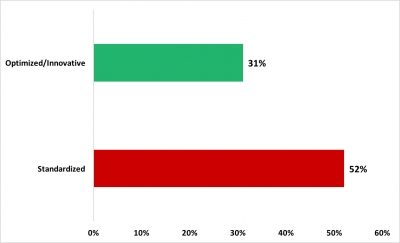 Source: 2016 Brandon Hall Group Learning Technology Study
Key Takeaways
Develop a technology strategy. While a general overall learning strategy will go a long way to ensuring learning effectiveness, the lack of a learning technology strategy can be a huge impediment, as the data has shown. So much of the learning strategy today is executed via technology that without a strategy governing the way technology is chosen and deployed, it can severely undermine the validity of the learning strategy.
Align the technology strategy with results. Again, technology is merely the tool used to carry out the learning strategy, so it should be leveraged to achieve the outcomes required by the learning strategy. A piece of software shouldn't be deployed simply because it is neat or cool. But if the neatness and coolness drives engagement, and that is what the learning strategy requires, it makes much more sense.
Use technology to expand the learning ecosystem. Organizational learning cannot be done by classroom and courses alone. All the research and science points to an environment where learners are getting a mix of formal, informal, and experiential opportunities. New technologies are making it easier than ever to deliver just that.
Plan for the Future
Too often, organizations select a technology to solve an immediate challenge. This fire-fighting technique does not lead to long-term satisfaction. In fact, the ability of a system to meet future needs gained the lowest satisfaction scores overall. This is why we see so many companies (especially those with less developed technology strategies) looking to change solution providers.
David Wentworth is principal Learning analyst for Brandon Hall Group, a human capital management (HCM) research and advisory services firm that provides insights around key performance areas, including Learning and Development, Talent Management, Leadership Development, Talent Acquisition, and HR/Workforce Management.