A Recipe for a Successful Content Strategy
8 key ingredients for creating high-impact learner experiences.
Posted: August 16, 2019
Most agree that the ultimate goal in today's learning environment is to provide a relevant and meaningful experience by serving the right content to the right people at the right time. Success depends on having a solid plan we can execute on—a comprehensive content strategy.
Content strategy refers to the planning, development, and management of content—as defined by Wikipedia. This involves tying organizational content to business goals and users' needs. 
Easier said than done, right? We need to start with a solid content strategy and a content asset mindset change—one that views content as a business asset with real strategic business value. 
What's the perceived value of your content? Are metrics such as uptake, completions, and satisfaction surveys proving the value of your learning programs and content? If we can't prove the overall value of the content we're providing, the question becomes: Does it really provide any value at all? Do people want to consume our content because they see the value it provides to them personally, or do they see it as a useless activity? Shifting the value of our content assets through proper metrics, will change consumption behaviours.
A truly comprehensive, a high-impact learning organization's content strategy needs to focus deeply on good data and measurement, as well as on the human aspects of learning. It must be grounded in listening and connecting with target audiences on a personalized level. These are necessary elements for creating relevant and innovative L&D experiences, experiences that will resonate with employees and produce results with measurable business impact. These experiences should empower audiences to achieve higher levels of performance and development in their current and future roles.
With this in mind, our job as Learning and Development (L&D) practitioners becomes one of providing context over content to our audience. In other words: Avoid redundant content creation, curate first, prove value in content assets through proper metrics, and ultimately put employees in the driver's seat. Let the learners navigate the best options and help them foster connections with others (via clear paths and recommendations) to help them in moments that matter. To accomplish this, L&D organizations must develop a comprehensive and unified content strategy, one that proves asset valuation through data and metrics, supports content reuse, and provides a seamless and relevant user experience. 
1. Provide a Modern Experience Ecosystem
The experience an organization delivers—whether a course, on-the-job task, or an expert's recommendation—should reflect a shared vision across all business units. This shared vision and purpose can help you achieve goals as a learning organization and offer learning experiences that drive success and deliver results, which, in turn, increases learner trust and confidence.
Businesses should view employee learning and development as an interconnected, intelligent system—a modern ecosystem (see graphic below) which goes beyond the traditional courses and programs hosted on the learning management system (LMS) (merely measuring completions and training hours) to one that connects learning where it happens and uses analytics to measure behavioralchange and business impact.
This represents a shift in mindset to a more holistic view that considers the entire system. It's a framework that connects people, content, technology, culture, and strategy.
The system enables L&D to respond to relevant triggers in an employee's life that may call for a formal or informal learning intervention based on data, proper metrics, and learner preferences. It's a systematic approach that involves various delivery systems to provide unique learning paths adapted to every learner's needs. Success of this system requires a partnership and collaboration of efforts between all learning board areas and across the organization. In the modern workplace, it is imperative to provide a cohesive, personalized, and purposeful, consumer-grade learning experience.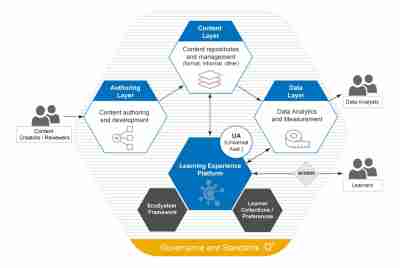 2. Employ a Modern Framework to Learning and Development
The modern framework for content is designed to support the modern ecosystem by providing a set of resources and tactics to bring learners more personalized learning experiences.
The goal of the framework is to provide an employee experience that is more available or accessible at the time of need, rather than consistently requiring a structured formal learning solution. As we look for solutions to performance needs, it's important that we start at the bottom of the framework and work our way up, asking if this solution solves the performance needs by providing just the right amount of support needed. Often, we go straight to formal learning as the solution, but many times this is not what's needed to solve the performance problem.
Tip: Use this framework and do a proper analysis of the problem to determine just the right amount of support needed to solve the problem.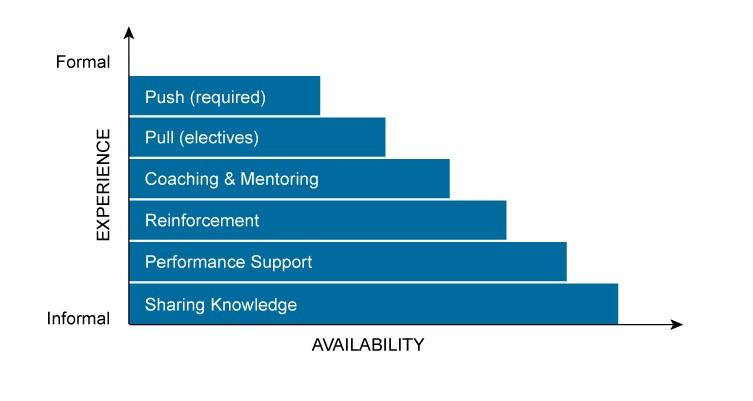 Source: https://www.learngeek.co/mle-framework/
3. Offer High-Quality Content and Experiences
Learning experiences and the content that supports them need to be designed, developed, delivered, and evaluated using proven design models that aim to optimize learning and provide successful application on the job. For example, content needs to be properly categorized, chunked, labeled, tagged, and aligned with the learning objectives gathered in the analysis stage to successfully meet performance needs and drive measurable business impact.
4. Make Content Easy to Find, Use, Share, and Reuse
Most L&D organizations spend numerous hours and dollars designing and developing content, and yet much of that content tends to go unused, or worse, undiscovered. Why? Much of the reason is that the right content cannot be found in the moment of need. For content to add value, it needs to be discoverable, usable, sharable, and reusable.
We can accomplish this by first cleaning up existing systems by:
Auditing existing content internal and external to the LMS
Mapping relationships of all content—determining how formal training connects with the informal (job aids, guides, performance support, etc.)
Deleting and retiring old content
Setting content expiration dates
Setting content ownership
Strategic content is measured by quality, not quantity. To further reduce clutter, custom content creation must be limited to topics that are unique to the organization, and existing or third-party content must be curated before beginning a new project. 
Content packaging and structure provides the necessary elements for content to be properly found, sorted, and delivered within the system when a search is made, but it's up to L&D professionals to provide the right content to addresses specific needs and place that content in the right channels.
To increase content efficiency, design content so it can be shared and used in as many contexts as possible. Publish content in a shared location so content developers can easily locate and reuse it to accelerate their ability to deliver.
Tip: Designing for reusability across multiple audiences decreases the need for adaptation and accelerates the go-live timeframe, which is critical for staying current and relevant.
5. Create Seamless Experiences
When creating media to support learning, content developers must consider how their content will be accessed (mobile, desktop, chat, in-application) and use appropriate development tools and design methods to create an optimal and fluid experience for learners. Instead of a collection of disjointed interactions, our aim should be to string together the various touchpoints into a seamless journey, and whenever possible, make learning happen where work happens. This involves making the user's transition from one channel to the next feel like a single, seamless experience. It also requires that our content is consistent, optimized, orchestrated, responsive (mobile and accessible), and collaborative. 
6.  Design for Accessibility
Accessibility is essential for developers and organizations that want to create high-quality, inclusive content and experiences. By following certain methods and accessibility standards, we ultimately can create a better experience for all.
It is vital for Learning organizations to be committed to serving the learning needs of all employees, regardless of physical or cognitive ability. Using appropriate tools and design methods will help you meet your company's accessibility requirements, but more importantly, it will provide a better experience and greater opportunity for everyone to grow and develop.
7. Support Continuous Learning
Learning is not a one-time transaction. It's an ongoing and organic process that occurs over time through various methods of delivery. All too often, we are forced to treat learning as a one-time event—by budgets, deadlines, resource constraints, or some other variable. However, research has proven that deliberate reinforcement of learning over time helps to overcome the forgetting curve (Thalheimer, W. (2006, February). Spacing Learning Events Over Time: What the Research Says. Retrieved July 8, 2019, fromhttp://www.work-learning.com/catalog/). Instead of designing one highly formal course as a "silver bullet" for a business problem (for the record, an impossible feat), our task as L&D professionals is to design learning experiences that will unfold over time, with our learners' natural cycles of forgetting and remembering.
8. Measure and Improve Iteratively
Design for continuous improvement. Learning measurement and end-to-end content analytics serve as a foundation for making informed decisions about which content should be prioritized for maximum business impact. They are key to providing personalized, relevant learning experiences. We hold ourselves accountable by measuring, tracking, and reporting on learning and development experiences using efficient processes and tools, as well as by adopting meaningful key performance indicators to report back to leadership, our clients, and our audience.
Wrapping Things Up
Audiences are overwhelmed by the amount of content available internally and externally in our organizations, making it harder and harder to find relevant and useful information to meet their performance needs. Our mission as an L&D organization is to provide a sustainable and fluid ecosystem that connects learners with just the right amount of content to address their needs at the right moment. Success relies on a comprehensive content strategy—one that humanizes the learning experience, and helps to create content that's relevant, cohesive, engaging, and sustainable. 
Enzo Silva is a Learning strategist at SAP. He has led and contributed to award-winning and impactful programs that support strategic talent learning and development mediated by technological, as well as L&D, principles and trends. 
Kelly Rider is  the global head of the Learner Experience team in the SAP Learning organization.
Laura Whitaker is a Learner Experience consultant at SAP, where she leads the Digital Learning Content Strategy. Her creative spirit has been the driving force on her mission to help guide content developers in getting better results by improving their skills and practices for creating and managing seamless, personalized, experiences that are optimized to "just work" in intelligent systems. 
Mark D'Aquin is a Learning Solutions architect and strategist at SAP with proven experience as a results-driven designer and developer with more than 27 years of e-learning, graphics, Web, multimedia, and application development experience across various industries. His current focus at SAP is on a global learning development initiative to enhance learner experiences through a refined design and development framework and methodology using innovative tools and technologies
This article was reviewed by Rebecca Argenbright, Lead Learner Experience consultant, SAP Center of Excellence for Spend Management. Argenbright has been an instructional design consultant with SAP since 2011. She holds a Master's degree in Information and Learning Technologies, a microlearning certificate from the Association for Talent Development, and a Coaching certificate from Erickson Coaching International.