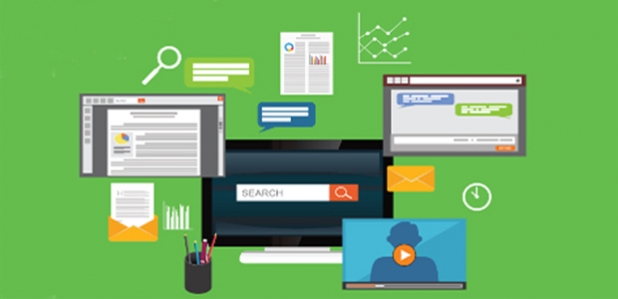 The Art of Content Curation
With reams of multimedia content such as videos now easily available online, companies are combining ready-made and custom content to suit their training needs.
Posted: March 22, 2016
The impactful, engaging content you seek for your learners already may be developed and just waiting for you to tap into it. But making use of content from disparate sources requires establishing clear goals for the content, careful organization, and evaluation of its effectiveness. With multimedia content such as videos now easily available online, companies are finding new ways to bring together eclectic mixes of material for their curricula. Combining ready-made and custom content can create a curriculum that perfectly suits each company's particular needs. Here is how five Training Top 125 companies are making this approach to content curation work for them.
Creating Well-Rounded Employees
One of the advantages of blending ready-made with custom-content is it broadens the materials available to your employees. These supplemental materials give employees a broader perspective, says founder and CEO of LaSalle Network Tom Gimbel. "We want employees to be well-rounded. Whether it's reading or listening to podcasts, we encourage them to learn and grow, not only about the industry but any topics they like," he says. "We can learn lessons from anywhere to help us be better at our jobs. It's about drawing parallels to your business and your industry."
At LaSalle, a leadership team and management team work with the director of Training to curate the material for learning courses, and a full-time internal trainer executes delivery. "As we get information that relates to our staff, we incorporate it into our program," Gimbel says. The company has an on-demand online video library that employees can access anytime anywhere, which also is incorporated into training.
Customizing Ready-Made Content
At Verizon, much of the learning content is custom because it relates to internal processes, products, services, pricing, device launches, proprietary systems, tools, and other specific needs. But Vice President of Learning & Development Lou Tedrick says they do make use of what you might call customized off-theshelf content. "We also have intellectual property (IP) agreements with a number of third-party partners, so we're able to offer customized learning solutions that leverage the well-researched and tested content they've developed, but make it relevant to our learners by using company-specific language, workgroupspecific examples, scenarios, and role-plays," she says. "For example, we have IP agreements with third parties for leadership development, sales skills training, and service skills training, so we can use their models but make them relevant to our use cases. Our learners don't have to 'translate' the content to their worlds, and as a result, the learning is more credible and the transfer of knowledge and skills is faster."
In addition, the company incorporates online materials, such as white papers and videos. "We try to find the best mode to match the learning need. For example, a white paper may be the best solution for an enterprise sales account manager who is learning a new vertical or staying on top of trends for a given industry," says Tedrick. "A how-to video may be the best way to model a new skill—the right or wrong way—or to show the steps of a new process."
Tedrick says the company offers many of these resources as "stand-alone" learning solutions, but sometimes uses them with custom solutions to create a blended approach. "We also created a Learning Album, which in its simplest form is a digital learning guide. Learners access the Learning Album most frequently from a tablet," she says. "It's a one-stop shop for all of their content—instructor-led training modules, videos, performance support tools, note-taking, etc."
SMEs as Curators
At Johns Hopkins Community Physicians (JHCP), instructional designers (ISDs), together with subject matter experts (SME), develop content linked to learner needs and JHCP's strategic objectives. Materials are curated, updated, and assigned with input from internal management groups. "We author most our content based on the needs of our organization. Typically, it is written based on best practice workflow, published research, and evidence-based best practice," says Director of Education and Training Maura McGuire, MD. "We are always on the lookout for high-quality external content, though we find that developing training internally allows us to make training more learnercentric, and maximizes use of precious training hours. Because our team incorporates provider, clinical, and non-clinical training teams, we're able to make training reflect how these disciplines can work more effectively together. That's important to our patients and our practices."
As an example of JHCP's build-and-implement process, there was need for rapid development of training materials that did not exist when the 2014 Ebola outbreak erupted. JHCP's Clinical Education team, led by Tammie Hull, RN, MS, collaborated with Hopkins' infection control experts, who were themselves connecting advice from the Centers for Disease Control. "The team produced an instructional video on protective equipment, and used the video, together with competency check-lists, to complete in-person training in all of our practices within weeks," Hull says.
Another success of this integrated approach is reflected by JHCP's electronic health records (EHR) training programs. "As health-care organizations strive to use EHRs to their fullest potential, we have found that the quality of training is incredibly important," says Tiffani Freeman, MS/ODHR, ISDD. "Many of our classes pair skilled end-users, as SMEs, with expert trainers from our team. Our learners love this, and we find this keeps both the SMEs and trainers current about enhancements and best practices."
Finally, connecting clinicians in health-care organizations with more than 40 practices in two states and the District of Columbia is a challenge. "Our 'Medical Case Conference' Webinar program is a great example of training and education, because it links health-care providers with subject matter experts from our central health system," says Peter Chin, Esq., Ed.M., who oversees provider education. "These programs are archived so they are available to our clinicians whenever they have time to view them." JHCP provides continuing education credits for many programs to help all of its staff with their credentialing requirements. "Our training program development heavily emphasizes adherence to Johns Hopkins internal policy and relevant health-care regulation," says Chin.
Content Specialist as Curator
As essential as SMEs are in developing learning content, some organizations find it helpful to appoint a content specialist who works with the SMEs to help organize and prepare the material. immixGroup finds this approach provides it with focused, high-quality content. "It is the Training department's responsibility to curate, organize, and maintain all materials for our courses," says Corporate Training Manager ReLita Clarke. "This is completed by our content specialist who gathers the information from our SMEs in order to produce the materials according to our Corporate University standards."
The content specialist reviews content modifications and updates for courses, a process that can take anywhere from one hour to a few days, depending on the course and the number of updates and modifications.
Online content at immixGroup is woven into learning programs, alongside the content developed by SMEs. "Our online content is incorporated through our blended learning approach. We use the adult learning theory to assist us in identifying the most interactive delivery method for our learners," says Clarke. "We want to provide an engaging and interactive learning experience that sets a standard of excellence for our Corporate University. We also produce assessments/tests, collateral/ handouts for many of our courses. We recently created 68 short online videos to equip our sales teams with more knowledge regarding specific technology areas and resources."
The blending of online and custom content also can facilitate easier self-study. Learners at immixGroup are able to use the online content to work toward specific internal certifications. "We use what is called a phased approach for our learning and development structure. Inside of this structure, we have included elements of self-study such as e-learning, online videos, reading materials, and question-and-answer sections," says Clarke. "We have aligned our 68 technology videos into six tracks that will allow the employee to earn a certificate/ badge in a specific technology area. Our video tracks are focused on our client's technology services and products."
Carefully Review for Relevancy
Part of the challenge of content creation and organization is making sure it continues to be relevant. At Mariner Finance, a systematic process ensures that the material continues to meet company goals. "For pre-existing content, there is a review process in place in which content is re-evaluated quarterly to ensure that it's relevant," says Jeff Casey, vice president of Learning & Development. "Content is updated depending on the needs based off the data analytics that are captured within the course." For example, if one question is missed consistently within the course (meaning it is "trending" incorrect), the course is updated. Also, if a particular section is identified as not including all the content needed, it will be updated.
The learning content at Mariner Finance also is validated for continued inclusion by direct feedback from employees. "Within the learning management system (LMS), we have data-capturing evaluations after each learning activity to determine whether or not that learning experience was helpful to the learner," says Austin Meredith, Instructional Systems Design manager. "This provides us with immediate feedback and allows the department to catch issues before they grow. Lastly, the company regularly conducts surveys and works with employees and managers to make sure their expectations are being met."
QUICK TIPS
Encourage learning that blends traditional content and technical material with less formal, ready-made content such as books and videos.
Work with vendors to tweak ready-made, off-the-shelf content to suit your particular, custom needs.
Have subject matter experts develop the content, but also have a content specialist who organizes the material and readies it for delivery.
Review how questions on assessments are trending. If certain questions are repeatedly missed, review the related content and make the needed changes, altering or adding to ready-made content, or creating new material altogether.
Validate that material is worth continuing to include in learning content both from assessments and from learner evaluations. You may find the curation process is relying too heavily on ready-made content, or that it could use more informal, ready-to-go content such as books and videos to keep learners stimulated.