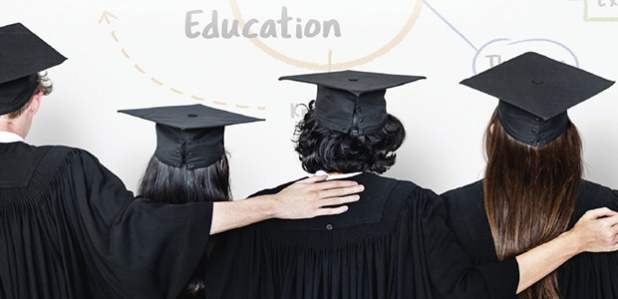 Back To School
How tuition assistance can fuel employee growth and engagement.
Posted: July 12, 2018
The employee you just hired never finished her college degree, but her work is exemplary. Assignments are done well and on time, and she has a knack for handling your most difficult customers. She loves your company, but you know she also has a desire to grow professionally. One way the organization can foster that growth is to help her get a college degree. Some companies at best offer the employee a flexible schedule as she takes classes and completes schoolwork. But other companies are taking it one step further, and offering financial aid to valuable employees who want to go back to school. Whether finishing an Associate's or Bachelor's degree, getting a Master's degree or Ph.D., or getting professional accreditation, funding employees to enhance their formal education can pay off. A more knowledgeable workforce can mean greater ability to serve customers and meet your long-range business goals. An employee whose formal education you've supported also may be more likely to stick with your organization for the long term.
Align Education Support with Professional Contributions
Helping employees finish their education is a good deed, and also benefits the company. Training Top 125er Windham Professionals, Inc., financially supports active employee engagement and participation in educational activities, certifications, and professional learning. Educational activities always have on-the-job applications. This comes with the understanding that the professional growth and development of its employees also supports the company.
Windham offers employees several professional certifications, many of which contain memberships in professional organizations and affiliations, says Senior Vice President of Human Resources Cherie A. Sugg, PHR. "These individuals capitalize on their certifications and affiliations in supporting key business initiatives and goals of the company," she says. For example, notes Sugg, the company has HR staff who are certified professionals in Human Resources (S/PHR), certified in Alternative Dispute Resolution (ADR), and in HR Professionals Studies, as well as holding a Master's degree in HR. In addition, Sugg says many employees are members of the Society for Human Resource Management and the Association for Talent Development.
Some employees, she explains, are able to receive reimbursement for professional or work-related certifications, and to attend industry or work-related conferences. Those employees then use their degrees and certifications to create better programming for the company's other employees and clients. "Formal education and certifications have helped to create the foundation for Windham's Training department in building solid training solutions, which are based on the ADDIE model, along with various learning theories and methodologies," Sugg says. "Through their leadership and direction, we incorporated the Kirkpatrick Levels of Evaluation to measure and report the overall effectiveness of our training solutions."
Along with funding ongoing learning and development activities, Windham provides support from others in the organization who already have achieved the same career goals as the employees who are furthering their education. "Employees are set up for success almost immediately. Mentoring, coaching, and shadowing are key for employees wanting to get ahead, whether through higher education, certifications, or leadership programs," says Sugg. She explains that the company's employee engagement program, Dream Maker, and leadership development program host kickoffs, mid-program events, and program-completion awards. Employees understand they have both emotional and financial support to reach education and development goals. They also have help managing their schedule, so they are able to balance classes and coursework with job obligations.
Bridge Skills Gaps
At some companies, funding employees' formal education helps improve customer service. At Training Top 125er Walmart, continuing education creates a better-equipped workforce, says Vice President of Associate Experience Design Shana DeSmit and Senior Director of Learning Products Ellie Bertani. The company covers the full cost of a GED, or online high school, for associates and their immediate family members. Walmart also works with select universities to offer discounted tuition and college credit for internal training programs. (See sidebar on p. 19 for Walmart's most recent associate tuition assistance announcement.)
DeSmit and Bertani say that whatever the company spends on tuition assistance is recouped in the improved workforce and better customer service it enables. "From a business perspective, we support the ongoing education of our associates to improve performance and retention (associates who see opportunities for self-improvement are more likely to remain in role), to cover skill gaps in our workforce, and to improve our retail capabilities throughout the country," they say. "From a people perspective, we support our associates in this way because they deserve it. Walmart associates are smart, savvy, hard-working people with everything it takes to pursue (and achieve) their dreams of higher education. It's not enough for us to talk the talk as a people-led organization; we have to follow through by taking action and helping our associates."
To help ensure the learning sticks, Walmart emphasizes on-the-job practice of skills learned through formal education. "We emphasize learning while doing and hands-on application," say DeSmit and Bertani. "Associates who demonstrate an aptitude for 'more' are targeted for stretch assignments that leverage their unique skill sets."
To make it easier for associates working toward degrees, the company helps them create a manageable work schedule. "Through our Schedule Right system, we offer more flexibility than ever before. An associate who, for instance, is going to school at night provides his or her availability to work, and actively collaborates with management to adjust the schedule accordingly," DeSmit and Bertani explain. "Alternatively, many of our associates go to school online. Because these degree programs have 24-hour flexibility, we often don't need to emphasize schedule accommodation in these cases."
Make Formal Education Goals Part of Development Plans
To encourage employees to further their formal education, and then tie that additional learning to company goals, you can make educational aspirations part of employee development planning. When employees sit down with managers to talk about career goals, managers also can ask if there are additional formal education accreditations or degrees the employees would like to attain.
Training Top 125er Pacific Gas and Electric Company (PG&E) offers wide-ranging formal education financial support, says PG&E Academy Senior Director Chris Pickett. "We offer employees a generous tuition refund benefit they can use toward a certificate, degree, or advanced degree from an accredited institution," he says, noting that the company spends approximately $3 million annually on tuition assistance.
Pickett points out that PG&E offers its Tuition Refund Program to all employees for the following reasons:
To recruit high-quality employees committed to ongoing learning while boosting PG&E's brand in the war for talent
To provide education to employees who may require additional skills and knowledge to successfully do their job
To provide education in new or innovative areas of the company
To retain valued long-term employees who desire career growth
To support employee engagement
To provide a tax advantage for the company
PG&E employees are enrolled in business, project management, cyber security, environmental studies, technology, and engineering degree programs, says Pickett, and those degree programs are tied directly to employees' work assignments and career development. "We encourage our leaders to connect employees' education to their current development plan, and to facilitate opportunities to apply key learnings on the job," he says. The attainment of higher degrees then is made a part of the employee's career path, but is not alone a determinant in promoting him or her to a higher-level role. "Employee development plans include an employee's educational goals," says Pickett. "Many factors determine if an employee is ready for advancement; completing a degree program is just one of those."
At Training Top 125er Van Meter, Inc., continuing education goals are part of an ongoing conversation with managers, says Learning & Development Manager Jenn Bleil. The company provides tuition reimbursement for employees who seek formal education, and offers a paid internship program for students. "We believe in helping people be their personal and professional best. Whether that be through formal education, training, conferences, e-learning, on-the-job training, or some other way to support their development, we will do that," she says. "Regular conversations between employees and their leaders are key in ensuring someone gets what they need. We expect our leaders to know their people, and what they need and want for continued growth."
Create a Future-Focused Workforce
Helping employees enhance their educational credentials doesn't just help them with immediate job responsibilities— it primes them to help your company grow into the future. At Coursera, which provides a platform for companies to help employees attain the valuable skills and credentials they need to stay sharp, continuing education is seen as a pathway to become a more modern company. "We are seeing companies across industries invest in technology-centric credentials, such as data science and machine learning, to help their employees get the cutting-edge skills they need to grow and thrive in their workplace," says Vice President of Global Enterprise Leah Belsky. "Popular credentials include Coursera co-founder and artificial intelligence expert Andrew Ng's Machine Learning and Deep Learning specializations, as well as Google's IT Support Professional Certificate, but these 'hard skills' aren't the only ones in demand," says Belsky. "Most employers pair these hard skills with 'soft skills' learned in courses such as Learning How to Learn from the University of California, San Diego, and English for Career Development from the University of Pennsylvania."
Sometimes encouraging employees to further their formal education can result in more innovative products and services. Training Top 125er Ricoh USA sees the continuing education of employees as a way to become more forward looking. The company assists employees with job-related post-graduate and undergraduate courses that lead to a business-oriented degree offered by an accredited college or university. "This Educational Assistance Program is for full-time, regular employees interested in acquiring job-related skills and enhancing their potential for increased responsibility," says Vice President of Talent Management Victor Maciak. "Additionally, through our employee discount program, employees can apply for discounts on tuition from partner universities.
"Employees who are continuing to learn and develop are more productive, more engaged, and more innovative. In order for Ricoh to remain competitive in our industry, it is essential that we offer programs that attract and retain talented and diverse individuals to our organization," adds Maciak. "Employees are encouraged to continuously develop themselves and grow their careers through a variety of avenues such as on-the-job experience, training, and education gained from completing seminars, vocational courses, and academic courses. Thirty percent of the employees who participated in our Educational Assistance Program were promoted to different positions."
Ricoh USA also is careful to incentivize employees to stick with the company to apply the lessons learned through continuing education. "To encourage employees to remain with us after participating in the program, there is a repayment component of the policy should employees participating in the Education Assistance Program voluntarily leave the company within a year of receiving benefits," says Maciak. As a result, employees grow, become better at their jobs, and then stay long term to give back—a win-win for all involved.
QUICK TIPS
Align with business goals. When employees ask for tuition reimbursement, create a plan for them to use the skills they are learning to give back to the company in new products, services, or programs.
Provide emotional support by assigning mentors to employees who are furthering their education. The mentor ideally should be a person who has not only achieved the degree, but the long-term career goals of the employee.
Accommodate scheduling needs. Work with employees to create a schedule that allows them to fulfill their job responsibilities while attending classes and completing school assignments.
Identify skill gaps at the company that continuing formal education could bridge, and then work with employees who complete degrees to use their new skills on the job.
Make formal education part of career-development planning. Ask managers to ascertain employees' formal education goals, and see if it's possible to integrate those goals with work that will benefit the manager's department.
Use continuing education to create a future-focused company. Employees who further their formal education can use their new knowledge to optimize new technology or develop cutting-edge products and services.
CHARTING A NEW COURSE
Several well-known companies have dramatically increased their tuition assistance programs for employees in the last year. Here is a look at their new programs that aim to increase employee engagement, growth, and retention.
BRINKER INTERNATIONAL, INC.
Brinker International, Inc., a casual dining restaurant company and owner of Chili's Grill & Bar and Maggiano's Little Italy, launched a comprehensive educational program, Best You EDU in January 2017. In partnership with Pearson, Best You EDU is an employer-education program that provides opportunities for Brinker team members, ranging from hourly to management. At no cost to participants, Best You EDU is open to all team members who work at least 24 hours per week with a minimum tenure of 90 days.
Best You EDU was designed to meet team members where they are on their educational journey, offering three main components: Foundational, GED, and Associate's degrees.
NO COST FOUNDATIONAL PROGRAM: Provides language, skills development, and bilingual coaching in a mobile-first environment.
NO COST GED PROGRAM: Provides online GED prep curriculum, bilingual advisory support, and unlimited test-pass GED credential guarantees.
NO COST ASSOCIATE'S DEGREE: Provides an online pathway to an Associate's degree in business or general studies through a regionally accredited college, including all courses, text and study materials, advising and coaching support.
"We firmly believe education is the single best benefit we can provide to our team members. The confidence education provides is what encourages our team members to achieve the next step in their career," said Brinker Chief People Officer Rick Badgley in a company statement. "Best You EDU is personal to me and the larger Brinker leadership team as many of us started our careers as a cook, dishwasher, or host at a restaurant. Through education, we gained the confidence necessary to further pursue our careers."
To support team members throughout the education process, all participants have access to a coach specific to their educational pathway. Coaches will provide help with everything from gaining Internet access to navigating work and school simultaneously and defining a career path. For Associate degree candidates, coaches will help students with college applications, course selections, and academic struggles while in school.
WALMART
Walmart last month announced it will offer low-cost college education to its 1.4 million part-time, full-time, and salaried workers at Walmart and Sam's Club.
In partnership with Guild Education, an education benefits platform, Walmart associates will be able to earn Associate's and Bachelor's degrees in Business or Supply Chain Management. Under the program, the associate contribution toward a college degree would be just $1 a day. Walmart will subsidize the cost of tuition, books, and fees, eliminating the need for student loan debt and addressing one the biggest hurdles that keep people from returning to college.
Degrees will be offered through the University of Florida, Brandman University, and Bellevue University—nonprofit schools selected for their focus and strong outcomes on serving working adult learners. From day one, associates will receive support from a Guild Education coach on everything from the application and enrollment process to selecting the appropriate degree.
Walmart also is committed to an independent evaluation of the outcome of its new offering. The Lumina Foundation has agreed to research and measure the impact and effectiveness of the program and will work with the Walmart team to share findings.
"Investing in the personal and professional success of our associates is vital to Walmart's future success," Walmart U.S. CEO Greg Foran noted in a company statement. "We know training and learning opportunities empower associates to deliver for customers while growing and advancing in their careers."
To support team members throughout the education process, all participants have access to a coach specific to their educational pathway. Coaches will provide help with everything from gaining Internet access to navigating work and school simultaneously and defining a career path. For Associate degree candidates, coaches will help students with college applications, course selections, and academic struggles while in school.
MCDONALD'S CORPORATION
In March 2018, McDonald's Corporation said it will allocate $150 million over five years to crew college education, as part of the company's "Archways to Opportunity" program. This investment will provide almost 400,000 U.S. restaurant employees with accessibility to the program as the company also will lower eligibility requirements from nine months to 90 days of employment and drop weekly shift minimums from 20 hours to 15 hours. Additionally, McDonald's will extend some education benefits to restaurant employees' family members.
The Archways to Opportunity program provides eligible U.S. employees the chance to earn a high school diploma, receive upfront college tuition assistance, access free education advising services, and learn English as a second language.
Eligible employees now will have access to $2,500 per year (up from $700 per year) in tuition funding; managers now will have access to $3,000 per year (up from $1,050). Participants will be able to choose how they apply this funding, including community colleges, four-year universities, or trade schools. There is no lifetime cap on tuition assistance.
" Our commitment to education reinforces our ongoing support of the people who play a crucial role in our journey to build a better McDonald's," McDonald's President and CEO Steve Easterbrook explained in a company statement. " By offering restaurant employees more opportunities to further their education and pursue their career aspirations, we are helping them find their full potential, whether that's at McDonald's or elsewhere."
A MATTER OF DEGREES
A Champlain College survey found that a significant majority—60 percent—of 1,004 U.S. adults ages 23 to 55 without a Bachelor's degree have considered returning to school, but costs and student debt remain their biggest deterrents.
According to the report, 75 percent of respondents cited student loan debt as a significant barrier, and one-third of respondents said they can't afford their own education because they have to support their child's education.

While the financial barriers were the most significant obstacles indicated, the report notes that " it's apparent adults are facing a multitude of other challenges in their pursuit of a degree that go far beyond the financial, and relate, more often than not, to life circumstances around career and children."
When asked why they want to go back to school to pursue a certificate or degree, respondents' top answers included:
I want to increase my earning potential: 73%
I will feel better about myself for having completed a degree: 59%
I want to be an inspiration for my children or other family members: 54%
I want the opportunity to demonstrate what I know and fulfill my dream of earning a degree: 52%
There are limited options for me without a degree: 51%
In addition, 56 percent of respondents indicated they want to change careers. Fifty percent said they are not doing work that interests them, and believe a degree is required for the work they want to do. And 41 percent believe they need to go back to school in order to get promoted.
Online learning may help to overcome obstacles such as cost and time limitations, but the survey shows that online higher education leaders have some work to do in convincing adults of its value and quality. The report stresses: "Online learning institutions must continue to pursue the markers of quality that adults respond well to—such as excellent teaching, small class sizes, a dynamic classroom environment, and an emphasis on critical thinking and real-world application— and educate potential students on how to identify institutions that are committed to these practices."
To see the full survey results, visit: https://www.champlain.edu/onlinesurvey