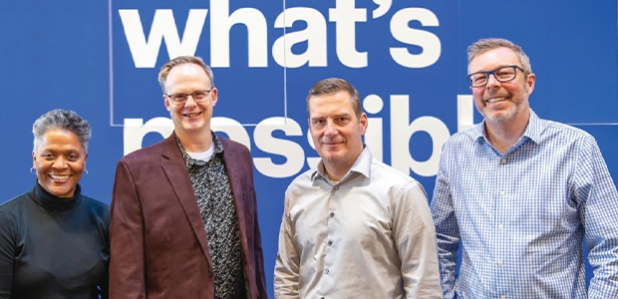 Best Buy's Best-In-Class Learning And Development
The retailer saw great gains in learning and development in 2019 with a new virtual leadership learning environment; cutting-edge leveraging of technology; and a continued emphasis on building a high-performing, inclusive workforce.
Posted: February 28, 2020
Best Buy, a company that sells the best in technology and other products, likewise offered the best to its employees in the form of topnotch learning and development in 2019, earning it a spot in the Top 10 of the Training Top 125 for the fourth consecutive year and making it eligible for induction into the Training Top 10 Hall of Fame in 2021.
Standout achievements included a new virtual learning environment to ready its workforce for the holiday sales period, enhanced technology to aid distribution and reinforcement of learning, and inclusive recruitment to create a workforce representative of its diverse array of customers.
The retailer didn't stop there. Best Buy took additional steps to ensure its people thrive both personally and in their jobs, offering better mental health services and paid time off for part-time employees. As a result, employees were empowered to better serve customers and help Best Buy's leaders drive business success.
Virtual Holiday Learning Environment
To both improve the employee experience and reduce costs, a virtual learning environment replaced two in-person holiday meetings in 2019. "Continually improving the employee learning experience is a top priority for Best Buy's Learning and Development (L&D) team, and an equally important priority is for our team to remain closely positioned to company strategy in order to enable business growth and deepen relationships with our customers," says Director of Learning and Development David Beck-O'Sullivan. "In alignment with this, and as a result of senior leadership issuing a challenge to find a way to reduce the travel budget for our two annual holiday meetings by 10 percent without negatively impacting outcomes, the L&D team created a Virtual Holiday Learning Environment."
At Best Buy, there previously were two annual meetings in the run-up to the holiday season each year:
Holiday Leadership Meeting (2,177 employees)
Fall Market Training (10,525 employees)
The purpose of these meetings was to bring leadership messages, holiday strategies, and a vendor show to Best Buy's leaders. When L&D sat down to brainstorm creative ways of reducing travel costs for these meetings, Beck-O'Sullivan explains, most of the ideas revolved around recreating different aspects of the two annual meetings. "In the end, we chose a bold direction: Create a Virtual Holiday Learning Environment that replicates the annual meeting within our learning management system (LMS) and is accessible during in-store learning time and equally accessible in a mobile-friendly manner," he says.
This virtual environment replicated every aspect of an inperson event. Employees were brought into a visually identical replica of the actual conference center at the Holiday Leadership Meeting. Once inside, they were greeted by a virtual host and provided instructions for the event. A vendor show was visible in the background, but locked until required e-learning containing holiday strategy information and leadership videos was completed.
Once unlocked, the vendor show had 55 booths, each with a two-minute video highlighting popular holiday products. The videos were filmed by Best Buy's internal production team and used its field trainers as on-screen talent to interview vendors at the Holiday Leadership Meeting. Employees had to visit 15 to 20 booths depending on their role. They also could activate "missions," which would reorganize the vendor hall for additional learning. Employees were rewarded for their activity with gamification elements that turned entries into sweepstakes, and by earning Experience Points and badges to display within the company's LMS. Some 101 products were available as prizes with 3,465 prizes total.
Through the creation of this event, Best Buy:
Reduced travel and related expenses by 19 percent.
Reduced in-person attendance at the annual Fall Territory Training by 82 percent (from 10,525 to 1,280 attendees), which meant far less company time away from stores and less wear-and-tear on hard-working managers leading up to the hectic holiday sales season.
Extended the meeting's reach from 13,000 employees to 85,000 employees.
Exceeded the holiday performance goal by 3 percent.
"Employees loved the Virtual Holiday Learning Environment and amassed 1,076,504 individual content completions totaling almost 36,000 training hours. More than 90 percent of employees completed one elective training outside of their required training area," says Beck-O'Sullivan. "We were able to build a virtual environment infrastructure ready to be re-skinned. Having seen the results, we believe this is an excellent model heading into the future. We already have created two additional virtual environments using infrastructure built in this project."
Cutting-Edge Technology for Learners
Not surprisingly, a company that sells high-quality technology to the public also does an excellent job providing high-quality technology to its employees. The company's recent milestones in learning technology include:
Podcasts. "We've found that the conversational format humanizes the topics being discussed," says Beck-O'Sullivan. "At first, the podcasts were housed as audio files on our LMS, but last year, we launched our own podcast player in our mobile learning tool, Gravity, to give learners access to all the features they have come to expect in a typical podcast player. We currently have a dozen active podcasts and will be expanding the capability to other areas of the company."
Bounce Back. As users complete a course, their decisions are captured through this technology and compared with multiple data sets. By comparing data from other users, question-level scoring, and individual competency of learning objectives, Bounce Back can schedule follow-up questions and supplemental information to be delivered at key intervals after the completion of the initial training.
Vyond. "This tool provided us a way to rapidly and creatively deploy trainings videos for little-to-no cost," says Beck-O'Sullivan. "We have used it to create training videos on a wide range of topics, from loss prevention and safety to product and sales training. It also added another skill to the tool belts of our designers, which increased their engagement and creative freedom." As a result, he says, "our learners have benefited from the availability of learning options that increase retention and capture their attention."
The New Wave
Best Buy has household name recognition, so many are eager to work for the company. With so many applying for work, the retailer is taking measures to ensure its workforce reflects the diversity of the many communities where it has stores. To do that, the company launched New Wave, a program designed to increase the diversity in underrepresented areas of middle management across its corporate office, says Senior Director of Learning and Development Alistair Dobbie. "This program involves us hiring candidates when there is no specific open role for their talents at a point in time. The employees then enter a development program within an area of the organization while also working as valued members of that team. They have an opportunity to experience many parts of the business and grow and develop in that time."
The company utilizes Employee Resource Groups (ERG) and Diversity and Inclusion (D&I) Steering Committees (DISC) to drive participation in diversity and inclusion efforts, share best practices on effective D&I activities, and influence executives on D&I needs. "Our D&I training strategy is grounded in the inclusive leadership behaviors that were identified by the D&I Team. These behaviors were introduced to increase inclusion, leadership skills, and employee engagement through courage, vulnerability, empathy, and grace," says Beck-O'Sullivan.
In 2019, with the help of its ERGs and DISC assessments, Best Buy completed a three-session "Inclusion Series" built on contemporary practices around inclusion training in the workforce that references methods promoted by advocacy groups, such as PFLAG, the Human Rights Campaign, and the Executive Leadership Council.
Once on staff, the company wants to ensure the success of these employees—which it has taken such careful measures to recruit and select for employment. To make that possible, Best Buy put a strong focus in 2019 on mental health services. "Mental health, and the discussion around mental health, has become much more prevalent broadly in society," says CEO Corie Barry. "At Best Buy, we aim to create an environment where we can have that conversation. Best Buy has focused on strengthening our culture of mental health support. We've doubled the medical benefit to eight counseling sessions from four and ramped up our resources."
Hand-in-hand with mental health resources is creating a company culture that accommodates employees' personal needs. "To that end, part-time employees are now eligible to receive up to 16 hours of paid time off per year," says Senior Vice President of HR Rewards Charlie Montreuil. "We know that things come up that we can't always plan for, and we know how helpful it is to have flexibility," he says.
An Engaged and Empowered Workforce
Having a culture that brings employees together for idea sharing, collaboration, and problem solving has played an important part in the people and financial successes of the company over the last few years, says Beck-O'Sullivan. It also ties directly to one of Best Buy's values to "Unleash the Power of Our People."
"Our corporate culture creates an environment where the reward for achieving successes and meeting learning goals is just as important as how the culture impacts the company's growth and productivity goals," notes Rosalind Chevreuil, SVP, U.S. HR. "Our strong culture and enterprise-wide diversity and inclusion strategy position us well to reach our company goals because they focus on uplifting people in our organization in a way that they feel valued, included, and like they belong here."
Adds Beck-O'Sullivan: "We strive to utilize employees' unique talents, experiences, beliefs, and backgrounds to create an engaging work environment and a world-class retailing operation. Employee collaboration opportunities have generated ideas that have changed our business for the better; enabled individuals to achieve career goals; and provided professional, interpersonal, and technical skill growth."
A few of the key ways Best Buy does that include:
Best Buy officers, presidents, and vice presidents travel around the country to meet with cohorts of store leaders and employees to gather their thoughts on where the company is doing well and where it could improve.
The technology solutions of its Knowledge Management System (Edi) and LMS provide an environment for employees to self-author content that will help others perform better in their role, as well as share feedback to eliminate information that is incorrect or needs improvement.
Mentoring and professional growth opportunities exist in a variety of formats across Best Buy. Employee Resource Groups (ERGs) are groups of employees who form company-sponsored networks based on a dimension of diversity, such as: age, race, ethnicity, gender, disability, sexual orientation, or gender identity.
Personalizing the Employee Experience
"As we look toward the future, one challenge we see is: How do we better personalize the learning experience for our employees? How do we do a better job of respecting their time, experience, and learning preferences by systematically tailoring content to their individual goals and desires?" says Beck-O'Sullivan. "In the future, we want to look at all the aspects that make up an employee at Best Buy (experience, performance, career goals, how they like to learn, where, and what they will be doing that day) and create personalized recommendations around things they can learn to better serve our customers and develop as an employee."