Create A "Goldilocks" Training Program
Keep your leaders engaged by ensuring they are provided with the right mix of choices for how they can best learn.
Posted: September 12, 2019
Navigating the vast range of learning methods available to create a program that meets leaders' needs may seem more challenging than ever. There's no longer a one-size-fits-all approach, but there are better ways to target a right blend.
According to the Global Leadership Forecast 2018, published by DDI, The Conference Board, and EY, most mid- to large-sized companies actively use 10 different types of learning. And one-third of all organizations are using 13 or more different types. That's a lot to manage, and the investment and effort won't pay off if learning isn't targeted to how leaders need and want to develop. Here are some tips to strike the balance with a mix of learning methods that will help ensure you get it "just right."
DELIVER WHAT LEARNERS WANT MOST
Start by making sure your programs are attuned to how leaders actually want to learn.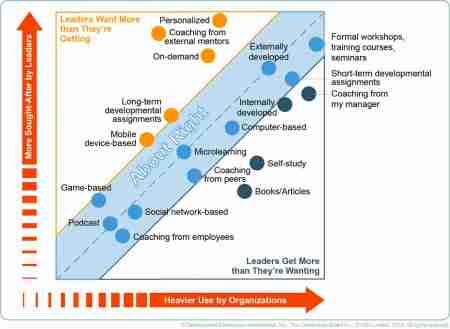 In a study of more than 25,000 leaders across generations and levels, learners told us which types of learning they want most for their development and growth:
Personalized learning experiences. Learners are influenced by all the experiences they have—inside and outside of their work— and this includes an increased expectation of personalization based on their everyday consumer experiences like those they interact with for entertainment and social media. Organizations can provide personalized experiences through tools that suggest or curate learning content based on learners' development needs.
Coaching from external mentors. This represents a ripe opportunity for most organizations since external coaching typically is offered only at higher levels of leadership. Providing external coaches to earlier career and front-line leaders will give them a personalized resource for their development.
Formal workshops and classroom learning. New technologies have not replaced the value or effectiveness of formal learning, especially among the generation often stereotyped as the most tech savvy. Surprisingly, Millennial leaders indicated a greater desire for formal development, with 65 percent of Millennials indicating they want more formal classroom training in contrast with 59 percent of other front-line leaders.
On the flip side of what learners want more of are three methods they indicated are overused or less effective for their development: internally developed material, books/articles, and self-study.
LEVERAGE TECHNOLOGY TO SUPPORT TRADITIONAL DEVELOPMENT
When it comes to learning, leaders aren't seeking technology; they are seeking experience. Although leaders indicated they want more mobile-device-based learning (suggesting they want more accessibility), they do not want more game-based learning, social learning, or other technology-based learning. This is likely because technology on its own isn't a differentiator for learners.
It's clear from the data that technology is most valuable when matched with learners' needs—as an accelerator of learning. Technology- enabled methods improve the link between learning programs and leadership quality, along with application back to the job. Consider employing these methods to help give "always on" learners the tools they need to constantly grow themselves and others.
Continue to keep your leaders engaged by ensuring they are provided with the right mix of choices for how they can best learn. The most effective ways to provide learning and to develop leaders aren't changing. What is changing are their expectations. As such, organizations that work to blend in new technologies to make learning more engaging and meet user needs will succeed with providing more valuable experiences for their learners.
Stephanie Neal is director of the Center for Analytics and Behavioral Research (CABER) at global leadership consulting firm DDI (https://www.ddiworld.com/).