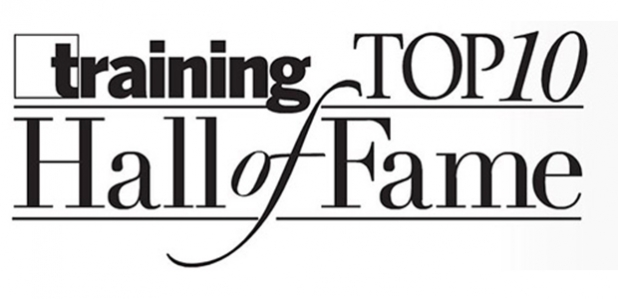 Farmers Insurance and Verizon Inducted into Top 10 Hall of Fame
Farmers Insurance and Verizon are the newest inductees into the Training Top 10 Hall of Fame.
Posted: February 4, 2014
Farmers Insurance and Verizon are the newest inductees into the Training Top 10 Hall of Fame, joining the ranks of the 12 companies named to the hall since its inception in 2008 (Wyeth Pharmaceuticals subsequently was acquired by Pfizer Inc. in 2000). These 12 companies held Top 10 spots in the Training Top 50, Top 100, and now Top 125 rankings for four consecutive years. Farmers Insurance and Verizon were formally inducted into the Top 10 Hall of Fame at this year's Training Top 125 Gala, held February 3 during the Training 2014 Conference & Expo in San Diego. Members remain in the Top 10 Hall of Fame for a minimum of three years. They can choose to remain in the Hall of Fame by adhering to specific guidelines or they can opt to reapply for Training Top 125 consideration.
FARMERS INSURANCE
At the University of Farmers, strategy starts, not surprisingly, with a written strategy developed as a foundation for the company's annual planning process. Elements of this approach include a SWOT (Strengths, Weaknesses, Opportunities, and Threats) analysis based on enterprise and operational results. Farmers also identifies an aspirational "Future State" for the University: "How do we need to be structured and what developmental resources need to exist to align with and support the achievement of organizational business goals?" The next step is the creation of a "From/To" roadmap documenting tactics and milestones to move from the organization's current state to the future state, with an emphasis on the upcoming year. Each component includes a dual emphasis:
What's needed to support Farmers business units (working in the business)?

What's needed to develop the capabilities of the University of Farmers and its learning professionals (working on the business)?
Examples of strategies and success working in Farmers' business include: solutions for transforming the company's agency and distribution model to drive increased sales results, better understanding the customer to improve customer experience, and enhancing the capabilities of leadership and top talent.
Examples of strategies and success working on Farmers' business include: significantly expanding audience reach and impact through mobile, social, and subject matter expert-generated content. Farmers also has developed a robust process to identify and enhance learning professional capabilities around performance consulting, learning strategy development, design, and delivery. Expanding University capabilities also includes becoming a greater enabler (vs. developer) of learning, creating continuous learning environments (vs. "training programs"), and increasing the technology savvy of Farmers' people.
Regardless of strategy or tactics, Farmers believes in three additional keys to success:
Data, analysis, and measuring impact

Being intellectually curious through consistent piloting of programs prior to launch

Industry benchmarking to ensure the company is up to date on current thinking, trends, and best practices
VERIZON
Verizon, a global leader delivering innovative communications and technology solutions, employs a diverse, global workforce of more than 180,000 employees. To keep employees' capabilities current, Verizon invested more than $280 million in learning and development in 2012, offering 11,000-plus courses in a variety of formats, including classroom training, virtual instructor-led training (VILT), and mobile and online learning. Employees completed 7.9 million hours of training—an average of 44.6 hours per person. Verizon's global tuition assistance program provides employees with up to $8,000 annually to fund higher education to enhance their careers. More than 23,000 employees were funded through the program in 2012.
Verizon's L&D organization has significant leadership support and involvement—from C-suite "leader as teacher" engagement in executive education, to executive participation in go-to-market curriculum reviews, to a "leaders first" top-down deployment approach to training.
Senior leaders also sponsored "Learning Effectiveness" as an inaugural Verizon Lean Six Sigma initiative in 2012/2013. L&D led projects designed to improve learning, including a curriculum review process, channel-based new hire training, and a trainer evaluation process. These projects delivered $36 million in savings through October 2013.
The L&D organization supports strategic business initiatives with comprehensive learning solutions (e.g., business transformation initiatives, new technology implementations, device/pricing/customer-facing policy rollouts). For example, Verizon's Executive Education Shareholder Value series began in 2011 with a two-day program, "Leading for Shareholder Value." The program targeted Verizon's shareholder value imperative by focusing on its financial performance and the power of a collaborative culture. In 2013, a new program, "Innovating for Growth and Value," was deployed. It focused on approaching innovation in a disciplined way to lead in current markets, shape adjacent markets, and create new markets.
Verizon leverages technology to deliver effective, efficient learning. For example, when geographic, budget, or timing constraints and/or competing priorities present challenges with deploying classroom training, Verizon uses interactive VILT. Employees say their VILT experience is superior to Webinars and on par with classroom training, and VILT nets significant travel and productivity savings. Verizon delivers training and online performance support content via its smart phones and tablets to field technicians and retail representatives. Providing employees with untethered access to content precisely when they need it helps them better support customers.
Verizon's Training Top 125 placement annually since 2002 is a recruiting and employee engagement asset. Current and future employees truly value the learning and development opportunities available at Verizon. 
THE TRAINING TOP 10 HALL OF FAME
BOOZ ALLEN HAMILTON: No. 9 in 2007, No. 1 in 2006, No. 2 in 2005, No. 4 in 2004, No. 6 in 2003. Representative: Vicente Gonzalez, Learning and Development
DELOITTE LLP: No. 6 in 2004 and 2005, No. 8 in 2003, No. 9 in 2002. Representative: Nicole Roy-Tobin, Director, Best Practices & Innovation, Deloitte
ERNST & YOUNG: No. 6 in 2007, No. 3 in 2006, No. 7 in 2005, No. 8 in 2004, No. 7 in 2003. Representative: Alison B. Hooker, Chief Talent Development Officer, Americas, Ernst & Young
FARMERS INSURANCE: No. 4 in 2013, No. 2 in 2012, No. 1 in 2011, No. 6 in 2010. Representative: Annette Thompson, Chief Learning Officer, Farmers Insurance
GENERAL MILLS, INC.: No. 7 in 2008 and 2009, No. 5 in 2007, No. 10 in 2006. Representative: Kevin D. Wilde, Vice President, Chief Learning Officer
IBM: No. 2 in 2006, No. 1 in 2005, No. 1 in 2004, No. 2 in 2003. Representative: Gordon Fuller, Global Design & Dev. Leader, IBM Center for Advanced Learning
KLA-TENCOR CORPORATION: No. 9 in 2006, No. 5 in 2005, 2004, and 2003. Representative: Glenn Hughes, Senior Director, Learning and Development, KLA-Tencor Corporation
KPMG LLP: No. 5 in 2010, No. 2 in 2009, No. 5 in 2008, No. 7 in 2007. Representative: Cyndi Bruce, Executive Director, KPMG Business School - U.S
MICROSOFT CORPORATION: No. 9 in 2011, No. 8 in 2010, No. 10 in 2009, No. 9 in 2008. Representative: Jim Federico, Senior Director, Platforms & Operations, Microsoft Corporation
PRICEWATERHOUSECOOPERS: No. 1 in 2010, 2009, 2008; No. 2 in 2007. Representative:: Tom Evans, Chief Learning Officer
THE RITZ-CARLTON HOTEL COMPANY: No. 1 in 2007, No. 4 in 2006, No. 9 in 2005, No. 10 in 2004, No. 9 in 2003. Representative: Diana Oreck, Vice President, Leadership Center
SCC SOFT COMPUTER: No. 4 in 2011, No. 9 in 2010, No. 3 in 2009, No. 8 in 2008. Representative: Donald Keller, Chief Learning Officer and Vice President, Global Education & Development
VERIZON: No. 1 in 2013 and 2012; No. 3 in 2011, No. 4 in 2010. Representative: Lou Tedrick, Staff Vice President - Workforce Development, Verizon
WYETH PHARMACEUTICALS: No. 5 in 2009, No. 3 in 2008, No. 8 in 2007, No. 7 in 2006. Acquired by Pfizer Inc. in 2009
department:
Training Top 10 Hall of Fame