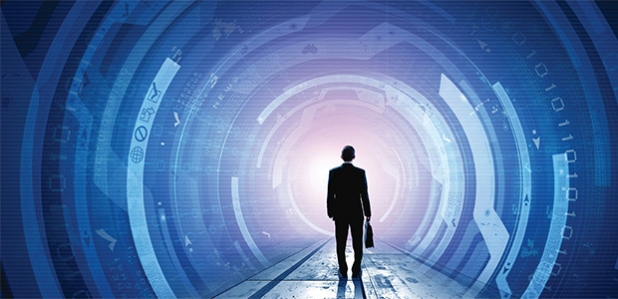 The Future of the LMS
With distance learning surging during the pandemic's stay-at-home orders, many organizations leaned on their learning management systems (LMSs) to provide access to training. So what's next for the LMS?
Posted: September 21, 2020
Employees who might not have been enthusiastic about asynchronous, online learning quickly became fans during the COVID-19 pandemic. It's likely that however heavily your company leaned on your learning management system (LMS) prior to stay-at-home orders, it has grown to rely on this technology even more over the last few months. In addition to providing access to learning anytime, anywhere, the right system can track the learning needs for the company as a whole, each division, each work group, and each individual employee.
As organizations work toward reopening and recovering revenues lost during the shutdown, such capability is essential. But many in the industry are hopeful LMSs will do even more in the coming decade. Training spoke to Learning professionals and LMS industry experts to gauge the likely future of the LMS, including what the dream system would be, and how LMSs can go further to provide companies with exactly what they need to grow and succeed.
Tracking and Organizing Learner Assignments
"I wish our LMS had more Boolean logic enabled for creating assignment parameters," says Tracie Cantu, director of Learning Technology for Whole Foods Market. "Our workforce consists of 90 percent hourly front-line team members and 10 percent support team members who are based across three countries. We often have complicated assignment parameters based on combinations of job codes, teams, municipalities, and leadership level," she says, noting that a dream LMS would simplify the process of tracking and organizing learning assignments for all of those employees.
Whole Foods Market's current LMS is comprehensive, but it does need to focus more on the learner's experience, Cantu says. "It comes with the standard features all LMSs come with: assigning training, hosting e-learning content, tracking completions, reporting on training. In addition, it offers such things as a built-in learner experience technology, artificial intelligence-driven content recommendations, the ability to incorporate Google Analytics into various parts of the platform, social learning through user-generated playlists, and the ability to connect learners with a common need such as leadership development into a community dedicated to their learning need," she says.
"No LMS is perfect on the administration side, but we can work with that. The users, though, will make or break a system. The majority of people have access to the knowledge of the world in the palm of their hand, but no LMS yet has been built with the intuitive user experience and functionality of a Google search."
Ability to Better Engage Learners
"Engagement is our modern currency, and Learning and Development is no exception in terms of valuing this currency," says Ike Bennion, product marketing strategist, Learning Products, at Cornerstone. "If you could get learners to engage with learning more proactively, you could accomplish rapid change management and competitive skills development, and reduce risk through compliance with a higher degree of success."
There are two areas where Bennion says LMSs can improve to better engage modern learners. The first is in "fluidity," so the system comes to the learner, and accommodates the learner, rather than the other way around. The idea is for the LMS to fit seamlessly into the user's workflow. "The rest of the tech world is breaking down the barriers between applications for a more fluid digital experience," Bennion notes. "That fluidity is starting to move from the consumer world into the LMS world with a concept known as 'learning in the flow of work.' For someone to engage with e-learning, we expect them to come to the LMS and log-in. Why shouldn't we take learning to them if we want to remove as many barriers to engagement as we can?"
The second area where LMSs can do more is in making the interaction with learning content easier for the user. "Content needs to be smaller, and it has to be easier to find the 'chapter' you need in your online learning for quick reference," Bennion says. "It has to look modern, not because learners are fickle, but because how it looks immediately communicates something about its timeliness. Content catalogs have to be more power packed—not with more content, but with the right content. Learning and development will have opportunities to embed themselves into the natural flow of discovery, as well."
For Diana Nguyen, vice president of Knowledge & Learning at VCA Inc., one of the great advantages of her Cornerstone LMS is its customized reporting system. "Features within Cornerstone's LMS that were the most important in the decision-making process included the customized reporting system for tracking learning and performance tools such as development plans and observation checklists that enhance the learning and skill acquisition experience for employees," she says. "In addition to these key features, VCA leverages Cornerstone's Competency Models for our competency-based training, as well as the social learning tools such as playlists that enable more effective collaboration. We also were attracted to the community aspects that Cornerstone offers, including strong partnership support, local client groups, and the annual Convergence conference that offers learning and networking opportunities."
More Self-Serve/Self-Management and Better Communication
"Future LMS development phases will include more self-serve and self-management and updating capabilities by the member training administrators, especially for custom learning paths incorporating their own courses and custom resources," believes Cecelia Chott, executive director, Institute Content Services, at Training Top 10 Hall of Famer Leading Real Estate Companies of the World. The company currently uses a proprietary system built internally by its IT team with a recently rebuilt front end featuring a new modern design and graphicrich, intuitive navigation.
The company's dream system would facilitate communication more powerfully, Chott says. "We hope to build more intra-company and network communication among learners, content sharing, and enhanced ability to create secure course links that can be utilized and sent outside of the LMS that will allow promotion to students, as well as the ability to launch and track course activity."
Chott notes the company would like its LMS of the future to help transform more of its learning content to online formats to "assist with effective movement of training offline to online, as needed and as appropriate, and as quickly as possible due to unprecedented circumstances (the pandemic being a case in point). That means centralizing learning and development initiatives and events into one location for improved communication."
Tech-Forward, Including AI
"Organizations are looking for more learner-focused solutions," says David Wentworth, principal analyst, Learning and Development, Brandon Hall Group. "They want platforms that allow for personalization and delivery via multiple modalities and devices. They want to be able to provide more than just classes and courses. They also want scalability—a platform that can grow with them."
He says companies want a system that can help them execute their training strategy in forward-looking ways, including through the use of artificial intelligence. "AI is already playing a role in the LMS space. We are seeing personalization and recommendations getting more sophisticated, similar to a shopping experience on Amazon or watching Netflix. Organizations would love to see AI start handling higher-level tasks, like auto-tagging content for contextualization, automated content creation, and even as the engine behind virtual coaches," he asserts.
Indeed, AI is starting to take off as a forward-looking LMS feature. "Online learning platforms, such as Docebo, go beyond basic LMS functionality by incorporating social learning features into the platform and leveraging AI," says Lindsey Davison, senior manager, Product Marketing, Docebo. "Sophisticated AI technology grows to understand each learner's behavior, creating unique, personalized learning experiences, and social learning lets learners consult peer mentors, ask questions, and collaborate."
AI gives a company not just the ability to wow users, but the freedom from repetitive tasks, Davison says. "The beauty of AI is that you have the ability to reclaim a lot of your time while also accomplishing more than ever before. For example, with AI, you're still getting to create content, but then you're able to pass the baton and let the system take care of the more tedious tasks such as reviewing charts and statistics."
Reliability and Flexibility
The most critical requirements of an LMS for University of Panda are reliability and flexibility, says Dora Lee, director of Learning & Development for Training Top 125er Panda Restaurant Group, Inc., adding that one size doesn't fit all learners. "An LMS is an important part of our company infrastructure and, like plumbing and HVAC, it should quietly work in the background and have the flexibility to support the evolving needs of our associates, their supervisors, and the University of Panda team," she says. The company currently uses a "leading" cloud-based LMS system.
Lee says the company's ideal LMS would meet the creativity of its administrators and users. "The LMS engine shouldn't dictate how Panda designs a search experience for learners or how we deliver content. The LMS also shouldn't restrict how we develop and format reports for supervisors. It's great to offer out-of-the-box functionality and standard features for organizations that need an all-in-one solution. However, a great LMS also should enable Learning professionals to tap into their creativity to develop learning curricula, programs, and processes that best meet the needs of the people in their organization."
Self-directed learning that aids the company in its system of promoting internal employees to higher-level open positions also is important in future LMSs, Lee believes. "Panda Express restaurant leaders are promoted from within the organization, so just as our course and content developers, facilitators, and support team must perform at a high level to support the continuous elevation and development of our associates, our LMS must do the same," Lee says. "We're also looking to support our continuous learners with an online ecosystem that enables self-directed learning. We will always assign the core learning required to support the fundamentals of running great restaurants."
LMS provider Adobe is getting feedback that echoes Lee's sentiments about the need for flexibility to meet an organization's needs. "Learning professionals—and the learners themselves—want their learning management system to be efficient and flexible. The LMS shouldn't get in the way of the learning experience. It should mostly disappear, and let the content shine," says Adobe Talent Development Partner, Learning Platforms, Katrina Marie Baker. "Searching for content should be quick and easy. Navigating should require as few steps as possible. On the administrator side, the same feedback applies. Administrators want their learning technology to make administration faster and more thorough. When an organization starts looking for new learning technology, it's often because they feel the technology is working against them, and making administration more difficult."
Adaptability and keeping the needs of learners in mind is key, agrees Marlon Davis, vice president, Product Management, at BenchPrep. "Mobile allows learners to fit learning into their busy schedules. Learning solutions should shape the availability of their functionality to meet the needs of a modern, on-the-go learner who has five- to 10-minute bursts of available time spread throughout the day. A micro-sessions format means the content should be designed to fit into these windows with well-defined objectives, with the user interface designed to deliver feedback while in the flow to the learner."
Multiple Learning Methodologies
Some organizations are creating their own comprehensive LMS solutions in-house. "Persistent University has designed and developed a comprehensive learning solution, customized for Persistent needs," says Dr. Shubhangi Kelkar, chief learning officer, Training Top 125er Persistent Systems, who says her company's latest LMS provides the following functionalities:
The solution facilitates multiple learning methodologies: online, blended, instructor-led, in-class, remote, social learning, and mobile learning.
For e-learning, it provides a framework for subject matter experts to quickly create new online courses and publish them. It enables massive trainings, with anytime, anywhere learning, and facilitates formal and informal learning.
Notable is the Persistent system's collaboration capabilities. "A collaborative learning group is created for each training instance, and the trainer for the course is assigned as the expert who drives the respective group," Dr. Kelkar explains. "The trainer shares class assignments with the group and drives discussion forums. Members or class participants have access to the shared artifacts, blogs, announcements, and knowledge center courses, and they take part in discussion forums."
There also is a desire for systems that help employees carve their own career paths and get reskilled when necessary, says Jake Miller, senior Product Marketing manager at workforce readiness platform provider Allego. "The biggest thing on everyone's mind right now is how to reskill workers. With so many jobs going away due to automation, every company now is turning into a learning organization. In addition, companies are focused on helping employees find their own career path, and upskilling and reskilling play a huge role in this. However, when it comes to training employees, we go back to the importance of driving voluntary adoption and engagement of the LMS."
Replicating Personal Learning
A system that learners truly want to use is key, Miller says. "We live in a world of consistent and lifelong learning, which is driven in part by the unrestricted access consumers have to information on the Internet," he says. "People are constantly sharing knowledge with each other, and this paradigm needs to be reflected in the workplace, as well. Executives are trying to replicate the learning experiences people are getting in their personal lives in the corporate world."
Training Top 10 Hall of Famer McCarthy Building Companies, Inc., Director of Learning and Development Robin Renschen agrees. He wants an LMS that works the same way learners are used to other sites and apps working, "especially as expectations for virtual learning have rapidly evolved in response to the Coronavirus pandemic. The dream system should look and feel updated, with fewer clicks for both administrators and on the end-user side. Functionality needs to look and feel more like other Websites and systems with which people are already interacting."
In addition, he says, "we need to have much better customer service overall—we are a relatively small fish in an LMS vendor's pond (3,000 users), so turnaround time isn't fantastic. Lastly, integration with many more virtual meeting providers would improve efficiencies. We have an integration with WebEx, but we need to meet the customer where they are today in the environment they are used to working within."
A system able to track the quality and substance of completed training also would be helpful, Renschen says, including "the ability for us to easily track proficiency of capabilities and then utilize group-curated learning resources to address developmental needs. This should include an easier, more intuitive solution for focusing on learning proficiency, not just tracking training completion."
QUICK TIPS
Choose a system that helps track and organize learner assignments, creating simple, automatic formulas for determining which learner gets which assignments to best prepare them for their responsibilities.
Create a more compelling learner experience that enables the ease of Google searches for needed learning and information.
Look for an LMS that provides a fluid digital experience in which the technology fits seamlessly into users' workflow.
Find technology that offers more intra-company and network communication among learners, content sharing, and enhanced ability to create secure course links that can be utilized and sent outside of the LMS to allow promotion to learners, as well as the ability to launch and track course activity.
See if you can add an LMS to your organization that includes artiflcial intelligence capabilities that both enhance learners' experience and free administrators from repetitive, tedious tasks.
Put a priority on finding a system that is intuitive for learners, allowing them to use technology for learning at work that is similar to the technology they use in the rest of their lives.