Keller Williams Is on the Move
The real estate franchise's strong showing in productivity, leadership, and growth training initiatives lands it in the No. 2 spot.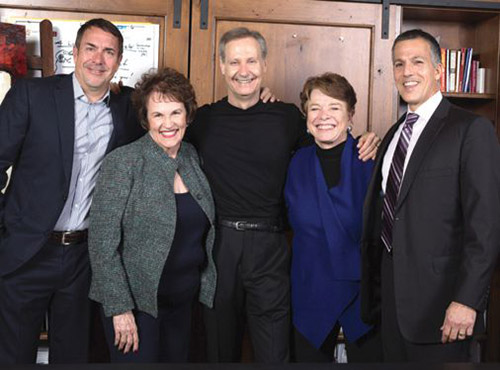 Real estate franchise Keller Williams Realty started 2013 with three ambitious goals. First, to increase its agent count by 8,000 associates. Second, to increase its per-agent commissions by 20 percent. And third, to make sure at least 92 percent of its franchise offices were making a profit.
The company exceeded all of these goals, and Keller Williams Realty CEO Mark Willis says training and coaching have been integral to the record success, which included adding 12,000 agents, increasing commissions by 32 percent, and attaining 95 percent profitability year to date. Keller Williams is now the largest real estate franchise by agent count in North America.
"Here's how training and coaching fit in," Willis explains. "Agents join our company first and foremost for the education we provide. New agents receive critical training that enables them to move into production immediately by learning and implementing the programs, models, and systems that co-founder and Chairman Gary Keller has developed through his bestselling books such as 'The Millionaire Real Estate Agent.'"
BEING BOLD
Willis says the primary driver of productivity is Keller Williams' signature training program, BOLD, which was written by Dianna Kokoszka, CEO, MAPS Coaching and Keller Williams University, and stands for "Business Objective: A Life by Design." Over the course of seven weeks, BOLD conditions agents with mindset exercises, language techniques, and live lead-generation activities. Participants are put into accountability teams and are challenged to push each other to achieve results. BOLD continues to draw agents from within Keller Williams and from other real estate brokerages. It is more than a business course—it's a transformative one, as well, Willis says, and many participants have testified to improvements in their relationships and emotional well-being.
This year, 32,000 BOLD graduates increased sales volume by 80 percent, closed units by 86 percent, and commissions by 118 percent compared with agents who didn't take BOLD, Willis says. "The program is so successful and the results so consistent that we increased the number of locations offering BOLD by two-thirds. Because of our productivity gains, income per agent is up 33 percent, which is helping us fulfill our mission of building careers worth having, businesses worth owning, and lives worth living."
Keller Williams President Mary Tennant notes that the company is focused on the holistic individual. "Associates are attracted to Keller Williams for our training. What keeps them part of our family is our culture. We were thrilled to be honored last year as one of the Top 10 Workplaces in America—the only real estate company on the list."
Within individual market centers, local leaders develop training calendars and social and charitable events that keep people plugged in and passionate about succeeding and giving back. "We have a global day of service called RED Day where we donate hundreds of thousands of hours back to the communities we are privileged to serve," Tennant says. "We contribute to local emergency funds and a charitable 501(c)(3) that provides millions of dollars in assistance annually to family members enduring unexpected hardships. And we've launched a companywide wellness initiative to ensure our associates are living vibrant, purposeful lives."
LEARNING HUB
Keller Williams is so passionate about training and education that it invested hundreds of thousands of dollars into building a state-of-the-art onsite learning center. "It allows us to manage all aspects of the learning experience and bring our associates to our corporate headquarters in Austin for a true immersion in our culture and way of doing business," says Kokoszka. "In 2013, we continued to make major investments in technology and training resources—new courses, tools, videos, scripts, and books, as well as an expanded and enhanced IT training team."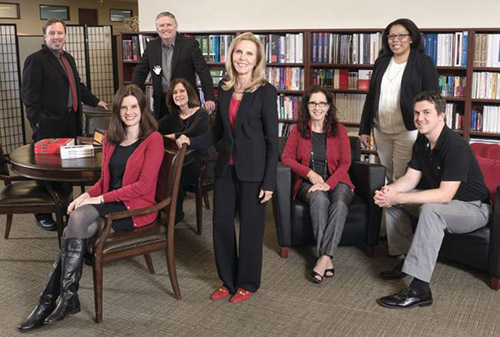 Since Keller Williams agents are on the go all the time, mobilefriendly training and resources give them a competitive edge. "We've added apps to provide motivation and accountability and concise training segments we call Skills on Demand that associates can access on the go—anytime, anywhere," says Kokoszka. "We also transitioned our agents to Google's cloud so they can more effectively run their business and meet client needs. And we have Facebook groups that function as masterminds communities for training courses such as Ignite, which focuses on developing the habits, activities, models, and systems that establish the foundation of excellent customer service."
In 2013, Keller Williams also ramped up training for its regions outside of North America, doubling the ranks of its faculty and coaches to meet growing demand from its associates and the wider business community. "Just in the last year, we've increased the number of associates our coaches work with from 13,000 to 20,000," Kokoszka notes. "And every one of our regional directors participates in weekly accountability sessions with a coach."
APPOINTMENT WITH ACCOUNTABILITY
Another accountability program is Keller Williams' Growth Initiative (GI), a distance learning and consulting program that keeps front-line managers focused on recruiting and retention and activities that lead to growth, productivity, and profitability increases. The accountability in the system is based on:
Weekly one-hour teleseminars, divided by leadership role. Nearly 3,000 Keller Williams leaders have participated so far, and attendance is shared with supervisors.

An agreed-upon standard of two recruiting appointments a day, five days a week, with the emphasis on the activity (making the appointment), not the result of the activity (a recruit joining Keller Williams).

Activity tracking through weekly reports at the national, regional, and office level.
The best practices are shared through:
A dedicated GI Webpage with overall status, tracking reports, and community collaboration

A training video demonstrating "The Language of Real Estate," an evidence-based communication technique that allows leaders to easily put the success of their office into perspective for potential recruits

A highly trafficked Facebook page, with interactions across levels and regions
Since implementation, there has been a 22 percent increase in the overall number of appointments made, and 78 percent of Keller Williams' regions have seen an increase in activities, according to Tennant. "One hundred percent of Keller Williams' regional leadership is participating in the training and coaching components. Since the advent of the GI, Keller Williams has grown its membership in the U.S. by 11 percent and in Canada by 17 percent, compared to 4 percent growth shown by the National Association of Realtors and 2 percent by the Canadian Real Estate Association."
KEYS TO SUCCESS
Realizing that agents needed a proven model for finding, hiring, training, and retaining people, Keller Williams created a training program called RSTLM, which consists of:
Three courses and four days of instructor-led training

Certified instructors

Course materials including worksheets, checklists, videos, and tools

Live demos of the entire interview process

Role-plays

The first course, Recruit-Select, teaches agents to:

Build a pipeline of quality candidates

Use and appreciate behavioral analysis in the hiring process

Consult with individuals about their behavioral assessments

Utilize a comprehensive interview process that builds trust and quality relationships
The second course, Action Training, teaches agents to:
Create and implement a personalized 100-day accountabilitybased training program for new team members

Develop successful, self-managed team members

Move new team members into results-oriented action quickly
The third course, Leadership & Motivation, teaches agents to:
Develop an alternative to crisis management

Identify leadership tools and techniques to align team members with success

Uncover the elements of motivation

Develop tools and techniques to tap into the team members' motivators
The success of RSTLM has been driven by executive support and the edict to take it 10 to 12 times to develop mastery. Leadership is directed to take RSTLM in order to recruit and retain talent. Agents are directed to take RSTLM to hire teams so they can grow and work efficiently.
Leaders who have taken the series and use the models and systems have shown a 63 percent increase in franchise office profitability compared to other leaders, contributing to and exceeding the corporate goals of attaining 95 percent profitable offices. Agents using RSTLM show a four-fold increase in income.
"Everything rises and falls on leadership," Willis says. "To succeed in business, you have to be able to identify leaders and put them into position to attract the top talent that is going to drive your business forward. Training departments have the opportunity to train on how to identify and grow leaders and to provide the education and enrichment that challenges people to think big and pursue innovation to meet individual and collective goals."
As such, every trainer, instructor, and faculty member must take Keller Williams' "Train the Trainer" sequence of courses before they are eligible to teach any courses for the company. "It's intentionally a tough series of courses that only 20 percent of participants pass on the first attempt," Willis says. "This year, we added 200 new 'KW-approved' trainers. By keeping standards high and focusing on improving learning, we help ensure we have the best, most committed trainers in our profession."
AT HOME WITH EVALUATION
When it comes to measuring success, Keller Williams is an open-book company, says Willis. "We share our numbers with all of our associates. We track dozens of metrics to ensure we are setting big enough goals and focusing on the activities, resources, opportunities, and services that drive growth, productivity, and profitability. All of our training is 100 percent voluntary, so we judge value, in part, based on participation. We sold out our annual convention—which, with more than 10,000 attendees, is the largest of its kind in the industry— and increased participation significantly in our training programs."
From the perspective of individual agents, ROI is measured based on what they achieve, Willis explains. "For example, BOLD costs $799 per student, and the average graduate earned an additional $55,000 for the year," he says. "We also look at metrics such as average days on the market. This year, our average days on market was considerably lower than that for our largest competitors, evidence that our agents are completing deals quicker and providing better service. And fewer days on market means more time to focus on other transactions."
Another important metric is adoption. Almost 90 percent of Keller Williams agents are using the company's lead-to-close technology solution, eEdge. Those running marketing campaigns within eEdge increased units by 71 percent, volume by 117 percent, and commissions by 67 percent, according to Willis. "Added together, these types of metrics give us a great perspective on what's working and where we should invest additional resources."
Concludes Willis: "As Gary Keller teaches us, 'Success is sequential, not simultaneous.' Focus on the one training action you can take that will make everything else easier or unnecessary. And as soon as you've knocked over that domino, move on to the next one that's going to lead to big results. You don't have to do it all."