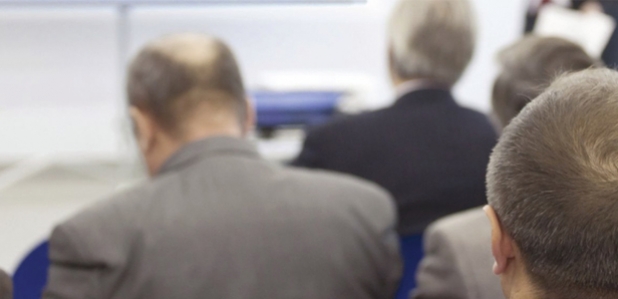 Leaders vs. Trainers
"Leaders lead and trainers train" is the conventional approach, but some companies find there's no better teacher than an executive who can speak from direct experience.
Trainers and Learning professionals often go through specialized schooling, plus years of preparation and experience to do their jobs well. Your executives and department heads are great at their jobs, but how good are they at communicating that competency to others? When deciding on the best person to teach employees, who is the right choice: the trainer with years of experience and proven ability to teach others, or the leader with impressive knowledge, and a proven record of success but no instructional experience? Two Training Top 125 companies and two consultants offer insights on how to make the most of your leaders' and professional instructors' strengths.
STRENGTHS AND WEAKNESSES
Leaders and professional instructors both have substantial strengths. For this reason, TD Bank finds the best approach is to leverage the skills of both. TD Bank employs 113 professional facilitators throughout North America, says Associate Vice President, Facilitation and Program Support Miriam McDermott. The company has approximately 110 corporate leaders participate in the facilitation of learning programs, mostly in the leadership space.
On the other hand, she says, "professional facilitators are experts in their craft. They use specialized training techniques to manage the learner experience, handle conflict, and manage guest speakers. They also make adjustments to the learning approach based on the audience, what's happening in the room, etc. They ensure a consistent and legendary learning experience and exemplify the Learning and Development (L&D) brand at every interaction inside and outside the classroom—face-to-face or virtual."
However, leaders and professional facilitators also have their own sets of disadvantages, which TD Bank keeps in mind. "Corporate leaders typically aren't trained professional facilitators. As such, some risks of using them to facilitate a course include the quality of delivery, the potential to go off topic, not aligning content to learning objectives, and lack of time management," notes McDermott. "To mitigate these risks, we look for leaders who enjoy the learner interaction and who want to ensure their content is relevant to the program. We also partner our corporate leaders with seasoned facilitators for all programs."
One challenge in using professional facilitators is that they typically are not immersed in the lines of business, so they may not provide the same business context a corporate leader can. "At TD Bank, we expect our facilitators to be constantly building their business acumen, particularly for the programs they deliver most frequently," McDermott says. "Facilitators who deliver programs with corporate leader involvement are also responsible for ensuring all corporate leaders/guest speakers are fully prepared for their roles, including facilitation coaching and content review. We also source our more junior facilitators from the businesses to take advantage of their extensive business knowledge, particularly for frontline training."
PAIR LEADERS WITH PROFESSIONAL INSTRUCTORS
One way to best leverage the expertise of leaders and professional facilitators is to have them work together. "For the programs where we have corporate leader involvement, we pair our professional facilitators and corporate leaders together to deliver the content and take turns facilitating," says McDermott. "Corporate leaders are selected based on their current business ownership and expertise, ensuring their area of focus lines up with the learning activities planned for that day/program. TD Bank's professional facilitators meet with all speakers before the program to ensure they understand the content they are delivering."
L&D is also responsible for the creation of the speaker's content and working collaboratively with the speaker to ensure the content represents his or her business and aligns to the learning objectives of the program as a whole.
McDermott offers the following examples of how a leader and a professional instructor might work together to enhance a course:
 "A senior leader for Human Resources speaks and engages with participants for one hour. The conversation then is debriefed by L&D. This dialogue is followed up with interactive lab work where the learners are able to explore the discussed concepts firsthand. It is the ideal balance of expertise shared by a business leader made more meaningful by a facilitator, creating an environment that fosters dialogue and practical application on new concepts."

"During our leadership 'boot camp' programs, leadership 'hosts' provide guidance and mentorship throughout the week-long course by offering insights from their specific experience and reinforcing the value of learning the information presented by the facilitators, materials, and guest speakers. The corporate executive speakers provide participants with critical insights into their businesses and how the participants impact their business unit. Corporate leaders serve to provide participants with an understanding of their role in supporting the success of a matrix organization."
PROVIDE LEADERS WITH TEACHING TOOLS AND SUPPORT
At Wequassett Resort and Golf Club, which uses 14 corporate leaders and three to five professional facilitators a year, Learning professionals provide leaders with a framework and teaching aids. "We have always provided our corporate leaders with a teaching outline and PowerPoint presentation. They receive these tools in advance of their course and follow them while teaching," says Director of Learning Kara Lachance. "This year, we are introducing a train-the-trainer course to our team. It will be mandatory for all of our corporate leaders to take and pass before they are allowed to train."
Lachance says L&D likes to give the professional facilitator a full outline of Wequassett's training objectives prior to the session. "We always include key areas we would like to focus on and point out any shortcomings we are working on. This is typically done conversationally and electronically. We also ask key members of our team to be present in all training sessions to help clarify any property-specific questions they might have that the professional facilitator may not be able to answer."
Providing strong support for leaders as teachers is essential for Wequassett as Lachance says the company prefers to use corporate leaders as instructors for their firsthand knowledge. "Wequassett tends to primarily utilize our own corporate leaders because they will provide firsthand knowledge of the resort and of what our guests have come to expect. They have the advantage of knowing our operation and giving concrete examples," she explains.
Lachance says that sometimes a Learning professional will partner with a corporate leader to ensure a course delivers on its objectives. "Although we haven't formally presented as joint instructors, we routinely add our vantage point and often share in the presentation. To ensure success in using this approach, we discuss it in advance, gaining encouragement and support from the facilitator to do so," she says. "They generally are thrilled to gain this collaborative benefit and have always been open to this practice."
For example, she says the company's Learning professionals recently helped guide leaders from Forbes through a program at Wequassett. "We blended our customer intimate operating philosophy and ongoing training with the Forbes brand standards, which allowed us to be more efficient as a team in learning these standards while continuing to embrace what we have taught for years," says Lachance.
IDENTIFY STRENGTHS AND 'REHEARSE' TOGETHER
Once you have plans for the course in place with the leader who has been invited to teach, be sure to go over exactly how it will go beforehand, advises Lisa Cummings, vice president of Products at Corporate Visions. "In a former role, I invited a dynamic vice president to present on a topic he was fascinated with. The content and delivery were great, yet he stood in the light of the projector for one hour with the PowerPoint image tattooed on his forehead and nose. Ugh. Plan foiled. You never know what you'll get unless you rehearse together," Cummings says. "The best route is to get the leader in his or her strengths zone. Turn the projector off. Get them telling stories and generating engagement. Panel-style Q&A sessions are excellent for this."
Rehearsing before course presentations can help professional instructors, too, she points out. "Professional facilitators often lack the practical experience to go deep on the 'what this is like back in the work environment' questions. Most of us also have seen the trainer who gloats: 'I can deliver any topic—give it to me and the audience will never detect how little I know on the subject.' Instead, know the style and the personal strengths of each person and pick the content and roles based on that. This approach makes weaknesses irrelevant."
Staffing and recruiting firm LaSalle Network plays to the strengths of each leader who heads a course, says founder and CEO Tom Gimbel. "The Learning professional who organizes the program should know intimately the strengths and weaknesses of each of the leaders," says Gimbel. "For example, our chief revenue officer organizes our new hire week-long training. She has been with the company for more than 11 years and knows intimately each member of our management team. She knows what they can speak to, what they excel at, and any areas of weakness. This ensures that we have the best possible line-up to speak to different topics."
Professional facilitators can be just what the leader needs to help draw out and connect the key lessons of the course, Gimbel notes. "We have brought in outside professional facilitators to conduct job-specific training. During these trainings, our leadership team is actively involved, posing questions, providing context, and relating the concepts back to the way we do things at LaSalle," he says. "They help guide the conversation to ensure the staff understands and sees how it's applicable to our business or how we do things."
QUICK TIPS
Weigh pros and cons of leaders and professional instructors. Leaders understand firsthand what they are teaching and can talk strategy, while instructors often better understand how to communicate the information.

Look for leaders who enjoy learner interaction, and who want to ensure their content is relevant to the course.

Ensure all corporate leaders/guest speakers are fully prepared for their roles, including facilitation coaching and content review.

Pair professional facilitators and corporate leaders together to deliver the content, and to take turns facilitating.

Bring in outside professional facilitators to conduct job-specific training. During these trainings, get your leadership team actively involved, posing questions, providing context, and relating the concepts back to the way your organization operates.
One-Two Punch
By Paradigm Learning
Professional facilitators used to be the inevitable choice for delivering learning and development programs. After all, that was their job: to deliver learning. More often now, "leader-teachers"—senior people who do the actual teaching or delivery—are the industry buzz. They tend to be a good choice because they are natural subject matter experts by experience.
We see value in having both types of facilitation in every organization. Here's where the two roles fit together:
• Professional facilitators: When your organization is ready to deliver a core skill such as business acumen, it is good to begin with a professional facilitator, whether your training partner provides them or you choose a train-the-trainer option. This way, you can guarantee an expert level of delivery, allowing your participants to absorb the learning. Think of it in terms of golf. If you aspire to become a pro golfer, you need a trainer who not only knows the sport well, but can teach you the skills required to succeed. Not everyone can be a teacher. The same can be said about a professional facilitator. Maybe the most value-add a professional facilitator can bring from his or her own training is the ability to allow learners to learn through discovery.
• Leader-teachers: After a professional facilitator has delivered the training, leader-teachers may reinforce the training better. Take business acumen as an example: A CFO would be fantastic to reinforce the training with additional workshops or coaching. Leader-teachers give organizations an ability to extend learning. They continue to relate the training back to participants' real-life positions in the organization.
At Paradigm Learning, we've seen great successes from organizations that deliver the initial training with professional facilitation and then reinforce the training using leaders as teachers. There is no better way to get everyone speaking the same language. Instead of using one or the other, consider using both in future learning and development initiatives.