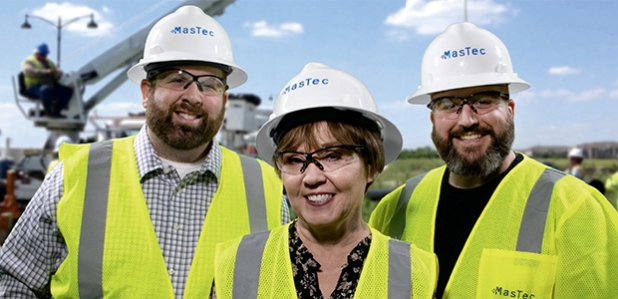 MasTec Utility Services Is Wired For Learning
In addition to ensuring employee safety and improved performance, MasTec Utility Services' training gives team members a chance to grow as professionals and achieve their goals and dreams.
Posted: February 28, 2020
At MasTec Utility Services, employee training can mean the difference between life and death. That's why the company—which provides utility construction services for the communications, power, and natural gas industries in North America—believes you can never have too much training.
"There's nothing more important to us at MasTec Utility Services than the health and safety of our MasTec family," says John Congemi, senior director of Employee Development. "The work many of our 5,000-plus employees do is dangerous and difficult. It's critical that our team members return home each evening just the way they arrived at work earlier that day. Effective training ensures that our workforce can operate effectively, efficiently, and, most importantly, safely."
MasTec Utility Services' objective every year is to minimize safety incidents, Congemi says. "Although the ultimate goal would be to eliminate incidents all together, we set a realistic target of reducing our OSHA recordable safety incidents by 10 percent over the same period of time the previous year."
Last year, the company—which earned a Top 5 ranking on the Training Top 125 for the first time in 2020—also aimed to reduce the number of motor vehicle incidents by 25 percent over the previous year.
Another consistent key strategic goal is to increase productivity. Because margins in the utility construction space are so tight, Congemi explains, even the slightest gains in productivity can lead to dramatic revenue increases. Last year, MasTec Utility Services aimed to increase generated revenue by 10 percent over the previous year.
MasTec Utility Services' training programs also empower its employees to create and grow their careers within the utility services industry, Congemi says. "The credentials and certifications employees earn through our training programs open many doors as they advance within the organization. Beyond safety and improved performance, training gives our team members a chance to grow as professionals, take on additional roles and responsibilities, and achieve their goals and dreams."
Safety First
MasTec Utility Services' "Introduction to Safety" training program consists of 24 training modules aimed at teaching new employees the rules, regulations, techniques, and procedures necessary to perform their job duties efficiently and safely. The program is made up of training on topics such as electrical safety, personal protective equipment, fire safety, and fall protection.
Last year, 93 percent of MasTec Utility Services' new employees completed the "Introduction to Safety" training program. The techniques and procedures employees learned in this program led to an 18 percent year-to-date reduction of OSHA recordable safety incidents, Congemi says, adding that MasTec Utility Services also experienced a 7 percent reduction in total incidents during the same timeframe.
Another safety-related training program implemented last year was MasTec Utility Services' new "Defensive Driver" training initiative. "We added to our existing multi-modality curriculum of both online and instructor-led courses addressing driver safety," Congemi says. "Our program now includes modules on hazard recognition, application of collision avoidance techniques, winter driving, awareness of common driving violations that result in collisions, and how to change driving habits to eliminate moving violations. We also provide commercial driver's license preparation training to help set our future drivers up for success."
By the end of last year, 92 percent of MasTec Utility Services employees who drive company or personal vehicles for work had completed the curriculum. "Knowledge and skills gained from the courses led to improved decision-making, appropriate adaptations, and more caution and awareness behind the wheel," Congemi notes. "Our motor vehicle accident rate decreased 33 percent, exceeding our goal by 8 percent. We also were recognized as a Defensive Driving Training Center of the Year recipient by the National Safety Council."
Because so much of MasTec Utility Services' training is focused on safety, reinforcement plays a big role in the company's programs. "We integrate knowledge checks into courses and one-on-one review sessions with management, conduct performance assessments to evaluate how well employees are applying what they learned, and conduct 52 weekly instructor-led training sessions to refresh and verify important knowledge and skills covered in critical programs," Congemi says.
He points to the company's Lineman Apprentice Program, which includes both short- and long-term knowledge and skill reinforcement as an example. Apprentices turn in work records every month to document the on-the-job learning taking place within the program. When this happens, their foreman and local training instructor are given an opportunity to observe them in action, offer feedback, and answer any questions the apprentice may have about the instruction over the past month. There are also annual checkpoints in the program where the apprentice is assessed on his or her ability to move on to the next level. "Their work and knowledge is verified through verbal, written, and behavioral assessments," Congemi says. "Apprentices have access to all modules throughout the year, so they can refresh their knowledge and bridge any gaps as they prepare for these annual check-ins."
Training Investment
MasTec Utility Services has increased its investment in training and development in each of the last six years. This last year, the company made a significant investment in decentralizing its training efforts by adding training and development (T&D) resources to each of its regions. "This entailed significant increases in training staff, dollars dedicated for training and development, and even the construction of new training centers in Texas, Florida, and North Carolina," Congemi says. "These additions will enable each region to customize training programs based on their unique projects, customers, laws, and even weather conditions."
Congemi notes that MasTec Utility Services' greatest training challenge continues to be accessibility to its field employees. "Because our field employees are working outdoors, often in remote locations without access to Internet or a cell signal, we have to be creative about reaching them with compliance and just-in-time training," he explains. "We've met that challenge by embracing a multi-modality, blended learning approach to training and development. We ensure the great majority of our content is available to learners via instructor-led modules, e-learning, and/or video. This way, employees have an opportunity to complete the training either the way they learn best or via whichever modality is available due to technology, geography, or resource constraints."
One area where the company has dramatically increased its time and financial investments is leadership development. MasTec Utility Services recently launched a new "Leadership Excellence and Development" program (LEAD) and now has nearly 400 employees engaged as participants or mentors in the program.
"LEAD is our single largest program rollout since we launched our learning management system (LMS) in 2014," Congemi says. The program has four tiers:
1. The Employee Development Program (EDP) is designed for individual contributors. It is a foundational curriculum that provides 101-level leadership training and coaching.
2. The Supervisor Development Program (SDP) builds upon the EDP curriculum for supervisors and provides people management skills.
3. The Advanced Development Program (ADP) is designed for managers who show an aptitude and attitude for director/vice president positions.
4. The Professional Development Program (PDP) is a competitive program for sponsored leaders as part of a succession planning track. These employees are being groomed for specific executive positions within the next one to two years.
Each tier within LEAD consists of online learning, instructorled training, and hands-on practice exercises to be applied while on the job. All participants receive a mentor to guide them through the program and this stage of their career. Each tier entails a one-year curriculum; upon completion, participants receive a crystal award and are eligible to enroll in the next tier.
"The first step we took in designing the LEAD program was to determine the leadership competencies to be developed within each tier of the program," Congemi says. "We established a 'tiger team' made up of operations leaders throughout the organization and asked them to identify and rank numerous competencies based on relevance and importance to the organization. We determined a top 20 to integrate into our program. These 20 competencies, including vision, accountability, decision-making, influence, values, and conflict resolution, served as the building blocks for the design and development of the program."
Early indications of the program's success are positive. "One of our goals in creating the program is to improve retention rates among our high-performing, high-potential employees, and to date, we have retained more than 97 percent of our LEAD participants," Congemi says.
The Future Is Bright
MasTec Utility Services has a big year ahead of it in 2020, Congemi believes. "We have committed to rebuilding our entire onboarding program for new hires. Much has changed since we first built this training curriculum. For example, we now have our own video studio and team members dedicated to multimedia productions. We're excited about the opportunity to take our onboarding program to the next level."
The company also is looking to transition to a new LMS in the coming year. "We anticipate our expanded capabilities will empower us to further explore immersive learning environments such as virtual reality and to leverage artificial intelligence," Congemi says.
MasTec Utility Services already has begun to utilize virtual reality (VR) in training. "With the help of some of our vendor partners, we've been able to give employees an opportunity to practice operating heavy construction equipment in a risk-free virtual environment," Congemi says. "Learners get a sense of what it's like to lift objects using a crane and maneuver an aerial lift using VR equipment. This technology can enable us to train safer and cheaper, not to mention the 'cool factor.'"