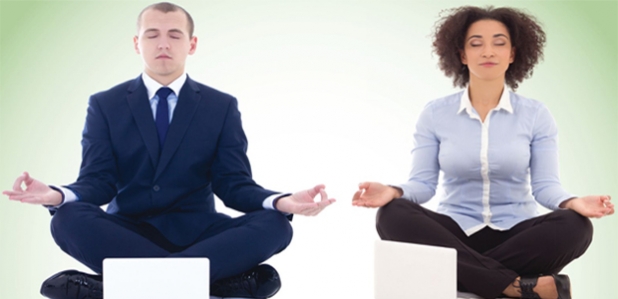 Mindfulness at Work
Mindfulness long has been touted as a stress-relief tool. Is there a practical case for teaching all employees the ancient art of calming one's mind to address business objectives?
Mindfulness training is making its way into the corporate world. More than just a stress management tool for busy executives, the act of becoming aware and centered now is seen as a valuable business skill. Some companies today are looking to the practice as a way to help stressed leaders and employees manage the pressures of a 24/7, "always on" work cycle.
Should you slot mindfulness training into your company's curriculum? Here are the ins and outs of turning the practice of mindfulness into a viable training objective.
Mindfulness Defined
The term, "mindfulness," encompasses a person's awareness, attention, and memory. Although it has roots in the eastern religious texts of Buddhism, mindfulness now has expanded beyond a spiritual endeavor into the secular world.
Although many see mindfulness as simply sitting in a quiet room to meditate, the practice is broader, says executive coach Scott Eblin, author of "Overworked and Overwhelmed: The Mindfulness Alternative." His definition of mindfulness is "awareness plus intention"—being aware of your internal reactions, as well as what's going on around you, and then forming an intention for what you plan to do (or not do) next. In this way, mindfulness is something everyone can achieve, even if they don't have 45 minutes a day to devote to meditation.
The Business Case for Mindfulness
Rasmus Hougaard is convinced of the connection between a calm, focused mind and business results. He's the managing director of Potential Project, a global consulting firm that designs and delivers mindfulness training programs customized to its clients' needs. Potential Project, whose client list includes Accenture, American Express, and Nike, carefully measures the impact of its interventions. Its clients have experienced benefits such as a 25 percent increase in productivity, a 35 percent decrease in stress, and a 31 percent increase in collaboration skills.
But impressive as these results are, they might still fail to persuade your chief learning officer. In order for mindfulness to be accepted as legitimate, it must be framed as a skill, says Cory Custer, director of Learning and Development for wealth management firm Brighton Jones. Custer, along with his colleague, Liv Freeby, facilitates a program called Mindfulness-Based Social and Emotional Intelligence (MESI) for his organization. "Mindfulness is a mental habit that can be cultivated and trained," Custer says. Just as employees can develop customer service or negotiation skills, it's possible to increase one's mindfulness.
How Mindfulness Fits into Training
The exact location of where the topic of mindfulness resides in an organization's training curriculum varies, depending on the corporate culture and organizational structure. Eblin incorporates mindfulness as a skill within the larger context of leadership development, while Hougaard's clients see it as a path to performance improvement. "Approximately 60 percent of the companies that approach us are looking for higher performance and productivity," reports Hougaard.
Brighton Jones takes a different approach, viewing mindfulness as part of an effort to bring well-being to employees' lives. "Our company's mission is to help our clients, colleagues, and communities live richer lives," explains Custer. Brighton Jones' MESI program, of which mindfulness is a part, is the means to help employees develop emotional and social intelligence skills with the aim of greater personal well-being.
Building a Program that Incorporates Mindfulness
Although their approaches differ, the companies interviewed for this article are in agreement on one point: As with all skills, it takes time to develop mindfulness. Although there are training vendors that offer brief programs that purport to teach employees mind-calming techniques, they are rarely effective. "Just doing a one-off workshop won't help anything," says Hougaard. He recommends programs based on the science of how adults learn and change their patterns of behavior. Hougaard adds that the learning should be spaced over time, in short "chunks." What works well for their clients, he says, is five to 10 sessions of 60 minutes each, spread out over several months.
Another element that's critical to the program's success is executive support. Freeby, who is Brighton Jones' director of Talent Management, and Custer have co-facilitated all of their company's MESI programs. They acknowledge that the program is a success because their company co-CEOs, Charles Brighton and Jon Jones, were on board from the beginning. "Our CEOs both had some level of awareness of mindfulness when we pitched this program," says Custer. Although both leaders had differing levels of experience and familiarity, both were willing to invest in the idea from the get-go, which made implementation of the program easier.
Chairman and CEO Chris Schmidt is another example of an executive who supports what often is viewed as an unusual skill set to train on. Schmidt, who leads the 2,500-plus-member workforce of public accounting and consulting firm Moss Adams LLC, embarked on a "journey to mindfulness" that began in 2012. "The pace and complexity of our work world has become such that I was concerned for our workforce," he says. Schmidt rolled out a pilot program aimed at helping people practice mindfulness techniques to reduce stress and enhance decision-making. He started with his senior leadership team, and then moved to the organization's entire group of 288 partners. When Schmidt first introduced the concept of mindfulness, he admits some team members thought it was a "squishy" topic. Since then, many have come on board, "though there are a few who still aren't sold on it, and that's OK," he reports, because it's a personal journey.
Mindfulness Training Success Stories
Rather than seeing a business problem that needed attention, Brighton Jones took a proactive approach to incorporating mindfulness into its training curriculum. Both Custer and Freeby see the integration of mindfulness (along with skills such as self-awareness, self-regulation, and empathy) into the MESI program as an extension of their company's mission. It's a way to bring together the personal and business lives of their employees, notes Freeby. "Our MESI program creates the condition for well-being, which helps develop the whole person, not just the person who is executing his or her tasks for a certain number of hours during the workday," she explains. This training, which 95 percent of their workforce has attended, has paid off in greater positivity; better interpersonal relationships; and a higher degree of trust, respect, and empathy, reports Custer.
Moss Adams' Schmidt, who sees himself as a servant-leader, is confident that offering mindfulness training to members of his management team and employee base will have a measurable impact. Moss Adams is monitoring its employee engagement scores and customer loyalty scores to determine if a focus on mindfulness moves the needle in either of these categories. "If you don't have a measure," Schmidt notes, "it's going to be difficult to see the actual effects of what you're doing."
Mind Your Business
It seems counter-intuitive. Why would the owners of one of the world's fastest-growing software companies with hugely ambitious growth plans tell employees to take time out, slow down, and focus on the present? Yet that's exactly what TimeXtender (www.timextender.com) does, what it encourages its rapidly expanding team to do before every meeting, every day.
"Mindfulness reminds us that we are people doing business with people," says Anne Krog Iversen, who serves as the company's Chief DNA Officer. "We live in such a stressful world and do so many things in the course of the day that our minds can't keep up."
The company's founder and CEO, Heine Krog Iversen, agrees. "People long have talked about working smarter, not harder, but in reality, we are online 24/7 all over the world. As a result, most of us have ended up working harder. So we need to be conscious about that. We need to step back and take time to focus."
In response, TimeXtender implemented a multifaceted mindfulness program to help staff members develop, within themselves, the ability to break through from a limited state of being to a place of empowerment. The program is far more than a training effort or an employee benefit; it is a core part of the TimeXtender brand.
"We all have the same amount of time. What makes us different is how we choose to spend our time and what we choose to focus on," says Heine Krog Iversen. In fact, that's why he started TimeXtender. "I don't believe people should waste time doing things that can readily be automated." TimeXtender's software leverages the power of automation to drive business intelligence. Efforts that previously took weeks or months can be done with its software in minutes or days.
"At TimeXtender, we have two key slogans that fill our corporate halls: 'Because time matters' and 'Plugged in, we engage fully charged.' These are hallmarks of how we operate as 'X' people (our staff)," says Anne Krog Iversen. "Also, it's what we provide to companies. With mindfulness, we're able to be more productive at our company. With Discovery Hub, we're able to help customers be more productive at their company."
TimeXtender's mindfulness program is composed of:
Recharge: Weekly sessions to get in touch with one's mind and body
Seven Habits: Following the seven habits of highly effective people
Mindfulness: Team yoga, relaxation, meditation, and breathing breaks
Minute of Silence: To clear the mind and connect with the importance of time and how we choose to spend it
So does it work? "The downside of doing this from a CEO perspective is that it can be very hard to measure," Heine Krog Iversen admits. "But I would say that, in general, we have more happy employees and employees who are less sick and take less time off from work even though we are all working insanely hard with some very ambitious goals."
In fact, TimeXtender recently was named one of the world's fastest growing software companies by Software Magazine and was listed as a Top 10 for revenue growth.
QUICK TIPS
Even if you don't embark on a full-scale mindfulness program, you still can incorporate a few of the key elements, says executive coach Scott Eblin. Start with things that are easy to do and don't take a lot of time, he advises. No time to meditate for 30 minutes per day? Teach people how to do three deep belly breaths at the start of each meeting.
Determine what you're trying to achieve with a mindfulness initiative. Is it reduced stress, increased productivity, or improved creativity? Otherwise, it will be seen as a fad, says Potential Project's Rasmus Hougaard.
When implementing the program, invite your early adopters into the process immediately. Both Moss Adams and Brighton Jones experienced benefits from having influential members of their workforce attend early sessions and give input for tweaks to the program.
When gaining executive support, present mindfulness in scientific terms. "It's a heavily researched topic," says Hougaard, so you will be able to find relevant information to help make your case.
 Consider a "communities of practice" design. Liv Freeby, director of Talent Management at Brighton Jones, found that by facilitating the mindfulness program with groups of six to eight employees, participants were willing to share important topics with one another.
For more on mindfulness training, read about Training Top 10 Hall of Famer KLA-Tencor's 2015 Outstanding Training Initiative, "The Meditation Workshop," at: https://trainingmag.com/trgmag-article/top-10-hall-fame-outstanding-training-initiatives-marchapril-2016
Additional information can be found at:
https://www.slideshare.net/harvardgraduateppe/building-mindfulness-for-teachers-guide-80752309
Source: Professional Education at Harvard Graduate School