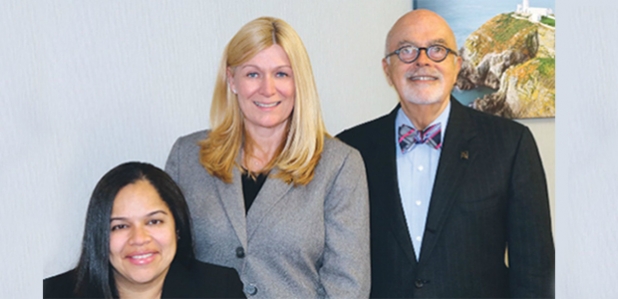 New York Community Bancorp's Investment In Training Pays Off
An increased training budget and staff helped the financial organization achieve its sales, service, and employee development goals in 2016.
New York Community Bancorp, Inc.'s increased investment in employee training and development has paid dividends, including earnings of $130 million, 96 percent customer satisfaction ratings, 2.6 percent lower turnover than the industry average, and a spot in the Top 5 of the Training Top 125 for the first time.
"Our leaders recognize that in addition to offering competitive products and services, we must continue to leverage and enhance the skills of our valued employees in order to survive in today's crowded marketplace," note Second Vice President – Instructional Design Manager Joelle Divine and Employee Development Officer Tracy Robinson. "New York Community Bancorp views training as a positive investment toward that goal, and as a result, we increased our training budget by $230,966 (5 percent) in 2016. In addition, top executives at New York Community Bancorp have shown their commitment to improving the overall knowledge and proficiency of the professionals within the organization by increasing our number of full-time Training professionals by 10 percent."
The organization's 2016 strategic goals, Divine says, were centered on what drives business results:
• Sales: Focus on developing a sales force that builds customer relationships in order to increase sales.
• Service: Deliver an industry-leading service experience by focusing on key attributes that win and retain customers for life.
• Employee Development: Enhance employee engagement with career planning, growth, and development opportunities.
"Our training plan is determined by the Executive Management Team, based on the organization's strategic plan and direction," Divine explains. "The corporate director of Employee Development & Training (ED&T)—a member of the Executive Management Team—reviews key training initiatives monthly with the Chief Operating Officer and Chief Administrative Officer to determine how our deliverables are aligned to, and support, the organization's goals."
Selling Points
A professional and effective sales approach is critical to support New York Community Bancorp's corporate sales goal. As such, ED&T offers a variety of sales training programs unique to the organization, including: Introduction to Relationship Selling, Tele-Consulting—Planning and Making the Call, Event-Based Selling, Building and Retaining Customer Relationships, and Effective Coaching.
Divine says successful application of the key sales skills and actions learned have resulted in increased deposits of $98 million and a 15.01 percent return on average tangible stockholders' equity. Additionally, loans distributed rose $2.7 billion to $35.8 billion, representing an increase of 8.3 percent.
The Building Business Customer Relationships (BBCR) course is a blended approach of self-study and classroom training. Participants are introduced to the following:
• Identifying desirable business characteristics: Participants are shown the importance of considering such characteristics as the age of business, annual revenue, number of employees, location/proximity, profitability, and type of business when targeting potential new small business customers. "This has proven to be a successful method as the number of additional business products sold has increased by 15 percent," Divine says.
• Networking: Participants are provided with examples of networking opportunities they can participate in with the goal of discovering potential opportunities for new business clients. Participants also create individual Centers of Influence, a network of acquaintances/associates who are willing to introduce them to potential clients on a recurring basis. Divine says application of this skill is demonstrated by a 10 percent increase in core deposits for business accounts.
• Calling on small businesses: Participants are shown the importance of reaching out to small businesses in order to illustrate how New York Community Bancorp can add value to their company and increase their profitability. To generate successful initial and follow-up calls with business customers, participants learn the importance of planning for both in-person and telephone calls. Results indicate a 29 percent increase in the number of outside business development calls, according to Divine.
• Documenting: Participants review the internal forms used to collect customer information. These forms are utilized when the employee is planning a sales call or following up with a customer after the initial sale. By continuing to assess and review customer needs, Divine says, additional cross-selling opportunities are identified, resulting in a 3 percent increase in sales for existing business customers.
Upon completion of BBCR, participants return to their retail centers and share the skills acquired throughout the curriculum with other employees.
Service Commitment
New York Community Bancorp's Every Customer Every Time (ECET) program introduces participants to the organization's service philosophy, Customer Service Model, and Service Standards. "We have implemented valuable tools to measure our success," Divine says. "A Voice of the Customer (VOC) program was created for front-line employees where external surveyors perform mystery shops at our retail locations, posing as regular or potential customers. Results are reported weekly to management, and employees receive the appropriate coaching, training, and support to correct behavior that is not consistent with our Customer Service Model."
Year-to-date attribute ratings indicate that the expected customer service behaviors are met 96 percent of the time, and customer satisfaction ratings have improved from 94 to 96 percent.
In addition, Divine says, "we use the VOC surveys in conjunction with ED&T-designed coaching and observation forms to develop coaching plans for our retail branch employees. Our VOC program provides decision-makers with actionable information to increase profits, improve customer satisfaction, and enhance employee performance. We have seen an increase (95 to 97 percent) in the percentage of employees who meet or exceed documented performance expectations, which include customer satisfaction components."
New York Community Bancorp's Customer Contact Center (CCC) plays a vital role in the organization's service, profitability, customer retention, security, and overall success, Divine notes. "Due to the rise in technological advances in how customers do their banking, over the last five years, retail traffic has decreased and the number of customers who call the CCC has increased," she says. "To that end, ED&T began working with our business partners in the CCC to develop a curriculum that will provide our employees with the tools and skills they need to help serve and protect one of our most valuable assets—our customers."
The Customer Contact Center Hybrid Curriculum consists of two instructor-led classroom training classes. ED&T facilitates the first segment, concentrating on customer service and the host system. To demonstrate their support and interest in the success of all CCC employees, Divine says, top executives lead an open-forum discussion. The CCC Quality Assurance (QA) team facilitates the second segment, focusing on additional CCC supporting systems.
Once both segments of the curriculum are complete, participants are transitioned to New York Community Bancorp's formalized approach to mentoring (nesting). Through this method, they work in pairs with an experienced mentor within the CCC. "Mentors and mentees are paired up through a strategic approach, which accounts for individual learning and communication styles," Divine explains. "This experience includes observation, guided/supervised production, job-partnering, and independent work. The use of checklists, application/practice, coaching, feedback, and scheduled signoff points to validate progress and accomplishment round out the structure of mentoring components. Nesting continues until employees' skills and abilities are brought to the point where they are prepared to work independently."
Results achieved since the rollout of the program in March 2016 include:
100 percent of customer calls resolved at first contact
19 percent increase in after-call productivity
60 percent decrease in time it takes to answer a customer's call
35 percent decrease in number of calls abandoned
10 percent decrease in call hold time
4 percent decrease in number of calls escalated to management
Developing Assets
To maintain ongoing success, New York Community Bancorp focuses constant attention on the growth and development of its employees, Divine says. "We enhance employee engagement with career planning, growth, and development opportunities. We offer a Professional Development Plan (PDP), a guide for career planning, and development to assist employees with their career goals."
This program outlines the requirements of each job/role, and provides additional and innovative resources available for use at any time to help develop a new skill set, and equip employees with information needed to move to other positions as they become available within the organization. As a result of feedback collected from the end-users, Divine says ED&T added 12 new modules and resources to the program in 2016.
To demonstrate the organization's commitment to its employees and their development, an introduction video, featuring three top executives, outlines the PDP and its components.
In the last year, the number of employees who met or exceed documented performance expectations has increased from 95 to 97 percent, Divine says. "Some 42 percent of employees far exceed documented performance expectations, indicating they are ready for additional responsibilities," she notes. "Furthermore, the organization has less than 10 percent turnover in overall leadership levels, and has been able to fill 76 percent of open management positions with internal employees seeking promotions."
Emerging Trends
Rapidly advancing technology has had an "incredible influence on our training methods and course offerings," says Robinson. "To make sure we are reaching our diverse learning population, we need to offer courses in a variety of formats, including in-class training, in-office training, Meeting Express, self-study, job aids, online training, and on-demand video demonstrations."
Robinson says New York Community Bancorp is in the process of creating video demonstrations for different functions that employees are required to perform throughout the day. These videos will be available through a link to an external server that will house all of the videos.
Looking ahead, Executive Vice President– Corporate Director, Employee Development Robert Gillespie says, "we expect that the financial services industry will change dramatically over the next 10 years and become even more digital. The pace will be faster, the learning will be more demanding, and the delivery will need to be even more effective.
"Our Training professionals will need to be even more experienced and effective in developing and delivering outstanding training," he continues, "including needing to be experts in our field of banking, and as well versed in financial services as possible. Many also will need to be outstanding project managers, internal consultants, and analysts. The broader and deeper our professionals become, the higher the level of impact will be in our bank."