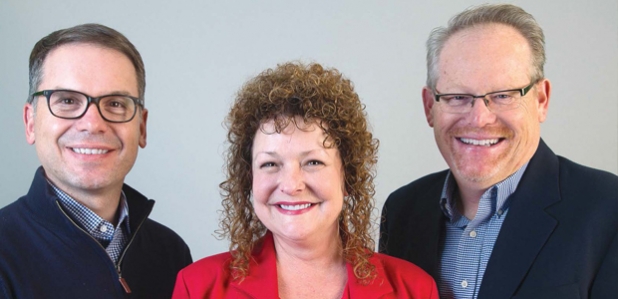 People-Driven Development at CHG
In 2014/2015, CHG Healthcare Services provided its employees with strong career and skill development by moving to a more people-driven, leaderguided, and core value-centered approach.
Posted: February 4, 2016
CHG Healthcare Services believes in putting people first—and that core belief not only influenced much of its training and development in 2014/2015 but helped land the company in the Top 5 of the Training Top 125 for four consecutive years. This means CHG is eligible for induction into the Training Top 10 Hall of Fame in 2017.
"This is something we worked hard for and have had as one of our strategic goals for several years now," says Drew Clarke, senior director of Talent Management at CHG Healthcare Services. "The process truly kept us focused on the most important things, going back eight years now. Because of the Top 125 application, we were required to argue the validity of our processes, continually evaluate our training products, and measure our outcomes and our impact on the business."
CHG has experienced significant growth over the years— estimating its people count to have grown by 28 percent by the end of 2015—and it expects to grow from 2,000 employees to more than 5,000 employees over the next 10 years. This has had a profound impact on the company's training and development programs, especially in 2014/2015.
"As CHG moves from a small to mid-size company, the traditional ways of appraising our people's performance no longer fit our core belief of putting people first or the leadership style we had nurtured," Clarke notes. He points to two examples of this:
CHG's standard yearly performance reviews were top-down initiatives where leaders dictated goals and assigned subjective numerical ratings based on several criteria.
There was no standard process for tracking learning and performance.
CHG executives knew that to maintain employee engagement and reach financial and cultural goals, the organization would need to radically change the way its leaders and employees felt about how its people should grow and develop. In response, the company rolled out the Continuous Development Initiative in 2014 over several implementation stages, with the last group going live with the new approach in November 2015.
"Our objective was to provide CHG employees strong career and skill development by moving to a more people-driven, leader-guided, and core value-centered approach," Clarke explains. "The programs needed to tie together our current assessment and longer-term career development. We called this program 'People-Driven, Leader-Guided Development.'"
With this approach, development plans no longer have a grading scale, and CHG now asks employees to speak to what they feel their biggest contributions are, as well as what skills they feel would help them perform better in their current role. It also asks the employee for a career goal. It is then the leader's job to review the document with the employee, provide input when the focus cannot fulfill a strategic goal for the team, and provide resources for development when the goals are finalized. This approach requires ongoing developmental conversations with each employee, Clarke notes.
MyDevelopment 2015
In addition, CHG implemented a new Performance and Learning Management System (PLMS) called MyDevelopment in 2015. The PLMS system provides CHG with the ability to utilize Employee-Driven, Leader-Guided Development planning in a trackable format, as well as offer resources to help people drive their own development.
The challenge of rolling out People-Driven, Leader-Guided Development involved all CHG Learning and Development teams, Clarke says. "Every CHG employee and leader had to be trained on several aspects, requiring multiple training sessions for each person on each subject. In addition to having to learn the philosophy and their role in driving or guiding development, both leaders and employees needed to learn the technical side of MyDevelopment in order to process development plans and goals."
MyDevelopment also provides the ability to streamline processes and provide e-learning capabilities. This system allows for content sharing and tracking between divisions that had never been done before.
"People-Driven, Leader-Guided Development is proving to be the catalyst our people needed to initiate conversations with their leaders about how they would like to grow and develop at CHG," Clarke says. "This ultimately increases their engagement and CHG's retention possibilities."
Strategic Goals
CHG has had success by focusing each year on a team member engagement goal, a financial goal, and a leadership goal. The company's three main corporate strategic goals for 2014/2015 were:
Maintain a Top 20 ranking on Fortune Magazine's 100 Best Companies to Work for

Achieve industry-leading revenue growth above 10 percent to help reach the 2017 goal of $250 million EBITDA (earnings before interest, taxes, depreciation, and amortization)

Establish a 5:1 employee-to-leader ratio by increasing the leadership bench by 15 percent without affecting leadership turnover
To help achieve the first strategic goal, Clarke says, "we enhanced our leadership development programs to have more emphasis on 'servant leadership' and our employee development program to include courses on mindfulness and Emotional Intelligence. We measured success in these areas on our annual Employee Engagement Survey. In 2010, three of our five lowest scores were in areas focusing on growth and development. Through our continued focus on delivering training our team members want, we have seen one CHG division's employee satisfaction scores go up as much as 10 percent."
CHG made enhancements to its CORE training to help achieve its second strategic goal. The enhancements were geared toward helping new sales reps successfully place a physician within their first eight weeks. The program has seen a 22 percent increase in the number of new reps achieving their first placement during the program, according to Clarke.
Instituting Sophomore/Freshman Mentoring as part of the CORE training program also has benefited both parties. The freshmen have a mentor who recently went through the growing pains and struggles of a new hire and can share best practices and advice that contributed to his or her own success. Sophomore mentors have the opportunity to support and teach somebody with less experience, which increases their own confidence.
The average gross margin for mentored freshmen reps has increased 15 percent to $153,357. Freshmen participating in the program now are contributing 35 percent more booked days than they did previously. There has been a 23 percent increase in the number of outbound calls made and an 11 percent increase in new jobs. In addition, sophomore mentors have seen a 20 percent increase in their own days booked after having participated in the program.
As for the employee-to-leader ratio goal, "we continue to review and improve our programs for both existing and prospective leaders, focusing on effective people leadership," Clarke says. "We know that by focusing on people first, positive business results follow."
In 2014 and 2015 CHG's leadership development programs were given the challenge by executive leaders to focus on more just-in-time development for leaders. Because of CHG's rapid people growth, new front-line leaders spend the majority of their time coaching and developing new employees. In response, CHG Learning and Development revamped the new leader development program in 2014. "We moved the majority of our people leadership courses (Coaching, Crucial Conversations, Situational Leadership, Effective One on Ones, etc.) to the beginning of the program, when people would need them most," Clarke explains. "We then moved more strategic leadership skills courses (Change Management, Gross Margin Optimization, etc.) later on in the program. In this new approach, leaders are getting the skills they need when they need them, rather than front-loading all leadership skills in a multiple-day kick-off."
Through these programs, leadership turnover rates have decreased from 12.95 percent to 8.63 percent, a 33 percent improvement, Clarke notes. "The percentage of internal promotions has skyrocketed from 39.47 percent to 68.42 percent, a 73 percent improvement. The leader-to-employee ratio has dropped from 6:31 to 4:64. All of this was done while increasing our leadership bench by 15 percent."
CHG plans to continue its strategic approach with its ongoing leadership development courses in 2016. "For example, when a leader is moving from a manager role to a director position, what are the key competencies he or she will need to develop first in order to be effective in the new role?" Clarke says. "As leaders move up in the organization, much of what they need to develop is experiential learning. Finding a way to standardize and capture that experiential learning is part of our leadership development approach in 2016."
On the Horizon
Also in 2016, CHG plans to continue the education and options available to employees as they drive their own development in CHG's People-Driven, Leader-Guided approach. "Because we now are asking individuals to drive their own development, our Learning and Development teams will provide multiple options for individuals to do that in 2016," Clarke says. This includes several facets:
Developing more in-house e-learnings with CHG specific content people can view at their leisure

Partnering with a third-party content provider to host more universal topics (communication, customer service, etc.) through the LMS

Providing more standardized offerings of in-person trainings on topics specifically tied to individuals' growth and development plans

Offering individualized coaching for those requesting help putting together their growth and development plans "Each of these ties back to our approach that people should own and drive their individual development, and provides resources and direction for employees," Clarke says.
CHG also is expanding its Putting People First culture "to extend beyond how we care for each other within our company into how we care for our communities and those in need," Clarke says. "We have always encouraged giving back and making a difference for others, but we are more formally focusing on this in 2016 and beyond. One of our most exciting new programs supporting this vision is called our Difference Makers Award. In November 2015, we opened a nomination period where colleagues could recognize each other for the great work they are doing in our communities."
Clarke says more than 117 nominations were received, and CHG will select four winners who will join the CEO and a guest of their choice on a humanitarian/cultural immersion trip to Kenya, Africa, in 2016. Clarke and the rest of the CHG team firmly believe that "the goodwill generated by celebrating and sharing the stories of the impact our people are making in the world will strengthen our engagement levels and foster even stronger ones."