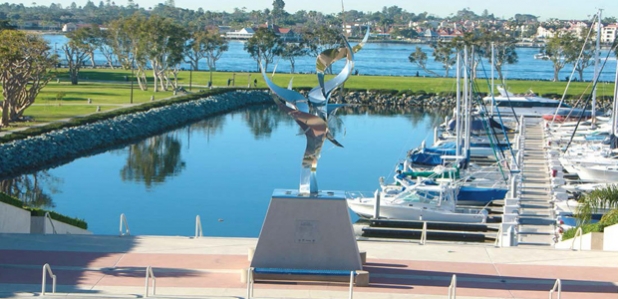 Ride the Learning Wave
Learning & Development professionals explore new horizons at the Training 2017 Conference & Expo in San Diego, CA.
For photo coverage of the 2017 Training Conference & Expo and Training Top 125 Gala, visit: https://pubs.royle.com/publication/?i=392372&p=34
Invigorated by golden rays of sunshine and a gentle sea breeze, nearly 2,100 attendees plunged into a surfeit of learning, networking, and best practice sharing during the 2017 Training Conference & Expo at the San Diego Convention Center January 30–February 1. The event kicked off with a special "Getting Things Done" session that offered techniques and principles for stress-free productivity attendees could use at the conference and beyond.
Five keynoters provided unique perspectives on taking learning and development to the next level, while emcee Andy Eninger of The Second City Works engaged the crowd in a "wave" exercise that rolled across the ballroom.
In addition to the Training Technology Test Kitchen, Future Forum, Learning Leader Town Halls, and Second City improv demonstrations on the Expo Stage, Training 2017 included nearly 120 breakout sessions, 15 hands-on clinics, 12 certificate programs, and 27 sponsored speaker sessions. The Expo Hall was abuzz with 94 exhibitors revealing new products and services. Attendees continued their networking with a dine-around and a variety of tours, including the Strategic Operations, Inc. (STOP) Hyper-Realistic Training Tour; Naval Education and Training Command Tour; and San Diego Zoo Academy and Private Tour.
The fog rolled in right before the harbor cruise celebrating the Annual Training Conference & Expo's 40th anniversary, but even though the yacht never left the dock, attendees partied hearty. The training competitive spirit was on full display during a raucous Trivia Contest that featured a spontaneous dance-off and performance of the Macarena—now that's what we call "pier-to-pier" networking!
SPECIAL TOP 125 AWARDS
Training recognized innovative and successful learning and development programs and practices utilized by the 2017 Training Top 125 winners. Best Practice and Outstanding Training Initiative winners received crystal awards during a ceremony on the Expo Stage and were congratulated by Training Top 10 Hall of Famers Mike Reavis of KPMG and Ken Barber of Jiffy Lube International. The winners are:
BEST PRACTICES
BB&T Corporation: Leadership Excellence Program
General Motors Sales, Service & Marketing Division: District Manager New Hire Learning Journey
Mastercard: Business Modeling Curriculum
Nationwide Mutual Insurance Company: Cohort Learning
Ricoh USA, Inc.: Services Team Annual Recognition Program (STAR)
OUTSTANDING TRAINING INITIATIVES
ADP, LLC: Major Accounts (MAS) Fast Path
Best Buy: Gravity
BNSF Railway: Virtual Power Brake Law (VPBL)
Pacific Gas & Electric Company: Gas Operations Enhanced Field Scheduling
Paychex, Inc.: Unified Communications Training
2016 Emerging Training Leaders
Eighteen of the 25 2016 Emerging Training Leaders attended an awards ceremony held on the Expo Stage. The Emerging Training Leader awards program highlights training professionals who are relatively new to the field (minimum of 2 years, maximum of 10) and who have demonstrated exceptional leadership skills, business savvy, and training instincts. To read about the winners, visit: http://bit.ly/emergtrgldrs
A SEA OF TRAINING EXCELLENCE
The Training Top 125 Gala by the Sea recognized 2017 winners' deep passion for and unwavering commitment to excellent employee training and development. The Gala by the Sea was held January 30 during the Training 2017 Conference & Expo at the San Diego Convention Center in San Diego, CA.
Attended by more than 600 Training Top 125 representatives and Training Top 10 Hall of Famers, the black-tie Gala was sponsored by Diamond sponsor SAP; Platinum sponsors Seiko (Official Gala Timekeeper) and Pelucida (crystal award provider); Crystal sponsors CEB, Godiva, Turning Technologies, and the Training Top 10 Hall of Fame; and Gala producer Brella Productions.
Keller Williams Realty, Inc., was welcomed into the No. 1 spot on the 2017 Training Top 125. Four companies landed Top 5 spots for the first time: New York Community Bancorp, Inc., at No. 2; Leading Real Estate Companies of the World at No. 3; BNSF Railway at No. 4; and Sonic Automotive, Inc., at No. 5. Some 23 new companies broke into the Top 125 this year.
During the Gala, Training inducted Jiffy Lube International, Inc.; CHG Healthcare; and Capital BlueCross into the Training Top 10 Hall of Fame after they ranked in the Top 10 of the Training Top 125 companies for four consecutive years. Two Top 125 winners—Keller Williams Realty, Inc., and Blue Cross Blue Shield of Michigan—met the criteria in 2017 and will be inducted into the Hall of Fame in 2018.
Earlier in the day, Training Top 125 Best Practice and Outstanding Training Initiative award winners received crystal trophies during a ceremony on the Expo Stage.
For photo coverage of the 2017 Training Conference & Expo and Training Top 125 Gala, visit: https://pubs.royle.com/publication/?i=392372&p=34