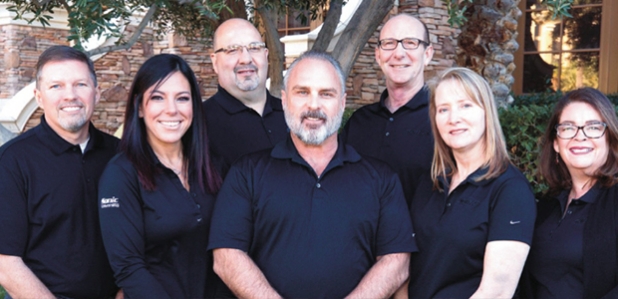 Sonic Automotive's Drive For Innovation
In an automotive retail industry that traditionally has limited its investment in training, Sonic Automotive boosted its Training team and spent $150 million on iPads and iPhones for all Sales and Service associates.
Posted: February 15, 2018
Sonic Automotive's greatest challenge recently has been a decreasing SAAR (Seasonally Annual Adjusted Rate) of new car sales, as the United States is selling fewer new cars year-over-year. To overcome this, Sonic Automotive had to make wise training investments focused on maximizing ROI.
To increase training bandwidth and commitment at the retail store level in 2016/2017, Sonic Automotive added 753 trainers to the organization by converting and training managers in its stores to be trainers and changing their titles to "trainers." Sonic University created a three-day manager as trainer/coach blended training process for all 753 managers.
Sonic Automotive also implemented criterion-referenced, self-paced online training and certification for new hires, which led to a reduction of more than $2.3 million in instructor-led training expenses.
Last but not least, the organization has invested more than $150 million in iPads and iPhones for all Sonic Automotive Sales and Service associates. "This past year, we automated our Playbook (Standard Operating Procedures) to an online, ondemand digital format," says Doug Bryant, vice president, Talent Management, Training and Recruiting. "Now our associates can open an app on their phone, view the associated Standard Operating Procedure for the task or job they are performing, watch a related video, see comments or tips from peers, and even take a quiz on the process they are performing."
Learners using the system can message one another, list tips, and provide advice. The "learning strings" are sorted and saved by subject, so future users can find the learning strings easily. The iPad and iPhone technology implementation won Sonic Automotive an award from Apple.
"In an industry (automotive retail) that traditionally has limited its investment in training, Sonic Automotive's senior executive team demonstrates its commitment to developing our associates and to our shareholders by investing in a largescale, specialized training force," Bryant says. "Our senior leaders drive predictable, repeatable, and sustainable training and associate development that has helped our company perform with the best in our peer group for same-store sales, market share, finance and insurance (F&I), and fixed operations profitability."
Specifically, Bryant points to increased same-store auto sales of 2 percent in a declining market and same-store sales for fixed operations increasing by 4.3 percent.
Variable Operations Academy
One of Sonic Automotive's most effective training programs in 2016/2017 was its Variable Operations Academy. Typically, the automobile industry has promoted only its top-producing sales associates to management roles with little or no training in leadership or management skills. The most productive of these managers were promoted to the general manager position. This fostered a culture of hierarchy, silos, and conflict.
Seven years ago, Sonic Automotive changed its general manager candidate training curriculum and developed leadership training to drive its strategic goals and culture change. As a result, Bryant says, "associate turnover was reduced to the lowest in our peer group (as low as 26 percent), and a culture change has taken place, resulting in a Customer Service Index (CSI) as high as 93 percent and an average market share increase as high as 17 percent."
Leadership training for the company's high-potential frontline Sales and Finance managers previously was limited to a one-time, one-day class with limited success. In response, Sonic Automotive created its Variable Operations Academy. The curriculum is focused on leadership, its practical application in real-time situations, and the development of people. It fosters a culture of teamwork as opposed to rewarding individual efforts. This directly supports the company's One Sonic One Experience branding initiative.
The program includes multiple approaches for helping students adapt to new ways of thinking and acting as leaders, coaches, and trainers. A one-week interactive Application Lab promotes participant creativity, small group problem solving, modeling, and role-playing. The subject matter includes leadership strategies, training and coaching skills, and giving feedback to associates.
Eight week-long Field Studies include self-leadership assessments, communication styles, and operational processes auditing. Students perform in-dealership activities for training, coaching, giving feedback, and delegating tasks. They receive mentoring from their peers, their regional vice president, and their general manager. End-of-week reviews by the GM provide feedback and coaching to students.
Two, one-hour Debrief Webinars provide a venue for review, feedback from students, and sharing experiences of applying their newly acquired leadership skills.
Three knowledge checks are administered during the six weeks post-Application Lab. Learners receive a weekly Field Studies completion checklist with comments from the GM. Growth opportunities are identified by each participant, and Action Plans are developed during the fourth week. Implementation must be complete within 45 days and validated by the GM and regional vice president.
2016/2017 results of the Variable Operations Academy include:
15 percent promoted to general manager
35 percent promoted to sales manager
10 percent promoted to general sales manager
40 percent of dealerships experienced a reduction in overall turnover
68 percent of dealerships increased their unit production and profitability
One Sonic One Experience
Blended learning plays a major role in Sonic Automotive's training. One specific example was the training for the move toward the One Sonic One Experience (OSOE) transformation. Managers within each dealership (753 total) assumed different leadership responsibilities as trainers. Sonic Automotive is ensuring all managers have the skills to support the six competencies that promote a customer-centric environment and the ability to train on those skills. Titles, job descriptions, and pay plans for the managers were changed to reflect their new primary responsibility as trainer/coach.
"Sonic managers took ownership of training and coaching new and existing team members, 4,200 in total," Bryant explains. "These leaders needed skills to effectively take on this new role of helping their team successfully perform. Sonic needed a new training program to ensure existing and new managers had the foundational skills to effectively drive results through their teams in a new environment."
Sonic University designed an approach that provided flexibility for managers to upskill on foundational skills through asynchronous curricula that prepared them for a three-day instructor-led training. This pre-work included foundational content that enabled the time spent in the classroom session to specifically focus on practice and application of onboarding new team members.
The blended learning solution components included a Learning Roadmap, pre-work assignments, e-learning modules, online assignments, and the three-day instructor-led session.
As a result, Bryant says, Sonic University saved $2.7 million in new hire training costs; time to competency was reduced by 27 percent; and CSI improved by up to 5 percent.
Big Role for Big Data
Bryant believes Sonic Automotive's use of analytic data is the one thing that makes Sonic Automotive's training so effective. "It helps us determine which training programs and processes allow us to achieve our company's strategic goals and always focus on training ROI," he says.
The Sonic Human Capital Management Team uses Big Data to:
Measure performance
Drive change
Identify training and coaching opportunities
"Our Sonic University platform is able to track usage of almost 300 different learning modules by individual learner," Bryant says. "Usage reports are used to drive engagement with the platform and promote individual learning."
Sonic Automotive also uses Big Data to produce dashboards such as its Recruiting Dashboard. This dashboard provides information such as: age of requisition, number of applicants, applicants screened, applicants interviewed, openings filled, and openings left to fill.
These dashboards are shared with regional leaders and individual store teams. "Making performance visible to all teams creates healthy competition, and has facilitated change in engagement with recruiting activities," Bryant says. "The Recruiting Dashboard not only points out performance, but can be used to identify teams or individual hiring managers who may need training and coaching on our processes and the tools available to them for recruiting."
Lastly, Sonic Automotive uses data from New Hire and Exit Surveys to identify training and coaching opportunities for its management teams. "The data we collected from these surveys has identified a need for our managers to be better at coaching and training on the day-to-day level," Bryant says.
Sonic Automotive also measures associate satisfaction/ employee engagement. "When we first began measuring associate satisfaction or employee engagement, we found that our supervisors were not trained in proper management techniques," Bryant says. "As one response, we developed a workshop called 'Conscious Leadership' and had our senior trainers certified to deliver this course. The impact was an improved Associate Satisfaction Index (ASI) in 2014 (up 17 percent) and an additional improvement in 2015 of 4.8 percent. Also, the training helped reduce turnover by 13 percent in 2014, an additional 7 percent in 2015, and an additional 3 percent in 2016." Bryant notes this reduction is in an industry where turnover is more than 70 percent.
Additionally, he says, employee engagement was at 83 percent in 2016, "an all-time high for our company. Annually, during the fourth quarter, we review our associate satisfaction scores and use this data to drive our strategic planning with our executive team for our training initiatives."
Sonic Automotive uses both an Annual Employee Engagement Survey and a weekly "Pulse" survey. Both surveys can be completed on a smartphone, and participation is more than 90 percent for the last two years, Bryant says.
Down the Road
Looking forward, Sonic Automotive is starting to research artificial intelligence (AI) for training, Bryant says, but instead of asking Siri or Alexa a question, associates will be able to ask "Sonic" a job-related question and receive the answer without having to attend training or find it in a training manual.
"Our industry is rapidly changing," Bryant notes. "By 2028, we will have nearly 50 percent autonomous driving vehicles and 50 percent electric vehicles, and 30 percent of transportation will be using ride-sharing. Training's role in that future will consist of developing on-demand, real-time learning for our workers, including virtual reality and artificial intelligence. The future looks bright and fun!"