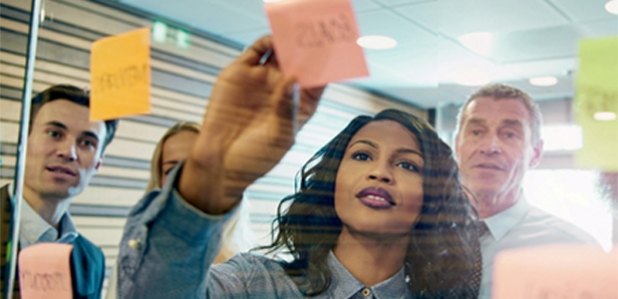 Space To Innovate
How companies are designing work environments to optimize employee creativity and innovation.
When you need a new product or service that will wow customers, where do you turn? An outside marketing or research and development firm? If you're lucky, you have the talent to embark on creating exciting new endeavors under your own roof.
But just because you have the talent on your payroll doesn't mean that talent is inspired to do great things for you. Some companies are making impressive feats more likely with specialized environments known as innovation labs. And companies that don't have specialized labs often still think carefully about what it takes to foster creative accomplishment, and are finding ways to provide that magic formula to employees—knowing the reward for their efforts may be the next category-busting product or service.
Embed Creativity in Your Company's DNA
It's all well and good to have special rooms where employees go to be creative, but what's even better is when the creativity is housed within employees, so that all you have to do is ask them to tap into it whenever necessary. At Training Top 125er CarMax, being innovative is part of the inner workings of the company, so reaching for it is never a stretch, says Jennifer Bartusiak, CarMax Public Relations program manager. The company also has a designated environment to encourage innovation, which makes the push for creativity all the more potent.
"Innovation is part of CarMax's DNA. We empower our teams to create, test, and iterate every day as we work to build the customer experience of the future," says Bartusiak. "To foster this entrepreneurial mindset, we established a Digital and Technology Innovation Center in downtown Richmond to support our rapid product innovation and enhance our e-commerce capabilities."
The space is in Shockoe Bottom, which is one of Richmond's vibrant downtown neighborhoods, Bartusiak explains, and is home to a business community that naturally exudes a sense of inspiration and collaboration. "The dynamic surroundings enhance CarMax's modern, lean start-up methodologies and facilitate collaboration. Since we're asking our teams to be bold—in hiring, in taking risks, in innovation, and in building the customer experience of the future—we're providing our associates with an environment that is equally bold," she says. "Each team's work area is full of thought-provoking accents that promote productivity and teamwork— such as product walls to help frame conceptual thinking and whiteboard stations to aid in visualization. Our goal is to create team environments that are a seamless extension of the shared thinking and understanding that is already happening throughout CarMax."
Close proximity helps with creativity, Bartusiak notes. She says that rather than having individual workstations, it helps to have employees sitting side by side. "We've found an important element of innovation is an environment that supports co-location. We transformed our workplace from a predominately cubicle-based environment to an open working space. Our product teams are co-located at the same table, which enhances collaboration, supports rapid ideation and iteration, enhances communication, and boosts overall productivity," she says. "We also believe a high level of transparency drives innovation. Every two weeks, we host open houses where product teams share updates on their progress. Anyone in the company can attend; in fact, members of the senior leadership team often do so. The openness of the dialogue promotes creativity, and is supported by a mentality of 'fail fast, fail cheap,' so we're always moving forward with the most helpful solution for the customer in mind."
There's also something to be said for having an office, or at least one location, that's in the center of a town or city where many other creative endeavors are occurring. "We're excited to have a presence in the heartbeat of our hometown, where our associates can be fully immersed in the community where they live and work," says Bartusiak. "Downtown Richmond offers an environment where associates can be inspired, recharge, and look at our work from different perspectives. From arts to restaurants to the canal walk, it's an interesting place to be, and offers inspiration around each corner."
Making the Whole Office an Innovation Lab
Sometimes you can best foster creativity by thinking of all of your office space as a potential stage for innovation. At Training Top 125er LaSalle Network, the entire office was designed to inspire new thoughts and ideas, says Senior Director of Marketing and Communications Jessica Schaeffer. "We recently redesigned our headquarters and one of our suburban offices. Our goal was to create a welcoming, open space where people could talk freely and move around easily between floors and teams. While the primary goal was to help facilitate communication, it also has helped with innovation and creativity. Employees are able to see and hear what other people are working on. They brainstorm freely in our war room, coming up with creative solutions," says Schaeffer. "Walls have special paint, allowing our employees to whiteboard and write on nearly every space in our office, including our windows. We have rooms with comfortable chairs and beanbags that employees can utilize for brainstorming sessions."
In addition, Schaeffer says it's important for employees to feel secure that the company welcomes their new ideas, and that they won't be mocked or reacted to with hostility. The best way a company can show it wants and respects new ideas is to have leaders at the top model that attitude. "Employees need to feel empowered. They need to feel safe bringing new ideas to the table and knowing they won't be reprimanded and their ideas won't be made fun of. They need to feel their ideas and perspectives are valued. How a leader reacts to new ideas is crucial," she notes. "Sometimes it takes the leader being vulnerable and setting the tone for creativity and innovation that allows the staff to see it's not only OK to bring new ideas, it's encouraged! I always tell my team during brainstorming sessions that no idea is a bad idea. Let's get all of our ideas out on the table, and then in our next meeting, we can poke holes and flesh them out. They may not all work, and that's OK. But let's allow our creative juices to flow initially before we say why something won't work."
It's also important to remember that innovation doesn't have to mean big and spectacular. Sometimes great creativity comes in small bites. "Sometimes creative ideas don't need to be groundbreaking ones," Schaeffer says. "We are in the people business. People are unpredictable. We need to get creative to get a hold of people—leaving creative voicemails (ever tried singing a song in a voicemail?) and brainstorming other ways to get in front of candidates or prospects."
LaSalle Network's sales team executes a creative idea each week where they have to do something different to get in front of a prospect, Schaeffer explains. "We've had salespeople drop off mini-travel kits—with sunscreen, magazines, and a disposable camera—when a prospect is going on vacation. We've dropped off flowerpots with packets of seeds that say, 'Let us help you grow your business.' All small, creative things that differentiate us, and, hopefully, make us more memorable the next time we call or drop by that company."
Provide a Turn for Everyone to Be Engaged
A small circle of voices breeds repetition and insular thinking, which is counter to creativity. A better solution is to find ways to hear a wide spectrum of ideas at meetings and in general.
The companies that Kaplan works with are encouraged to give a platform to as many employees as possible, says Ian Stewart, Ph.D., head of Leadership and Organizational Performance. "Perhaps it's counterintuitive, but the research of people such as Alex Pentland shows that the biggest indicator of whether a team is innovative is not how cohesive they are, their shared sense of purpose, or even their individual levels of creativity; it's the frequency of turn-taking in meetings and discussions," Stewart notes. "Groups where each member takes turns and is engaged prove far more innovative. Groups where a few voices—or often, a single voice—dominate are far less innovative. So we ensure that clear protocols in meetings around contributing and turn-taking are observed. It's a simple thing to do that reaps great rewards in the form of embracing new perspectives and alternative views."
Work groups developed especially to foster creativity often don't work because they limit the platform for new ideas. "Setting up dedicated 'innovation' groups can backfire spectacularly if they aren't managed properly—they can simply become 'echo chambers' that reinforce the same views and practices, or they can become resented by others. There is ample innovative potential lying dormant in your organization right now—work on unlocking it," advises Stewart. In addition to avoiding confined groups of people, he says that people themselves shouldn't be confined. "Innovators are people who explore, they speak to others, they read, they are curious—and they often have to do this away from the workplace. It is estimated that approximately 90 percent of good ideas are found outside the surrounding environment, so allowing people to go find ideas elsewhere and bring them back to the group is essential."
Along with openness, it's important that colleagues have easy access to each other. "Social interaction where colleagues meet and learn about each other's work issues and challenges is a necessary prerequisite to creating innovation," says Stewart. "Whether at the water cooler or over lunch, we must ensure that these basic interactions take place—these relationships are the building blocks of collaboration."
At Training Top 125er DowAgroSciences LLC, encouraging interaction between employees happens through a combination of office design and technology. "We have an online tool for requesting and sharing ideas called Idea Central. Contributors are recognized, and I have used it to gauge the wisdom of the crowd," says Recruiting and Talent Leader Drew Ratterman. "We also have workspaces dedicated for quiet or group work. I was involved in the design, and there is some science to the white noise, air flow, and color. Our campuses also have walkways, gyms, and cafes that stimulate interaction and physical activity, which is linked to productivity and creativity."
Ratterman says sometimes it's not what is available to employees, but what is not—the old "necessity is the mother of invention" concept. He notes the importance of "good direction and freedom to operate" in encouraging innovation, but says "scarcity of resources" can fuel creativity in that you have less to work with, so you have to be more resourceful and clever. Among the company's recent achievements in innovation is its use of human genome work to help with plant genetics. "Our new proprietary processes were the brainchild of employees, and our products that are combinations of chemistries were the result of customer input," he says.
As much as it has learned how to nurture creativity, Ratterman says the company also has learned what deters it: "Having too many silos and funding too many things. Not focusing on customer needs, not rewarding or allowing for creativity and risk taking. Not learning by designing in the open or failing fast and reviewing with teams."
QUICK TIPS
Make innovation part of the company mindset. Rather than setting aside special times and places for creativity, make innovation a key part of the way you conduct everyday business.
If you have the resources to do so, create areas of your office, or a whole location, where the most creative endeavors you require can be worked on, including open spaces for collaboration and technology to easily communicate with team members who are not present.
Make the whole office an "innovation lab." Another approach is to make the workspace for your entire workforce creativity friendly. Think about not just how workstations should be arranged, but the lighting, decorations, and anything else you think could spur new ideas.
Offer a secure environment. Model an attitude from the top that welcomes all ideas, rather than making fun of or being offended by ideas for new approaches to doing business.
Avoid insular thinking. Try to avoid organizing small groups, or same groups, of people for creative brainstorming. This will help prevent the same ideas being repeated over and over again, and will inspire fresh thinking.