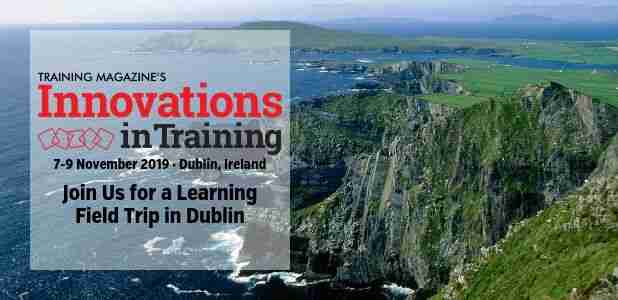 Training magazine's Innovations in Training Event Heads to Ireland
Training magazine's Innovations in Training Dublin will showcase new approaches to learning at work during a field trip November 7 to 9.
Posted: August 6, 2019
Training magazine is bringing its popular Innovations in Training (IIT) event to Dublin, Ireland, from November 7 to 9, in conjunction with the World Conference on Online Learning that takes place from November 3 to 7 at the Dublin Convention Centre.
Innovations in Training is a three-day Dublin field trip for Learning and Development professionals who want to experience innovative ways to push beyond traditional approaches to workplace learning and apply new ways to design and deploy more engaging training.
This event is limited to 50 participants who will gain insider access to cross-disciplinary organizations that are changing the way people learn.
"We will be asking big questions about the future of education at the ICDE World Conference on Online Learning, and are pleased to feature cutting-edge workplace learning examples during the post-conference Innovations in Training Dublin," says Professor Mark Brown, conference chair and director of the National Institute for Digital Learning at Dublin City University. "These events combine the best research, theory, and practice to help inspire trainers and educators to design better, more engaging and impactful experiential learning."
IIT Dublin features visits to cutting-edge simulation labs, innovation centers, and training sites, along with in-depth Innovation Chats and immersive experiences that demonstrate innovative approaches to learning at work.
Site visits include IBM Research Ireland, the Royal College of Surgeons in Ireland, and Ernst & Young Dublin.
Innovators who will share their stories include: 
Ernst & Young Global Chief Learning Officer Brenda Sugrue
Skillnet Ireland Executive Director Tracey Donnery
Steve Boucher and Travis May, senior Learning leaders from Mastercard
Suzi Jarvis, director of the University College Dublin's Innovation Academy
Dermot O'Flynn, director of Professional Development at the Royal College of Surgeons in Ireland
Several researchers from IBM
An Immersive Lab will bring learning innovations to life, giving participants an opportunity to try hands-on demos of emerging technologies, such as virtual reality, augmented reality, micro-simulations, and mobile learning.
"I learned there are many ways to innovate and rediscovered my motivation," says Michelle Stallard, Training Center team leader at Rolls-Royce. "IIT has really motivated me to go back and share what I've learned with my team and encouraged me to take the initiative to improve our business."
Sponsors and partners include EmpowerTheUser, Scrimmage, VRAI, Dublin City University, Enterprise Ireland, and Skillnet Ireland.
Dublin is an ideal place to "go on the road" to see and touch and experience how the future of learning is already happening. Ireland is the epicenter of technology for learning, thanks to massive investments from Enterprise Ireland and other accelerators. Irish learning technologies are applied around the world, while higher education institutions, such as Dublin City University, are driving new applications of digital learning and Massive Open Online Courses (MOOCs). 
Innovations in Training launched in 2016, in partnership with the University of Central Florida's Institute for Simulation & Training, and has become a flagship experience of Trainingmagazine's two conferences in the United States—the Training Conference & Expo and the TechLearn Conference. 
This Dublin-based event expands Innovations in Training outside of the United States for the first time, and marks Training magazine's return to Europe. 
Find more information and register now on the Innovations in Training Dublin Website: https://innovationsin.training