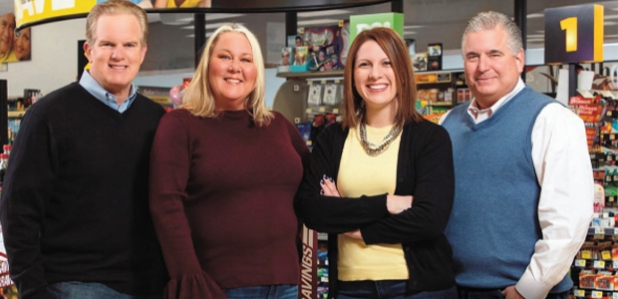 What's In Store For Dollar General?
The Tennessee discount retailer earns the top spot on the 2019 Training Top 125.
Posted: February 27, 2019
Since its inception 80 years ago, the No. 1 company on the 2019 Training Top 125 list has been continually guided by its founding principle to serve others. In that spirit, Tennessee-based Dollar General Corporation, LLC, continues to support more than 135,000 employees, helping them reach new career heights, thanks to best-in-class training, career guidance, and additional resources to support their development. Besides earning the top spot for the first time this year, the company's continued achievement of training and development goals has landed the discount retailer on the Training Top 125 list for eight consecutive years and in the Top 5 for the second year in a row.
In 2018, Dollar General looked to add approximately 900 new stores to its store footprint and create approximately 7,000 net new career opportunities while remaining focused on one of its operating priorities of investing in its people as a competitive advantage.
Armed with new employee feedback and an exceptional Store Manager Training program, the company's Training and Development team entered 2018 prepared to deliver another strong year of programming to meet the needs of Dollar General's growing business.
"Our strategy remains focused on talent selection and employee development through great onboarding, training, and open communication," says Bob Ravener, Dollar General's executive vice president and chief people officer. "Our team influences every level of the company with a practical and innovative approach to training. As a result, we deliver approximately 1.7 million training hours each year to our employees, and we help them further develop their talents and hone specific skills and experiences to grow their careers to new heights of success."
Putting Customers First
At Dollar General, employees are squarely focused on enhancing customers' in-store experiences, which means their top priority is to keep the customer at the center of all they do.
In that spirit, Dollar General's Training and Development team developed a year-long training program to support the company's DG Customer First initiative, which aims to enhance the customer experience by encouraging Dollar General employees to be highly engaged and empowering them with the knowledge they need to offer the company's customers best-in-class service.
Developed from a cross-functional, comprehensive review of customer feedback surveys that analyzed market data and examined interactions between employees and customers, the Customer First training program was implemented in two phases.
First, participants completed a three-hour learning map activity in groups of six to eight to maximize small-group dynamics. Additionally, the first phase of training combined employees ranging from vice presidents and district managers to Human Resources directors to foster a positive exchange of ideas and perspectives to best support the training's real-life applicability. The first phase outlined three main takeaways for Dollar General employees, including:
How to attract and retain leaders
How to create life-long Dollar General customers
How to remove barriers that might preclude their abilities to deliver the highest levels of customer service
The second phase of the Customer First training was implemented at the company's annual leadership meeting. During this phase, Dollar General moderated a four-hour simulation activity aimed at putting learnings from the first phase into action. Approximately 1,500 leaders engaged in a self-discovery journey designed to reinforce why the customer experience is increasingly important and the impact of their decisions on customers.
"Participants complete this training with the clarity and understanding that everyone at Dollar General is a champion for our customers and employees," says Lori Bremer, Dollar General's senior director of Training and Organizational Development. "Dollar General makes putting customers first a point of differentiation, and robust training focused on enhancing that sentiment is measured, studied, and improved through our customer satisfaction surveys."
In addition to the two-part Customer First training module, the Training and Development team provided ongoing training, which included activities from the learning management system (LMS) focused on a different goal each quarter. It also provided activities that cascaded this content to the company's more than 15,000 store teams, allowing them to also further focus on improving overall customer satisfaction. Finally, field management teams received a workbook to track store manager engagement, overall customer satisfaction, and their progress toward meeting store standard goals.
"Our field teams reinforced their knowledge and engagement of the two-day training by teaching the content to their store teams," Bremer says. "Through the implementation of this training, the Training and Development team was thrilled to receive stories of recognition and excitement from our store team colleagues as the content resonated with both our employees and customers. We highlighted some of these success stories, and they served as motivation to keep the momentum of the program going strong."
The success of the Customer First program resonated with customers, which was reflected through a 15 percent increase in employee engagement and increased store standard metrics. Additionally, results from customer satisfaction surveys increased, with overall scores at their highest levels in the company's history.
Redesigned Store Manager Training
Understanding the pivotal role store managers play within Dollar General's corporate strategy, the Training and Development team further enhanced the company's Store Manager Training (SMT) program in 2018. Building upon the successes of its current Store Manager Training program, which was created in partnership with Dollar General's executive vice president of Store Operations, the team augmented its 12-month regimen to further engage leaders and address skills gaps.
The result was a completely redesigned onboarding program that included an initiative to evaluate, select, and certify approximately 1,100 top-performing store managers to become Certified Store Training Managers (CSTMs). These talented and motivated leaders completed a series of train-the-trainer modules to better prepare them for their elevated roles. The new program yielded 53 percent more leader-led training hours than the previous program and helped improve employee engagement and retention.
"Through a comprehensive review of our training programs, we identified additional training opportunities within the store manager population," Bremer explains. "With more than 10,000 current store managers promoted from within, we wanted to supplement initial in-role training to best prepare them for success in their newly elevated and more prominent roles. Additionally, as we plan to add almost three new stores each day through the planned addition of approximately 975 new stores in our 2019 fiscal year, we want to ensure our employees integrate best-in-class training to help fuel our success."
Bremer says innovation is also evident in the training design. "SMT delivers interactive learning throughout the store manager's first year with gradually deepening knowledge and skills; regular reinforcement; and short, highly realistic modular courses to engage and equip them to strategically lead stores, drive sales, and serve our customers."
The 12-month program is designed in a way to teach foundational learnings and invoke thought leadership from training store managers that will help support their elevated roles.
Within the first eight weeks of the program, participants complete computer-based modules that allow practice in a simulated virtual store environment. The complementary learning activities in a top-performing store with a CSTM help guide the new store manager to put new learnings into action within his or her own store. Throughout the training, the CSTM also helps verify the new store manager's learning while simultaneously holding weekly check-ins supported by regular training visits to build a strong working relationship and promote greater engagement.
Three months into the program, store managers attend Retail Excellence Every Day (REED), a three-day, instructor-led classroom session to explore leadership skills and discuss on-the-job experiences to further create a coaching mindset to optimize store performance.
Action planning occurs at two key milestones to help new store managers achieve and maintain operational excellence. Plans are built around goals that each store manager creates based on his or her individual store metrics and are executed in partnership with his or her district manager.
Continued learning and reinforcement are key for the remaining eight months of the program. Participants complete bi-monthly, computer-based modules, whose topics range from succession planning to building customer relationships, all of which are aimed to further develop and prepare the new store manager for continued success.
Dollar General's Store Manager Training program continues to support business objectives as store manager turnover trends toward its all-time best on record, and time-to-fill positions are likewise at an all-time best, Bremer notes. The program also is contributing to cost savings derived from store manager retention, reduced hiring costs, and gained productivity.
In addition to business wins, the American Council on Education's College Credit Recommendation Service (ACE CREDIT) evaluated and recommended nine semester hours of college credit for the company's store manager training.
"As an industry innovator, Dollar General is the first among its competitors to offer this benefit," Bremer says. "Through this program, we are further supporting our store managers' abilities to be great leaders while simultaneously enhancing their lives as they achieve both education and career goals."
Heeding the DG Voice
In an effort to further Dollar General's culture and employee-centric focus, the company led a broad initiative to define, implement, and measure the impact of an innovative employee feedback loop called DG Voice.
Initiated in 2017, DG Voice seeks to foster a stronger understanding of the organization by continuing to communicate directly with employees. Championed by executive leadership from across the organization, the survey results have helped provide real-time feedback to quickly identify and address engagement opportunities within the organization. The DG Voice also provides actionable insights to positively impact meaningful change through companywide action planning alongside localized results.
"Since DG Voice is comprehensive, responses to employee input are, as well," Bremer stresses. "For example, we have incorporated survey feedback into all training and development programs focused on areas that our employees told us matter to them the most."
The team implemented the following examples following feedback from DG Voice:
Growth and Development: A new core curriculum, which features on-demand, experiential, and instructor-led learning captured through correlations and branching items. Within three months, 40 percent of employees either engaged in this content or participated in enhanced training. For example, Dollar General piloted a fully funded Commercial Driver's License (CDL) training to support the company's growing private fleet and an enhanced tuition program that provides substantial savings to its entire workforce and their families
Leadership Effectiveness: The creation of a new, formal cross-functional mentorship program was tailored to participants with content aimed at identifying core strengths and opportunities in a four-hour simulation; results were shared with both an external coach and their DG mentor. Mentees ranging from assistant managers to executives take advantage of flexible learning and customized leadership journeys. Connecting top leaders cross-functionally helps drive operational strength and instill a culture of inclusion.
Employee Experience: One example of Dollar General's relentless focus on encouraging learning is embracing new technologies, from leading-edge learning apps and virtual leadership programs to virtual classrooms and gamification. Data collected from the DG Voice indicated this new, technology-based approach contributed to employees feeling more engaged.
"This program is far-reaching as it cultivates a continuous improvement mindset to deliver an employee experience that embodies our mission of Serving Others," Bremer says. "Through learnings generated from DG Voice, we are able to proactively deploy communication and actions to best engage our employees."
Looking Ahead
With continued desires to further enhance training through technology and support the business with frictionless customer experiences, Ravener looks for 2019 to contain more microlearning and on-the-job experiential learning.
Through an increasingly robust virtual learning program for high-potential district managers and executive outreach with best leadership practices, training also will allow for digital journaling and open discussion commentary with other program participants.
"As we look to the future, we will strategically focus on attracting the best talent by leveraging technology to fuel the company's growth needs and providing an outstanding employee experience emphasizing digital connectivity," Ravener says. "Furthermore, we will continually strive to deliver the right development tools to meet employees' individual needs and build a deeper bench of talent complemented by the ability to receive ongoing feedback. This will help ensure an ever-improving culture of Serving Others while meeting the needs of both our customers and growing workforce."
FAST FACTS
Total number of employees trained overall annually: 134,555
Total number of current store managers promoted from within: 10,000
Percentage of job openings filled by internal candidates: 56 percent
Percentage of new hires referred by employees: 42 percent
Total number of employees trained annually via instructor-led classroom sessions: 25,100
Total number of employees trained annually via online, self-paced study: 134,555
Number of courses offered as instructor-led classroom sessions: 154
Number of courses offered as instructor-led virtual classroom sessions: 6
Number of courses offered as online-self-paced modules: 9,956
TRAINING TIPS
Include people from different backgrounds and cultures from across your organization to bring unique and insightful perspectives to your workplace. Research shows diverse and inclusive teams support strong business results. This focus on diversity and inclusion (D&I) should allow your organization to be more innovative and keep employees engaged, which can lead to more productive teams and cost savings.
Explore options that allow your leaders to be a major part of training and development. Note that the training doesn't have to be led by someone with "trainer" in his or her title.
Keep in mind that the more formal and expensive corporate trainings may not always be the best option, especially in an environment with limited resources.