Why Trust and Space—Not Budget—Will Drive the Success of Your Intrapreneurs
Many of the best stories about corporate innovation involve someone hacking a solution using limited resources, often in their spare time.
Posted: September 11, 2019
It may be the biggest debate to date in innovation circles: Does imposing constraints and leveraging ingenuity yield better results in the end? Or does it make more sense, if you care about innovation and want to see more attempts succeed, to show it a little more love in the form of cash? 
Intrapreneurs (entrepreneurs on the inside of large, established organizations) are famously resourceful. Many of the best stories about corporate innovation involve someone hacking a solution using limited resources, often in their spare time. I'm a huge fan of this approach, having coauthored a book full of them. (Jugaad Innovation took its name from the MacGyver-like frugal ingenuity practiced broadly in India, as in other emerging economies, and by entrepreneurs and increasingly by large firms in developed economies.) (Navi Radjou, Jaideep Prabhu, and Simone Ahuja, "Jugaad Innovation: Think Frugal, Be Flexible, Generate Breakthrough Growth" (New York: Jossey-Bass, 2012). But it's also true that most of the intrapreneurs I've known haven't exactly had the choice. They've either been working in situations where innovation was not in their job description and so no resources for exploration were available to them, or they were flying under the radar where they didn't want to access lavish resources before they were ready to reveal their findings since resources often come with "business as usual" fingerprints. So did success come despite short funding or because of it? If someone has a promising idea in a company that prioritizes innovation, why not throw some money at them right away?
Tom and David Kelley of design firm IDEO explain why not. "Although creative constraint sounds like an oxymoron," they wrote in "Creative Confidence,""one way to spark creative action is to constrain it." They are quick to concede that "given a choice, most of us would of course prefer a little more budget, a little more staff, and a little more time." But they don't recommend loosening the purse strings: "Constraints can spur creativity and incite action, as long as you have the confidence to embrace them." (Tom Kelley and David Kelley, "Creative Confidence: Unleashing the Creative Potential Within Us All" (New York: Crown Business, 2013), 126).To confidence, I would add a flexible and asset-based mind-set. Importantly, these constraints help us do "less but better" in the words of "Essentialism: The Disciplined Pursuit of Less" author Greg McKeown. This approach is fundamental to the success of many intrapreneurs. McKeown reminds us that, "Essentialismis not about how to get more things done; it's about how to get the right things done.
Creatives in the arts and entertainment world often lend support to this idea. Take filmmaker Martin Villeneuve, who told a TED audience in 2013 about his experiences trying to make a sci-fi movie on a budget of $2 million. (Contrast this with, say, the 2013 Hollywood blockbuster, Iron Man 3, budgeted at $200 million.) Granted, the critically acclaimed Mars et Avriltook time and encountered numerous setbacks, but Villeneuve was convinced that "the more problems we had, the better the film got." He told the TED crowd: "If you treat the problems as possibilities, life will start to dance with you in the most amazing ways." (Greg McKeown, "Essentialism: The Disciplined Pursuit of Less" (New York: Crown Business, 2014), 5) This plays out off the silver screen as well, even in highly regulated industries such as aerospace. For example, the entirety of India's Mangalyaan Mars mission cost just 4.5 billion rupees, or about $74 million. Compare this to NASA's own MAVEN Mars orbiter, which has a total mission cost of around $672 million—or, for that matter, the budget of Gravity, starring Sandra Bullock and George Clooney, which topped $100 million.
Not surprisingly, this urgent question—fund or be frugal—comes up every day in my work with corporate clients and their disrupters. It's a matter of understanding what works and why—and knowing what practices to abandon. Some of the best cases of ingenuity I've seen in my career reveal ways to unlock the power of frugal intrapreneurship to build a creative culture that keeps innovators engaged without breaking the bank. What needs to shift in order to 'Keep it Frugal'? See the box below and give it a try in your organization.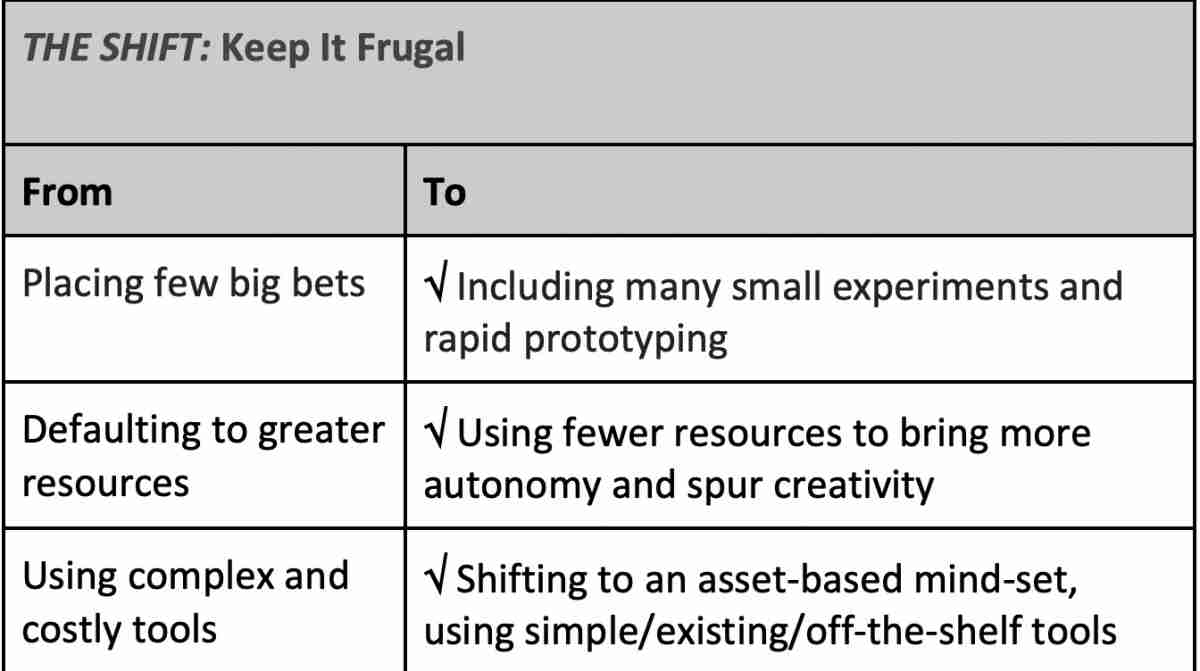 Dr. Simone Ahuja is a bestselling author, keynote speaker, and innovation strategist based out of Minneapolis, MN. Her most recent book is "Disrupt-It-Yourself: Eight Ways to Hack a Better Business…Before the Competition Does"(HarperCollins Leadership, January 2019).