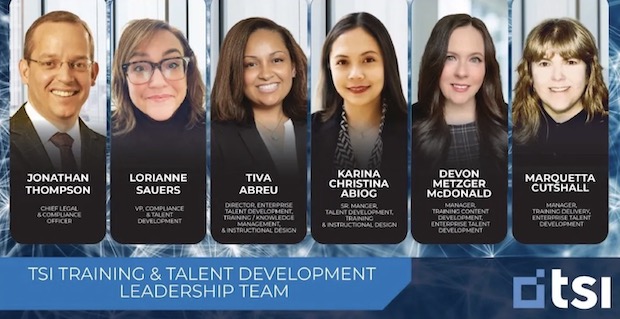 Culture is key at Transworld Systems Inc. (TSI), where one of the core values is: "We believe our people are a competitive advantage and our best company asset."
This value is particularly crucial for an organization that recently acquired multiple companies and now has 12,000-plus diverse employees who span dozens of call centers (referred to as "Centers of Excellence") and support offices across the United States, the Philippines, India, Guatemala, Puerto Rico, Guam, and Canada to provide customized results to more than 35,000 clients. "Our ability to develop talent is a critical element in making TSI a great place to work," explains Joseph Laughlin, CEO of the analytics-and-technology- enabled provider of outsourced accounts receivable management, debt collections, business process outsourcing, customer relationship management, healthcare revenue cycle, debt collection, and loan servicing solutions.
"A crucial part of living this value is building and nurturing a culture where inclusiveness is a reflex, not an initiative," explains TSI Chief Legal and Compliance Officer Jonathan Thompson. "We've found that diversity drives innovation, and inclusion drives engagement. As such, the Talent Development and Training teams foster multinational and multicultural collaboration in a safe space, driving growth and success for every person —and making TSI a great place to work."
TSI's values provide the foundation for everything the company does. These values include:
We Run It Like We Own It
We Get It Done—The Right Way
We Take Care of Each Other
We Create Consumer and Customer Advocates
We Enjoy the Ride
TSI achieves dynamic, cross-functional collaboration through a holistic approach characterized by both a grassroots initiative and top-down approach, according to TSI Director of Talent Development Tiva Abreu. For example, all TSI employees undergo training courses such as "Respectful Workplace Training," "Prevention of Sexual Harassment Training," and "Professional Workplace Awareness Training." Company leaders also hold live discussions with employees that celebrate the diverse voices ofTSI's employees and customers.
An EPIC2 Program
The focus on diversity and culture likewise carries through to the training for offshore employees. Abreu encouraged her team to think beyond English and grammar lessons, which led them to develop TSI's "Effective, Powerful, Interactive, Communication and Culture" (EPIC2) program. This three-day instructor-led certification is completed by all front-line offshore employees and also offered as an enrollment for all other offshore positions, ranging from administrative employees up to executive roles. Narrative Web-based training (WBT) modules and facilitated activities immerse learners in American culture and history.
One of the highlights of these lessons is a series of narrative microlearning videos called "Keeping up with the Americans." Each of these videos tells the story of a different family unit in the U.S., highlighting socially conscious topics such as diversity, poverty, life stages, same-sex marriage, gender pronouns, adoption, and blended and multigenerational families.
Another highlight is a series called "Urban USA," which discusses rural and urban life in the U.S., along with the geography of U.S. states and cities. The videos feature multiple genres of music with catchy lyrics intended to help learners retain geographic concepts quickly. The proprietary songs were written and performed by one of TSI's instructional design specialists in Manila. "They have been cited repeatedly as a learner favorite," Abreu says, adding that the EPIC2 program has been successful in terms of business outcomes.
After TSI's servicing division in India integrated to the TSI EPIC2 Program for new hires, and tenured employees received remedial reinforcement, client-issued customer satisfaction survey scores improved to an average of 91.3 percent vs. the 83.4 percent average at the time of acquisition.
Onboarding from Afar
With rapid organizational growth and a continued shift to remote work, TSI faced the challenge of creating a smooth onboarding experience for new hires who may never set foot in a physical site. The biggest piece of this challenge, Abreu notes, was finding a way to ensure that new hires were able to set up their company-issued computer equipment prior to joining a New Hire Training class.
In response, Talent Development partnered with Information Technology leadership to create a video tutorial that introduces the new hire to the equipment components that were shipped to them, along with a step-by-step instructional tutorial to assist the new hire with setting up their workstation.
The second challenge was to determine how the new hire would access the video, having never logged in to TSI's network and not yet having their computer set up. IT engaged Talent Development and the Instructional Design team to develop the perfect solution: A QR code was enclosed in the shipping package with each new hire's workstation equipment. When scanned by any mobile device, the QR code leads the new hire to a customized instructional design tutorial of the hardware setup. "This solution is also scalable," Abreu says, "since the tutorial videos are housed in TSI's secured learning management system, and changes can be made at the speed of business while keeping the same URL and QR code."
Virtual Learning Leader
TSI has been an industry leader in virtual training for more than a decade, Abreu notes. "So virtual training was not a workaround forced on the business as part of the pandemic; instead, it was a competitive advantage," she explains. "Remote trainers support locations across the globe, and the manager of Training Delivery— who has more than a decade's experience in virtual training—conducts trainer certifications for all virtual trainers."
Screen and application sharing on TSI's virtual training platform allows instant troubleshooting, coaching, and mentoring while working through systemic processes. Polling questions assist the facilitator in measuring learner engagement while driving participation.
Virtual functions include:
"What to Expect in Virtual Learning": This computer-based video provides learners with objectives, expectations, and the benefits of virtual learning. In addition to orienting the learner within the virtual classroom, it enhances user adoption.
Account system and dialing system sandboxes: These sandbox environments allow for hands-on practice where the facilitator can help all learners with system functions and technical issues at one time through screen share instead of going from desk to desk.
Breakout rooms: The virtual classroom contains sub-rooms that can be utilized for the facilitator to lead one-on-one coaching conversations with a single learner.
Virtual call listening: This exercise allows learners to listen to and discuss recorded calls with the facilitator. A digital call listening worksheet is provided to each learner to guide them through each portion of the call while bringing their attention to questions that are relevant to that day's learning.
Teachbacks: This activity uses a flipped classroom approach and provides the learner with an opportunity to teach the class a function or skill they have mastered.
Virtual job shadow: This collaborative on-the- job training activity allows multiple new hires to shadow one tenured employee, with the training facilitator available to discuss each call and answer questions. While the tenured employee is going about their daily duties, multiple new hires are learning from them, accelerating their learning curve.
Since a majority of employees are working remotely, TSI's Talent Development Team has enhanced training on topics such as information security and privacy awareness, as well as courses to outline remote work requirements and best practices. The team also created the "TSI Strong Wellness Series" for both remote and on-site employees. This series features short videos that encourage physical and emotional wellness and a good work-life balance.
Beginning in 2023, the Talent Development Team will partner with business leaders to draft and develop multiple channels of functional nano-learning tutorials, Abreu says. Modeled after YouTube "how-to" videos, these short tutorials will be less than 30 seconds each and will be housed on the SourceTube video library found on the company's intranet repository, The Source of Information (TSI). "Nano-learning tutorial topics will include functions employees will need to master at the speed of business, such as system functions and client guidelines," Abreu says. "Additional topics will be chosen through surveys circulated to employees, as well as focus group suggestions from clients and business leaders."
Distance Is a Strength
Looking ahead, TSI VP of Compliance & Talent Development Lori Sauers sees the exploration of artificial intelligence, machine learning, and augmented and virtual reality as the next big transformation in learning and talent development. "Training teams will become the curators of company culture and communication, leveraging technology to close the gap of distance within global organizations," she predicts.
"We are excited for the near future," Sauers continues, "where training technology continues to enhance social learning and unites employees across the globe to embody the company's culture and values—where distance is no longer a limitation but rather a growing strength."