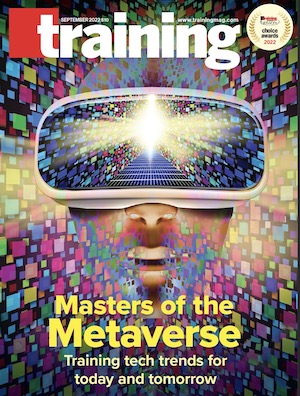 From best practices to case studies and research, Training is the ultimate resource for training, learning, and performance professionals. For 55 years, Training has been the preeminent voice in training.
The magazine is published four times a year in a print & digital format in March, May, September, and November. You'll receive global learning and development news; trends; research and statistics; best practices; new products, services, and technologies; and how-to information.
A subscription includes the Annual Training APEX Awards issue and the Annual Salary Survey and Industry Report. And, visit us online for four special focus online-only editions in January, April, June, and July.
Magazine Subscriptions
If you reside in the USA, Training magazine is FREE to qualified training/learning development professionals. You may receive a print or print & digital subscription.
Click this link to subscribe, renew, and for customer service support.
Training Weekly reaches 30,000+ training professionals worldwide. You'll get:
Training APEX Awards best practices.
New articles written by corporate training and learning professionals.
Invitations to upcoming free Training Magazine Network webinars and recordings.
Links to timely resources from industry experts on critical L&D topics.
Notification of upcoming certificate programs, conferences and events.