positive relationships

-

search results

If you're not happy with the results, please do another search
By Liggy Webb The most important single ingredient in the formula of success is knowing how to get along with people.—Theodore Roosevelt One of the most profound experiences we can have in our lives is the connection we have with other human beings. Positive and supportive relationships will help us to feel healthier, happier, and more satisfied with our lives. So here are a few tips to help you to develop more positive and healthy relationships in all areas of your life: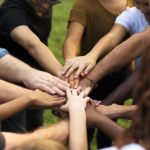 A positive work environment improves team spirit, employee satisfaction and productivity, and the profitability of the firm.
Without a strong relationship with our customers, we will not experience overall success and increased revenue.
By Roy Saunderson As a child I loved going to the library and discovering new books that challenged my thinking. One book that stood out for me was "The Power of Positive Thinking" by the late Dr. Norman Vincent Peale. While it has a religious foundation to the principles highlighted in the book, it was the introduction for me to thinking more positively about my life and especially my work.
By the Brandon Hall Group Research Team With Valentine's Day behind us and spring upon us, it's a good time to talk about relationships. Well, maybe not those kinds of relationships, but rather the relationships that exist within your company's learning ecosystem.
Mystery shops conducted in Europe and in the U.S. show that most of the stores are at year zero of the new era of Customer Experience, and many customers complain about the lack of preparation in sales teams. So it's a huge competitive advantage to be able train your salespeople to build positive relationships with customers.
Strengthening the quality of your brand enhances your credibility, which is the foundation for positive relationships with both your customers and stakeholders.
Critical Incident Analysis engages emotions, is based on real business interactions, and secures learner retention via storytelling and self-reflection.
A manager who inspires positive morale does so best by knowing what each and every team member values. The manager then regularly does something with and for each employee that embodies that employee's values.
An exemplary employee not only exhibits knowledge and skills, but possesses exemplary attitude and habits.