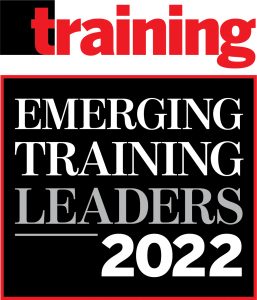 FOR IMMEDIATE RELEASE
CONTACT:
Lorri Freifeld
lorri@trainingmag.com
Minneapolis (August 30, 2022) –Training magazine named the winners of its 2022 Emerging Training Leaders awards, recognizing 25 training professionals who inspired and engaged their organizations with exceptional leadership skills, business acumen, and innovation. The winners have been in the industry for two to 10 years and have demonstrated stellar leadership skills, business savvy, and training instincts.
These professionals will be profiled in the March 2023 issue of Training magazine and online at www.trainingmag.com. They also will be honored at an awards ceremony on February 13, 2023, at Disney World's Coronado Springs Resort during the Training 2023 Conference & Expo in Orlando, FL.
All Emerging Training Leader candidates had to be nominated by co-workers or industry peers. Training Editorial Advisory Board members and the editor/publisher judged the 66 nominations and chose the 25 winners based on the following factors:
Has been in the training industry for a minimum of two years but no more than 10 years
Took on at least one new responsibility in the last year
Successfully led a large-scale training/learning and development initiative within the last year that required management/leadership of a group of people and resulted in the achievement of a business/business unit goal (with results provided for Kirkpatrick Levels 3 and 4)
Demonstrates specific leadership qualities
Has the potential to lead the Training or Learning and Development (L&D) function at an organization in the next one to 10 years
In addition, Training created an "Emerging Training Leaders to Watch" list, which features five up-and-coming professionals who didn't receive an award this year, but who are well on their way to becoming future Emerging Training Leaders.
The judges included:
Diane August, Chief Learning Architect, Nationwide
Brent Bloom, Founder, Brent Bloom Consulting
Douglas Bryant, VP, Training Sonic Automotive
Alison Bundgaard, AVP, Training, United Wholesale Mortgage
Tina Claure, Senior Learning Strategist and Curriculum Manager, Booz Allen Hamilton
Jessica Edgerton, VP, Operations/Corporate Counsel, Leading Real Estate Companies of the World
Daniel J. Goepp, Managing Director, Learning & Development, PwC
Vicente Gonzalez, CLO/Director, Enterprise L&D, Lockheed Martin Corporation
Jim Harwood, former VP, University of Farmers, Farmers Insurance
Glenn Hughes, Senior Director, Learning & Development, KLA Corporation
Graham Johnston, Leader, Talent Development Strategy & Innovation, Deloitte LP
Bruce I. Jones, former Senior Cast Development and QA Director, Disney Institute
Meredith Maples, Senior Director, Training, Keller Williams University, Keller Williams Realty, Inc.
Hanna Neal, Learning Project Specialist, Americas Learning, EY
Michael Orth, Senior Director, KPMG Business School – U.S.
Robin Renschen, Director, Learning and Development, McCarthy Building Companies, Inc.
Debra Ross, AVP, Learning & Development, BNSF Railway
Ross Tartell, Ph.D., former Manager, Learning & Development – North America, GE Capital Real Estate
Catherine Rickelman, Manager, IBM Learning
Emily Steinkamp, Senior Director, Learning & Development / Human Resources, Capital Blue Cross
Lou Tedrick, Vice President, Global Learning & Development, Verizon
Amanda Worrell, Senior Manager, Training and Development, Dollar General Corporation
Lorri Freifeld, Editor/Publisher, Training magazine
"Despite continued turbulent times, the 2022 Emerging Training Leaders steered their organizations to optimal employee performance and business success," says Lorri Freifeld, editor/publisher of Training magazine. "Their ability to navigate under pressure; adapt and respond to change; and inspire their learners, direct reports, and colleagues is impressive. We salute these leaders who put their hearts and souls into training and charting new courses for learning and development."
Training magazine's 2022 Emerging Training Leaders are:
2022 TOP 5 WINNERS
Bob Clark, Senior Manager, Training and Implementation, Autonation
Nicole Delinski, Director, Educational Operations, Jump Simulation
Autumn Scisciani, Director, Instructional Design and Organizational Development, Sonic Automotive
Emanuela Vasileva, Senior Manager, Learning, PPD, a Thermo Fisher Scientific company
Karel Wagner, Senior Instructional Designer, Prime Therapeutics
2022 20 WINNERS
Felicity Abreu, Training Specialist, AAA Northeast
Alexa Bacchi, Manager, Learning & Development – Systems & Tools, Indeed
Nika Ray Bennett, Director, Sales Effectiveness, Packsize
Kurt Bruce, Senior Sales Training Manager, Teleflex Medical
Kenya Collier, Learning Generalist, Thomas Jefferson University & Jefferson Health
Ashley Davis, Senior Learning & Development Specialist, Thor Companies
Vanessa Delgado, Senior Manager, Training and Delivery, Verizon
Nikki  Gibbon, Leader, Learning & Development, Arizona Public Service
Josh Habig, Senior Manager, Learning & Development, Paycor
Paul Irby, Team Leader, Williams & Fudge, Inc.
Lawrence Lanzetta, Senior Learning and Organizational Development Consultant, UNC Health
Todd Larson, Director, Simulation and Innovative Technologies, AdventHealth
Debbie Marino, Regional Learning and Development Advisor, Greystar
Craig Murrell, Senior eLearning Curriculum Developer & Facilitator, Information Communications Technology Council (ICTC)
Will Reynolds, Director, Training, Mike's Carwash
Damitha Senadheera, Specialist, People Development, Dialog Axiata PLC
Tyranny Smith-Yancey, Senior Director, Learning Capabilities, Change Healthcare
Radu Daniel Tomoiaga, Learning and Development Technical Consultant and Senior Business Program Manager, Microsoft
Michael Verrigni, Director, Leadership Development & Training, Sonic Automotive
Susan Wells, Regional Learning and Development Advisor, Greystar
2022 EMERGING TRAINING LEADERS TO WATCH
Elizabeth J. Blanchette, Training and Development Specialist, AAA Northeast
SharLena Fonville, Senior Manager, Learning & Development, Verizon
Maria Mondaca, Client Education Manager, FIS
Jennifer Starkes, Learning Generalist, Thomas Jefferson University & Jefferson Health
Gabrielle Rodman, Global Program Manager, Top Talent Programs, Dell Technologies
About Training magazine
Training is a 58-year-old professional development magazine written for training, Human Resources and business management professionals in all industries that advocate training and workforce development as a business tool. Trainingalso produces world-class conferences, expositions, and digital products that focus on job-related, employer-sponsored training and education in the working world. Training is published by Lakewood Media Group.