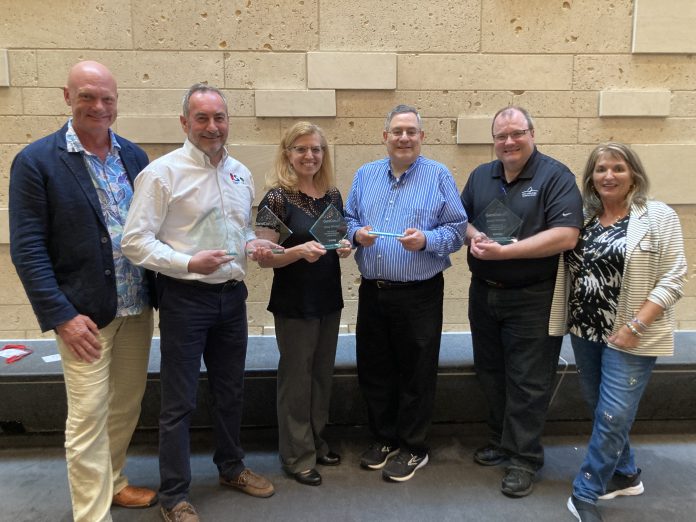 Hosted by Sententia Gamification and GamiCon, the co-located event preceding Training magazine's TechLearn 2022 Conference in Austin, TX, the Throwdown Competition offered individuals and organizations the opportunity to enter for judging their most innovative work in the gamification of Learning and Development (L&D), HR, or Adult Education. All entries were judged on creativity, innovation, and effectiveness, with the winner walking away with a prestigious award from Training magazine.
The Throwdown Competition is a highlight of GamiCon because this showcase of low-tech, no-tech, and technology-based gamification of learning projects places a special focus on not just the projects themselves but also the results they've produced.
2022 GAMIFICATION THROWDOWN WINNERS
(Pictured above with Sententia Gamification's Monica Cornetti at right and Jonathan Peters at left: Graham Cook, Allison Gordon-Beecher, Stuart Bender, and John Kaufeld.)
Overall Outstanding Use of Gamification in Learning
Best Use of Surprise and Delight
"Challenging Assumptions"
Graham Cook, Managing Director and Co-Owner
RSVP Design
Significant blocks to "innovation" include the failure to challenge assumptions during the creative process and recognizing how powerful experience is in driving current behavior. Changing the often-unconscious aspects of this behavior is difficult. RSVP Design sought to do this by creating an experiential learning tool that could be used with corporate learners. It created the Challenging Assumptions puzzle to be familiar enough to have anyone engage with it yet specifically designed to allow any observer to view the use of unchallenged or unconscious assumptions.
This powerful activity can take learners from a state of unconscious assumptions to rehearsing a different behavior within 20 minutes—while creating a strong emotional anchor to that learning. The typical steps taken by most learners are predictable, and the facilitator can assist in helping learners recognize the behaviors they are demonstrating in the moment, then coach them to a more creative approach to solving the problem.
One of the Throwdown judges said: "This design has a simple elegance that really stands out." Great learning designs are often simple. To change a learner's behavior, first make sure they understand the implications of their current behavior and then provide rehearsal opportunities to try alternatives. 
Best Use of Narrative in Gamification
"Save the Lunar Greenhouse Game: A Journey through Federal Ethics"
Stuart Bender, Director
Office of Ethics, U.S. Department of Agriculture
The U.S. Department of Agriculture (USDA), in partnership with NASA, boldly transformed government ethics training. The "Save the Lunar Greenhouse Game" combines interactive, story-based gamification with space exploration, food sustainability, diversity, and the ethics rules in an engaging avatar setting. Players must repair USDA's automated greenhouse on the moon. To succeed, players must navigate nine different ethics scenarios. If they succeed, the astronauts will have enough food to travel further into outer space, but if they fail, the mission will be scrubbed.
As a key feature, the game incorporates randomness. Each of the nine ethics challenges has two possible scenarios that are randomly presented. Despite the randomness, the game provides a seamless narrative regardless of which scenario is chosen. As a result, no two players will have the exact same experience, but all will be educated in the same ethics topics.
An anonymous survey revealed that 98 percent of learners said playing the game prepared them to spot potential ethics issues more quickly, and 95 percent recommend the training to others. The game is so effective that it is used by the White House's Office of Management and Budget.
Now you, too, can freely play the game on USDA's Website: https://www.usda.gov/oe
Excellence in Web-based/eLearning Gamification
"CSI: Phishing by Global Learning Systems"
Allison Gordon-Beecher, Products and Services Manager
Global Learning Systems
Cyberattacks are still caused by human mistakes, and traditional training solutions aren't solving the problem. This is the case for companies all around the world. Global Learning Systems' "CSI: Phishing" attacks this problem head-on by encouraging learners to develop a healthy suspicion of every electronic communication they encounter. In a puzzle-based environment, they are challenged to evaluate the credibility of e-mail messages and social media posts, just like they must do in a real work environment. The difference is that with "CSI: Phishing," they earn points and rewards for demonstrating behavior that is critical to securing their employer.
The advantage of this type of learning is that it appeals to companies' two main audiences:
Knowledgeable users who would prefer to demonstrate their mastery of phish-spotting by playing a game rather than taking another traditional expository learning course
People who are not mastering security objectives from the practice offered in a traditional eLearning course
Early feedback indicates that employees love this type of challenge and voluntarily compare their performance after playing. In fact, one customer said this game has had the highest utilization rate of any training program they rolled out this year.
Excellence in Low-Tech/No-Tech Gamification
"Cloudburst"
John Kaufeld, Business Services Coordinator
City of Fort Wayne
As part of government environmental permitting, city utilities need to educate the community about preventing stormwater pollution. Traditional slides and fliers fulfilled the requirements, but the City of Fort Wayne wanted something different that would give people an experience and an "aha" moment.
The idea for the game came from a model that demonstrates how rainwater flows through the city and countryside, picking up pollutants as it goes. The team turned the model's concept into Cloudburst, a cooperative tabletop board game.
The game's design is based on "Pox" from the Tiltfactor Game Lab at Dartmouth College, which the team used with Tiltfactor's permission.
Players work together to protect their town from blight caused by stormwater runoff pollution. A random event card describes how pollution spreads each turn. As a team, the players decide on the best way to either block or treat that round's pollution. If pollution can't spread, the players win, but if too many spaces get polluted, they lose.
Because everyone works as a team, natural competitiveness raises player engagement. The game's choices subtly reinforce prevention over remediation, a key point in the City of Fort Wayne's education goals. And the experience is fun, so players want to do it again.