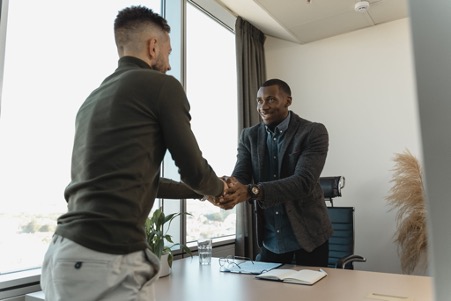 In a recent Forbes article, Michael B. Arthur tells the story of Domani, a young black man from the South Side of Chicago who had no computer experience except for a job in retail. Domani is a breadwinner in the family, caring for his younger siblings and aging grandmother. With little confidence, Domani seemed destined to work as an hourly employee in retail.
But Domani was encouraged to explore other options by the Workforce Education and Innovation Division at Youngstown State University. The organization used a new breed of career fit tools to reveal Domani's job-related potential by showing his innate skills, abilities, and personality traits, regardless of education, experience, or life circumstances.
Domani's life and career trajectory were changed in less than an hour. The cognitive tool showed him he had great potential to succeed in several in-demand IT roles. He chose cybersecurity and recently completed an apprenticeship with the support of Evanston Technology Partners. In less than a year, Domani is positioned for a high five-figure job which will prepare him for a six-figure income in his career. The change to Domani's life is profound: Domani's family and future generations will be impacted by that one hour he spent completing the assessment.
Hiring managers are turning to new technologies to help them quickly match job candidates and existing employees to the right roles. These innovations use sophisticated neuroscience instruments and dig data to reveal a candidate's hidden skills and abilities—traits that rarely show up on a resume. Where resumes show what a candidate did in the past, neuroscience-based innovations unlock hidden potential and capabilities.
Good Tech: How Neuroscience and Big Data Are Reducing Bias in the Labor Force
These new technologies take the guesswork out of hiring. Still, they do more than that— they increase diversity and inclusion by removing the bias that resumes insert into the hiring process. Age, gender, race, and golden pedigrees are shielded from hiring managers, allowing them to focus on what matters—skills and personality traits. And because they are matched to careers they will love, and in areas where they will excel, new hires learn faster, are more engaged, and stay longer, reducing onboarding time and the high turnover costs that job mismatches create.
The business value is significant, too.
Cognitive tools, which combine skill and ability tests with personality traits, dramatically increase the predictability of job performance. A study in the Journal of Business and Psychology found when you administer personality traits and cognitive assessments together, you achieve a 286 percent incremental increase in predictive validity over cognitive tests alone. The mix of skill, ability, and personality traits improves the likelihood the employee will be successful on the job and be more engaged.
Validation studies conducted over time with large cohorts of employees bear that out. Employees who are matched through these tools are 3.5 times more likely to be productive, and attrition is dramatically reduced. And, because employees are more engaged, learn faster, and apply that knowledge, onboarding time and cost are reduced. IBM found it could save $60 million per 10,000 outsourced employees, while USIC reduced its training program time by 25 percent.
The Problem with Existing Employees: Many Want to Quit
According to a Manpower study, one-fifth of the world's labor force is in the wrong job. Nearly two-thirds of U.S. workers are looking for a new job, and employers are trying to figure out how to give workers better reasons to stay. A large telecom company is taking proactive measures to improve opportunities for its employees. It is using these new tools to evaluate everyone in the organization to determine their fit for their existing roles.
The value of creating a detailed skills registry for the organization will provide long-term benefits. It can pivot quickly, rebalance the workforce, and match its employees to emerging roles, ensuring diversity and inclusion by eliminating the bias that may emerge in work. The cost savings for the organization is significant, and the program ensures the company and its employees are prepared for the future.
These new tools identify underemployed employees and those in the wrong roles. Then the organization can match its employees to better careers in the company, areas where they will thrive and contribute at a higher level. It's a big win for the labor force, company, and customers. Happy employees become brand ambassadors, which translates to better customer service and client care.
Technology Is Becoming a Great Equalizer for the Workforce
While some worry that technology, like artificial intelligence (AI) and robotic process automation (RPA), will displace workers, there is ample data to show that, as technology advances, new job roles emerge that are more human, providing better lives for workers.
But the fact is, 85 percent of the jobs in the next decade haven't even been imagined. Organizations will need to provide insights to employees and reskilling programs if they seek to sustain vibrant, diverse organizations.
In the hiring and workforce rebalancing areas, new career-fit tools are leveling the playing field, stripping out age, gender, race, and biographical information so employers can focus on skills and potential. We can genuinely democratize the labor market and help disadvantaged and underserved communities by shielding hiring decision-makers from this information. This is truly the definition of good tech.