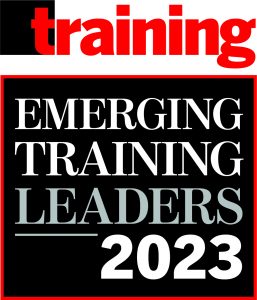 FOR IMMEDIATE RELEASE
CONTACT:
Lorri Freifeld
lorri@trainingmag.com
Minneapolis (September 1, 2023) –Training magazine named the winners of its 2023 Emerging Training Leaders awards, recognizing 25 learning and development (L&D) professionals who empowered and engaged their organizations with exceptional leadership, business acumen, and game-changing training. The winners have been in the industry for two to 10 years and have demonstrated stellar leadership skills, teambuilding, strategic thinking, and training instincts.
These professionals will be profiled in the March 2024 issue of Training magazine and online at www.trainingmag.com. They also will be honored at an awards ceremony on February 27, 2024, at Disney World's Coronado Springs Resort during the Training 2024 Conference & Expo in Orlando, FL.
All Emerging Training Leader candidates had to be nominated by co-workers or industry peers. Training Editorial Advisory Board members and the editor/publisher judged the 71 nominations and chose the 25 winners based on the following factors:
Has been in the training industry for a minimum of two years but no more than 10 years
Took on at least one new responsibility in the last year
Successfully led a large-scale training/learning and development initiative within the last year that required management/leadership of a group of people and resulted in the achievement of a business/business unit goal (with results provided for Kirkpatrick Levels 3 and 4)
Demonstrates specific leadership qualities
Has the potential to lead the Training or L&D function at an organization in the next one to 10 years
In addition, Training created an "Emerging Training Leaders to Watch" list, which features five up-and-coming professionals who didn't receive an award this year, but who are well on their way to becoming future Emerging Training Leaders.
The judges included:
Diane August, Chief Learning Architect, Nationwide
Gabe Berezin, Learning Project Specialist, Americas Learning, EY
Brent Bloom, President, Consulting Service Solutions inc
Douglas Bryant, VP, Training Sonic Automotive
Alison Bundgaard, AVP, Training, United Wholesale Mortgage
Tina Claure, Senior Learning Strategist and Curriculum Manager, Booz Allen Hamilton
Judy Claybrook, Senior Manager, Training and Development, Dollar General Corporation
Jessica Edgerton, VP, Operations/Corporate Counsel, Leading Real Estate Companies of the World
Genevieve Forosisky, Lead Learning and Development Specialist, Deloitte Services LP
Daniel J. Goepp, Managing Director, Learning & Development, PwC
Vicente Gonzalez, CLO/Director, Enterprise L&D, Lockheed Martin Corporation
Bruce I. Jones, former Senior Cast Development and QA Director, Disney Institute
Rhonda Lewis, HR, Training, OD, Safety/Risk Management Officer, Birmingham Water Works Board
Meredith Maples, Senior Director, Training, Keller Williams University, Keller Williams Realty, Inc.
Michael Orth, Senior Director, KPMG Business School – U.S.
Robin Renschen, Director, Learning and Development, McCarthy Building Companies, Inc.
Catherine Rickelman, former Manager, IBM Learning
Debra Ross, AVP, Learning & Development, BNSF Railway
Ross Tartell, former Manager, Learning & Development – North America, GE Capital Real Estate
Lou Tedrick, Vice President, Global Learning & Development, Verizon
Lorri Freifeld, Editor/Publisher, Training magazine
"The 2023 Emerging Training Leaders are passionate champions of learning and development as they help lead their organizations to success," says Lorri Freifeld, editor/publisher of Training magazine. "In the last year, they willingly shouldered new responsibilities; unflinchingly met challenges; spearheaded creative solutions; and inspired their learners, direct reports, teammates, and colleagues to new heights. We are proud to recognize these leaders and their tremendous accomplishments."
Training magazine's 2023 Emerging Training Leaders are:
2023 TOP 5 WINNERS
Katey Fabian, Learning & Development Supervisor, Medical Solutions
Kyle LeHew, Associate Director, Global Learning & Development, Verizon
Paula Miller, Consultant, Interactive Designer and Developer, Nationwide Insurance
Kara Peeler, Senior Manager, Training Development, Appian
Jiao Zou, Senior Manager of Learning and Development, PwC
2023 20 WINNERS
Valdeta Ademoski, Training & Development Coordinator, Weston Forest Products Inc
Liezelle Agustin, Senior Learning Specialist, PPD, part of Thermo Fisher Scientific
Nate Becker, Training and Development Specialist, Intek Plastics
Elizabeth Blanchette, Instructional Designer, AAA Northeast
Becky Burke, VP, Learning & Strategic Development, BankWest, Inc.
Jane Crowe, Team Lead, Senior Enablement Manager, SAP Concur
Kelly Dickens, Senior Instructional Designer, CNO Financial
Audrey Erker, Corporate Trainer, Nelnet
Amanda Hallock, Senior Learning Specialist, PPD, part of Thermo Fisher Scientific
Dekel Levinson, Senior Corporate Trainer, KLA Corporation
Matt Manzer, Senior Manager, Learning Operations, KLA Corporation
Andrew McCallister, Learning Experience Designer, National Fire Protection Association (NFPA)
Jamie McKinney, President, JMD Consulting, DBA Speak Up, Sister!
Tanya Misajlovski, Regional Learning and Development Manager, Brose North America, Inc.
Damarshall Nickerson, Talent & Development Advisor, Gainwell Technologies
Ken Ortiz, Manager, Learning Technologies, KPMG
Bob Pantalone, Director, Sales Enablement, Hayes Locums
Robert Roberts, Manager, GM Talent, AutoNation
Jessica Sieminski, Director, Learning & Performance, Nationwide Financial
Marie Corchado-Stewart, Director, Standards, Training and EEDI, AbbVie Inc.
2023 EMERGING TRAINING LEADERS TO WATCH
Matthew Becton, Senior Manager, Learning & Development, Verizon
Amanda Fullbright, Senior Vice President, Learning and Performance Development, Blue Sprig Pediatrics
Jamie Hill, Senior Program Manager, Talent Development, Booz Allen Hamilton
Tiaja Sabrie, National Sea Logistics Trainer, Kuehne + Nagel
Karin Springer, Learning and Development Manager, Huntington Bank
About Training magazine
Training is a 59-year-old professional development magazine written for training, Human Resources and business management professionals in all industries that advocate training and workforce development as a business tool. Trainingalso produces world-class conferences, expositions, and digital products that focus on job-related, employer-sponsored training and education in the working world. Training is published by Lakewood Media Group.