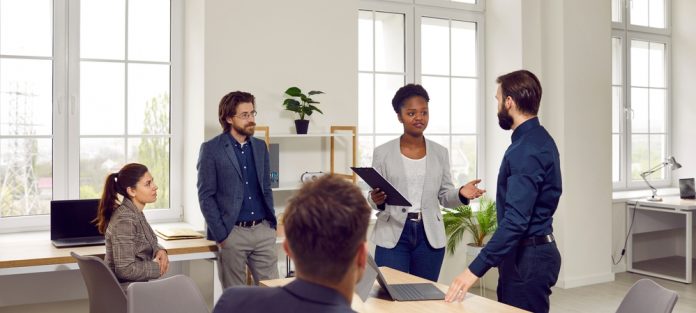 Designing and maintaining a relevant corporate training program is no easy task. For companies of all sizes, there's a seemingly endless range of topics and curricula required to meet certifications, create the desired workplace culture, and provide personal development and enrichment opportunities.
Prioritizing a growing list of topics that deserve attention can be difficult. There will always be a need for core training programs related to specific roles and job functions, such as leadership training for up-and-coming managers, safety training for those in industrial roles, and skill development for a sales team. There are also emerging topics related to global and cultural events. For example, many organizations in the U.S. rightly prioritized diversity and cultural awareness over the past few years as these topics became a significant focus of civil discourse across the country.
Amid all of that, it's essential to remember topics related to employee wellbeing. This category is so fundamental to daily life that it can sometimes blend into the background and be overshadowed by the timely or tactical.
Here are three essential employee wellbeing areas that organizational training programs often overlook.
Mental Health
Designing a corporate training program that includes mental health is a significant undertaking. There are so many aspects to consider and a myriad of topics that could bring value to any workforce. But before getting into the specifics, it's critical to take a step back and assess an organization's overall approach to mental health. Is stigma being reduced? Is openness encouraged between employees and leadership? Basic education and training around mental health can help create a culture where people are not afraid to recognize their challenges and get the support they need. Employees follow leadership, so it's critical that training encourages leaders to promote open discussions around mental health. For example, one of our long-time clients, a large telecommunications company, has successfully incorporated mental health training into their overall mandatory training programs. The ongoing sessions examine psychological factors that affect mental health and engagement in the workplace. They help leaders protect psychological safety in the workplace and understand how to support struggling individuals.
Fitness
Everyone is different. Some people can't live without their daily run or gym visits, while others face obstacles in finding that motivation. Ensuring people have resources that encourage physical wellbeing will benefit them personally and professionally. The connection between physical and mental health is well documented; as a result, exercise and workplace productivity go hand in hand. If you're overwhelmed by stress and anxiety or feeling physically unwell, it's very difficult to do your best at the office. There are many reasons why training sessions or resources might de-prioritize exercise in favor of other topics. It's incumbent on training and HR professionals to build an employee-centric environment to ensure that doesn't happen.
Child and Elder Care
Caring for a child or an older adult – whether a parent, relative or friend – is another challenge that impacts many employees but too often goes unrecognized. In the U.S., 53 million people identify as family caregivers, and according to the Family Caregiver Alliance, they suffer from depression at rates more than twice that of the general population. While everyone will deal with the stress of caregiving differently, some will be more vocal about its challenges, so it's essential to recognize the impact and the need for support. With such a high percentage of the workforce assuming the role of caregiver at some point in their lives, training managers to identify and empathize with caregivers should be a component of any employee-centric training program. Managers must understand that caregiving responsibilities' impact goes well beyond time commitments. They also need to have the skills to support employees or help them find the support they need.
Many employees face these common wellbeing challenges, and remembering them when developing and maintaining a training program will help colleagues navigate the complexities of their personal lives. Supporting people to live better lives will translate into more rewarding and productive work. As people seek more employee-centric workplaces, giving these topics the attention they deserve will go a long way in recruiting and retaining the workforce that will help your organization succeed.