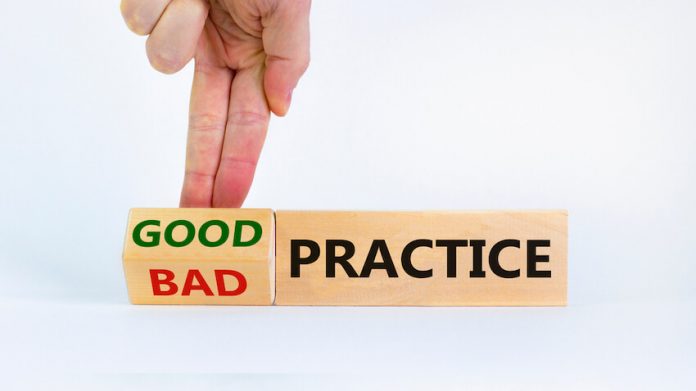 Between April and September of 2021 an all-time record was set: More than 24 million Americans left their jobs. What was a significant driver behind the "Great Resignation"? Toxic workplace culture.
An analysis of 1.4 million reviews on Glassdoor found that toxic workplace culture is 10 times more likely to contribute to an employee leaving a company than compensation. Further, employee attrition due to toxic culture was estimated to cost U.S. employers $50 billion per year before the Great Resignation.
What exactly drives a toxic culture? According to recent MIT Sloan Management Review research, the top five toxic attributes are: disrespectful, non-inclusive, unethical, cutthroat, and abusive behaviors. Employees have made it clear that a fair, equitable, and inclusive workplace is a top priority. The new mantra for leaders, according to MIT Sloan, is "Create spaces where people feel safe, seen, supported, and inspired."
The pandemic and prevalence of remote work, however, exposed a problem: bad behavior in virtual channels. According to 2021's State of Workplace Harassment report, 38 percent of 800-plus full-time employees polled in the U.S. experienced harassment through e-mail, videoconferencing, chat apps, or phone. Likewise, 24 percent of U.S. employees surveyed believe harassment continues or worsens on remote channels.
What is the takeaway for HR and compliance leaders? It's time to step up their compliance and ethics training. With the "Great Return" and a shift to hybrid work, leaders must quickly evolve training methods to keep employees safe from harassment, bullying, discrimination, and unethical behaviors—both in the office and on virtual communication channels. This requires a modern approach to training that takes into consideration three key factors:
Context
Frequency
Analytics
Consequences of Ineffective Training
The culture that a company creates around words—around how it communicates—matters. And the consequences of ineffective communications training can be severe. We have only to look at Google, Tesla, and Activision Blizzard as examples of recent toxic workplace cultures that led to substantial fines and reputational damage.
In highly regulated industries, where there are legal requirements for training, the stakes and repercussions can be even higher. Consider the 2016 Wells Fargo scandal in which the company was fined $3 billion for falsely opening accounts in customers' names without permission. In 2021, Wells Fargo faced another scandal for fraudulently overcharging hundreds of commercial customers.
So where did these cultures go awry? One, leadership sets the tone. If leaders are unethical, there is a trickle-down effect. Two, employees aren't engaged with the training—they're not actually learning, and company policies and values aren't sticking. Three, even if employees witnessed harm or have been on the receiving end, transgressions often go unreported for fear of retaliation. This leaves HR and compliance in the dark and unaware that bad behavior is even happening.
Modernizing Your Compliance and Ethics Training
Here are a few ways leaders can evolve their training to meet the needs of a hybrid workforce while reinforcing fair, equitable, and inclusive communications at the right time, in the right context.
Context: While the goal of training is to influence or change behavior, only 1 in 10 employees who have participated in ethics and compliance training strongly agree they learned something that has changed how they do their work according to Gallup data. Concepts fall short because training is irrelevant to real-life work, uninspiring, and ultimately not memorable. People retain information better when they can make cognitive connections. Traditional communications courses, while valuable and even required, can be forgotten over time. Relevance is essential to helping employees connect policies to their daily work. Phishing training, in which a company creates a fake phishing e-mail and sends it to employees, is an example of real-life situational training that brings hypothetical teaching to life. Today, technological advancements in communications training can bring similar benefits.
Frequency: Too often training is done to check a box on an annual, quarterly, or onboarding basis—often in the form of video or in-person presentations. This comes with a problem though: Employees are engaged just long enough to pass the quiz at the end. A more effective way to learn is on a real-time and ongoing basis. Traditional training courses are isolated to designated and typically infrequent learning times. They don't bleed over into real-life applications. One of the best ways people learn is by doing, and today there is communications software that helps employees stay compliant while they type. But it doesn't stop there. Rather than just prevent the harmful language, the software explains what policy the language could be violating. Similar to a car's lane departure warning system, which alerts a driver when they're out of their lane, these "teachable moments" are consistently reinforced, helping concepts and good behavior stick over time.
Analytics: HR and compliance leaders are under increasing pressure to prove the efficacy of their programs. To enforce behavior, some companies turn to "big brother" monitoring communications software. While this type of software might be necessary for some industries, it can fall short because it's generally meant to catch bad behavior rather than prevent it. A more effective approach is a data-driven approach. Data and analytics can help compliance leaders proactively keep a pulse on the health of their employee communications. There is communications software available that will notify leaders when harmful words are being used, providing anonymous analytics around what words, how often, and which digital channels. Implementing technology like this helps compliance leaders take proactive action to provide specific training for policies that are most often violated and stop harmful communications before toxic culture takes root.
A "Lane Departure Warning System" for Compliance
The Great Return is an opportunity for compliance and HR leaders to reevaluate the effectiveness of their current training methods and optimize them for a hybrid, digitally connected workforce. How do your employees learn best? Are the concepts sticking—and can you prove it? When you take action, is it reactive or proactive?
No one is perfect. Everyone makes mistakes and uses the wrong words at times. Instead of being focused on catching violators, consider what tools can help your employees learn the right ways to communicate and comply with company policies. Like a lane departure warning system, the technology exists to alert compliance leaders when the health of their communications could be drifting out of line, and help them proactively steer their company culture on the right path.