As the New Year approaches, learning organizations are seizing on new initiatives and seeking to make progress in making learning the driver of business results. Here are four strategies/approaches that are critical to success, based on Brandon Hall Group's quantitative and qualitative research over the last year.
Digitization of Learning
It has been slow to materialize over the last few years, but organizational learning currently is undergoing a full-fledged digital transformation. Even though e-learning has been around for nearly 20 years, companies still have relied heavily on traditional learning modalities and materials to deliver learning to their workforces. However, digital transformation is not simply moving from printed materials and classrooms to electronically delivered content. It is more predominantly about being able to use technology to enhance, facilitate, measure, and analyze learning in ways never before possible.
It is well understood that most things people learn in their lives come not from books or classrooms, but from experience and collaboration. Until now, it has been difficult, if not impossible, for organizations to participate in that type of learning. As a result, they defaulted doing what they did best—creating traditional learning experiences. This meant leaners had to conform to the available technology.
Now, the technology available allows learning to conform to learners' needs. This digitization means that all aspects of learning can be facilitated and measured with technology. Learners are able to access learning wherever they want, whenever they want, thanks to the cloud and mobile devices. Learners are more connected to experts and one another than ever before, thanks to advances in collaboration software. Modern virtual classrooms connect people from across the globe so they feel almost as though they are in the same room. Even the classroom itself is undergoing a digital transformation, as organizations use technology to make the most out of the hands-on, face-to-face time learners have with instructors, facilitators, and others.
And all of this now can be tracked, measured and analyzed. All the learning experiences that happen spontaneously and without anyone's knowledge can be measured against behavior and performance improvement. Companies that already are well on their way in this transformation journey report a strengthened link between learning and both individual and organizational performance. In fact, high-performing organizations (those with increased year-of-year key performance indicators or KPIs such as revenue, market share, engagement, customer retention/satisfaction, and employee retention) are far more likely to deliver a blend of formal, informal, and experiential learning opportunities than their lower performing counterparts:

In the near future, companies will focus much more heavily on delivering informal and experiential learning. In fact, these are two of the most important learning initiatives companies are looking at to help them achieve their business goals: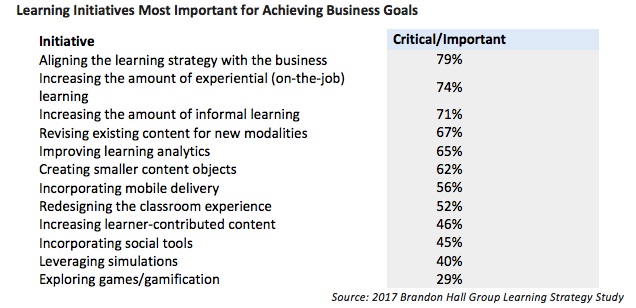 High-performing companies recognize this as an imperative shift, and as such are more likely to say they are focusing more in these areas in the future than lower-performing organizations.
The transformation will continue and perhaps never be complete. It most likely will be a continuing journey as technology and business needs continue to evolve. However, companies that already have started have a huge head start over those that may just get left behind.
Linking Learning to Performance
Organizations put huge amounts of time, money, and energy into delivering learning; yet real insight into the impact learning has on a company remains somewhat elusive. Most companies do a good job of tracking who has completed what training, but that isn't really telling the whole story, let alone helping determine the ROI of learning.
According to Brandon Hall Group's 2017 Learning Strategy Survey, only about 40 percent of companies say their learning strategy is aligned with business goals. That means for the other 60 percent, their learning starts out with no connection to performance.
However, for more than three-quarters of companies, aligning the learning strategy with the business is an important or critical priority for achieving business goals.

The problem is that fewer than 20 percent say they are ready to take action to make that a reality. If learning continues to operate in a vacuum, it cannot be expected to significantly impact performance.
The reality is that good measurement is difficult. It is why we see such a focus on completion rates and smile sheets. This data is easy to collect and understand, but it does not really tell us anything. There is no way to extrapolate any sort of impact from this data. It is also true that the Learning function traditionally doesn't have the skill set in-house to make sense of all the data available and necessary to measure impact.
Whatever the reasoning, a focus on transactional learning metrics makes it almost impossible to link it to performance. High-performing companies (those with a year-over-year increase in KPIs) are far more focused on outcome-based learning metrics than lower performers, allowing them to see the impact learning is having both on learners and the organization. HiPOs use these metrics by a two-to-one margin or more in almost every case.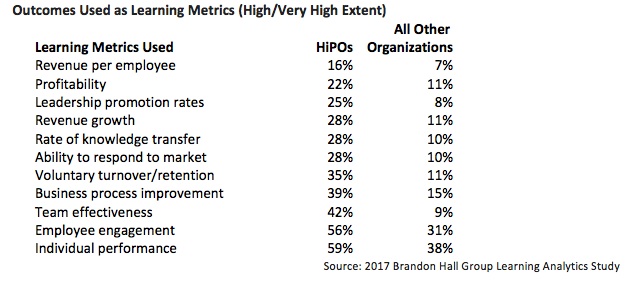 Organizations will continue to invest in more sophisticated reporting and analytics tools to help solve this problem. Additionally, organizations that cannot afford to have a data scientist in-house increasingly will turn to outside help. That outside help could be contracted analysts or tools that can provide analysis without the need for statistical expertise. The amount of data available will only increase over time, and the organizations with the ability to make sense of it all will flourish.
Extended Enterprise Learning
Companies increasingly are recognizing the value of delivering their learning assets outside the "four walls" of the organization to reach external learning audiences. These audiences can include employees who are not residing within the headquarters or specific location, as well as non-employees such as customers, channel partners, distributors, value-add resellers, and franchisees. Brandon Hall Group's 2017 Extended Enterprise Learning Study found that more than half of an organization's total learning audience comprises remote and distributed employees or non-employees. Organizations are delivering a wide range of topics: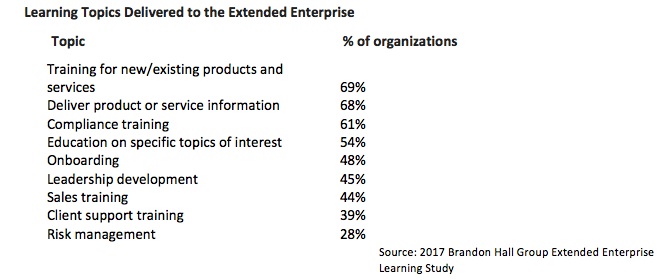 Companies that report having an effective or highly effective extended enterprise strategy tend to do things a bit differently than those with less than satisfactory results. For example, 43 percent of the non-effective group say they have no formal process to measure their efforts, while only 14 percent of the effective group say the same. Also, 48 percent of those with effective strategies spend at least 25 percent of their overall learning budget on the extended enterprise, while fewer than a quarter of everyone else spends that much.
Companies with effective strategies are also twice as likely to use social/collaborative platforms, video servers/channels, and branded Websites to reach their audience. These companies are far more likely to report that extended enterprise learning has helped their business across multiple metrics.
As organizations become increasingly global and workforces increasingly remote, the ability to deliver learning to a dispersed workforce becomes critical. At the same time, the growing gig economy and the prevalence of partnership models means companies will have to connect with a growing number of workers who may not actually be employees. The strategies for engaging these audiences are different from those employees located within the same office building. Technology will continue to enable companies to increase the scale and scope of their learning. The future also holds the promise of even more well-informed consumers, meaning organizations will need to have the tools to help be part of that knowledge. Those companies that cannot bring their knowledge and information straight to their customers will be at the mercy of other sources of information.
Next-Generation Technology
While many of the technology advances within learning are focused on enhancing the experience and connecting people, there are some technologies that stand out as complete game changers. Virtual reality, augmented reality, artificial intelligence, and others are opening doors to entirely new learning experiences.
While virtual reality could hardly be considered an emerging technology, advances in process speed, connectivity, and equipment have brought it further into the realm of practicality than it ever has been. Brandon Hall Group's research has found that interest and use is growing among "high-consequence" industries—those industries in which organizations face a high level of regulatory and compliance requirements.
Interest in using game-based technology and simulations has increased significantly among these companies, as more than 30 percent identify these tools as a top learning priority for the next 12 to 24 months. This is a 66 percent increase from 2016. VR can allow training to occur within a safe, virtual environment, preparing employees for real-world scenarios far better than any classroom could, and 40 percent of high-consequence companies say they are prepared to address or take action on it.
There is also an increase in the use of augmented reality, in which data and information is layered over a visual of the real world. For example, an employee can look at a piece of machinery through a phone's camera, and information about each of the parts, systems, and switches can be added over it.
Things get a bit trickier around artificial intelligence. People are still unsure what exactly constitutes AI, but in today's workforce, it is most commonly used as a recommendation engine. Much the way Amazon or Netflix takes information about users and their habits to determine other things they may like, companies are using applications that can analyze data to make recommendations about what learning experiences may be most beneficial. As the amount of data collected increases and more patterns can be analyzed, companies soon will be allowing systems to actually execute on decisions, rather than make suggestions. At that point, we will see true machine learning/artificial intelligence.
David Wentworth is principal Learning analyst at Brandon Hall Group, an independent research/analyst firm in the Human Capital Management market. The firm's vision is to inspire a better workplace experience, and its mission is to empower excellence in organizations around the world through its research and tools. Brandon Hall Group has five HCM practices, produces the Brandon Hall Group Excellence Awards and the annual HCM Excellence Conference, held Jan. 30-Feb. 2, 2018, in Palm Beach Gardens, FL.