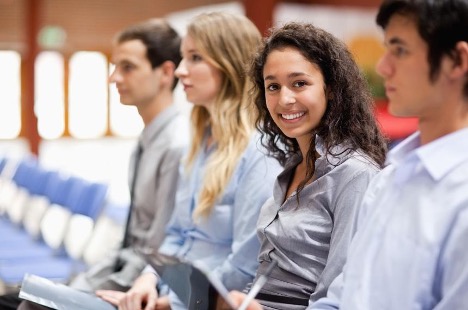 Learning & Development (L&D) is a critical part of any workplace, especially when it comes to the future of work. The world is advancing rapidly, causing business objectives, workplace skills, and job functions—and the people who fulfill them—to evolve swiftly.
Yet pay equity efforts haven't kept pace. Data shows that women continue to earn just 82 cents for every dollar men earn. The pay gap is even wider for women of color and in many occupations historically held by women. In a world of work where 60 percent of employees will be either women or an ethnic minority group by 2025, that's simply unsustainable.

A recent study from XpertHR suggests that training could play a significant role in correcting the course. When it comes to ensuring pay equity, 79 percent of survey respondents indicated development opportunities to prepare workers for higher-paying roles are adequate. However, just over one-third (37 percent) have actually implemented these programs.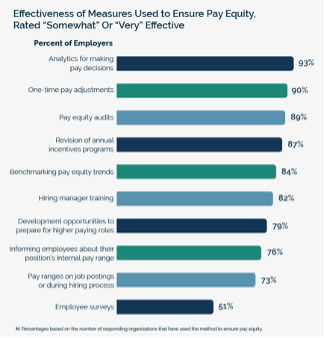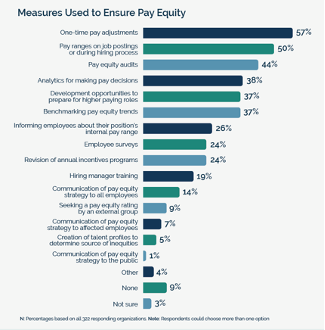 This indicates there's a real opportunity for L&D leaders to collaborate across departments—HR, business strategy, operations, and more—to advance pay equity initiatives at every step along the employee journey. But where do companies even begin?
Build a Cohesive, Collaborative Plan
There's no such thing as boiling the entire ocean at once; you have to start one tea kettle at a time. For most organizations, the most critical metaphorical "tea kettle" is the impact of DEI and equal pay on a business's bottom line.
That's why it's so crucial for L&D teams to collaborate with other departments to build cohesive, business-critical plans that tie pay equity to KPIs and metrics that matter to senior leadership. When building your plan, answer the following questions:
How much does employee turnover cost? We've all heard that it costs more to identify a new customer than to keep a current one. The same is true for the workforce: retaining talent is more efficient and effective for the business. In fact, some data suggest that replacing an individual employee can cost one-half to two times the employee's annual salary.
What skills exist within our workforce today? It's often true that workforce planning can be siloed. So, it's a good idea to work across teams and departments to better understand your employees' current skills, what is missing, what skills higher-paid groups have compared to lower-paid groups, etc. This will tell you how well your employees' current skills support your business today—and which groups could benefit from additional training.
What skills are needed to support our business of tomorrow? The World Economic Forum's (WEF) Future of Jobs Report (2020) offers a fascinating look at the roles that will emerge by 2025. That means your business will likely rely on a universal set of skills—like adaptability, communication, ideation, innovation, critical thinking, and emotional intelligence, to name a few—rather than specific set of skills required to do a job. As you and your colleagues look ahead, what are the roles and responsibilities you'll need to fill to meet your organization's changing needs?
Can my current workforce be retrained? Helping your existing workforce prepare for the jobs of the future is an important function of L&D. It's crucial, then, to consider how adjacent skills can be leveraged across roles and throughout the workplace to bridge the divide. 
Once you've answered these questions, you can layer your workforce data with pay data. A skills plus pay map will help you determine where disparities lie and identify what skills could close pay gaps and which employees, especially women and other minorities, are ripe for upskilling or retraining opportunities.
Upskill Current Employees
My team at Gapsquare, a DEI analytics company, ran an analysis on the 20 jobs the WEF identified as increasing and decreasing demand across 15 industries and 26 economies. Most of the jobs with decreasing demand—and lower overall earning potential—are fields currently dominated by women.
That's why upskilling is essential for closing the wage gap: employers and employees can reap the benefits. A data entry clerk already has the adjacent skills required for the better paying, higher-demand data analyst job. Why not retrain and retain her?!
Offer Leadership Training Programs
In 2021, the proportion of women in senior management roles globally grew to 31%, the highest recorded number. That's immense progress, and L&D departments can play a critical role in keeping the momentum going by offering mentorship and training programs.
If you do not already have a formal minority leadership development program in place, start small: hold leadership training to gauge popularity and interest, then begin exploring a mentorship program. Assign mentors within and outside of your organization and offer specific support for the mentor-mentee relationship. You can also consider leveraging existing curricula or relationships within your local Chamber of Commerce, business incubators, trade organizations, and other affinity groups.
Provide Hiring Manager Training
In the XpertHR survey, hiring manager training was an effective way to ensure pay equity by 82 percent of respondents. But just 19 percent of companies surveyed had implemented it. This, even though hiring managers either provide direct input (72 percent) or have complete discretion (10 percent) in determining pay during the hiring process.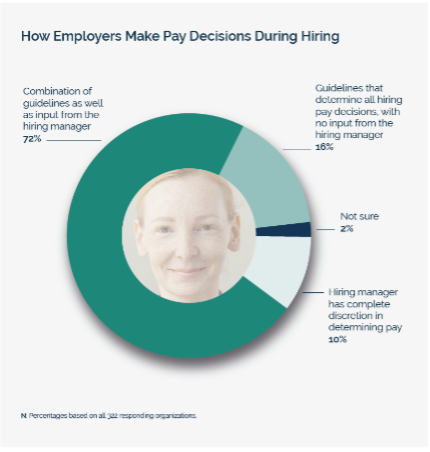 To avoid allowing pay disparity to become an issue before someone is hired, L&D and HR can offer hiring manager training that covers:
Unconscious bias: When combined with some of the other strategies listed here, unconscious bias training can have an impact on everything from how a job posting is prepared to how employees are treated around the water cooler and at every point in between.
Hiring team diversity: Compose and train a diverse recruiting team—whether in terms of its gender and racial makeup or life experiences generally—to expand the pool of applicants meriting serious consideration. Just be sure that all hiring team members receive DEI training, so they do not unwittingly act on stereotypes.
Interview best practices: Help hiring managers focus their interview questions not on specific skills needed to do a job now but on a candidate's ability to learn and apply skills to new work in the future.
It can be daunting for L&D departments to jump into the fray of pay equity, but its benefits can have long-standing effects on your company and employees. But by taking the lead in DEI, you and your employees will be ready for a future in which fair and inclusive work, where pay meets value and diverse talent thrives.