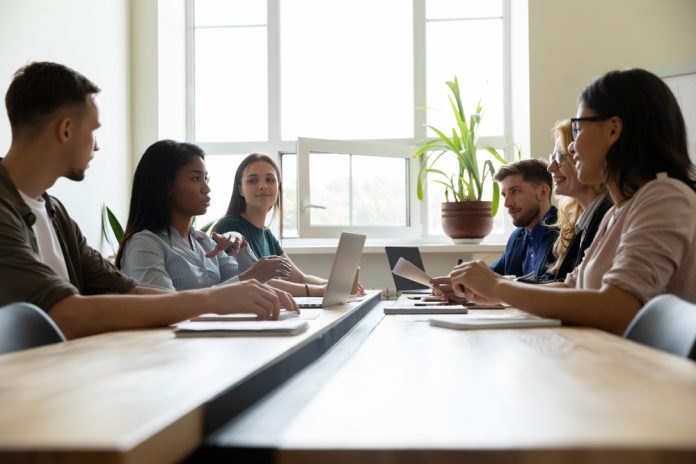 As with most organizations, we desire to hone a workplace that reflects our world. When we show up to the office–virtually or physically–we want to be representative and inclusive. We strive to build a workforce of talented individuals that is welcoming of unique traits, perspectives, and beliefs.
Talent leaders know that fostering a diverse workforce is no easy task. Equitable and inclusive practices must be hardcoded into the core of a company's business strategy. Study after study has concluded that businesses that weave diversity, equity, and inclusion best practices into their operations see the utmost organizational success, including increased employee satisfaction, above-average profitability, and overperformance on EBIT margins.
It's a no-brainer that when our workforce is reflective of all, we can accomplish the most together. As talent leaders continue to prioritize a diverse workforce, they look to establish an intentional talent acquisition strategy that prioritizes candidate experience. Here are five tips on how to build an equitable workforce:
Be intentional about the story you're sharing with candidates.
Just like you and I, candidates have many tools at their fingertips to learn about working at a company. In fact, 64 percent of candidates said they research a company online and 37 percent said they would move on to another job opening if they couldn't find information on the company.
Ensuring you prioritize your brand's story through your digital footprint requires a thoughtful strategy. Encourage your existing workforce to share their experiences on websites such as Glassdoor–work anniversaries are great times to engage employees. This will allow prospects to learn more about what it's like to work at your organization from an employee perspective. A positive employer sentiment may signal to prospective candidates that employees are accepted, appreciated, and celebrated.
Employee Resource Groups (ERGs) are also an opportunity to raise the voices of many, not just a few. Employee-led mentorship programs and other peer groups are great ways to invest in future leaders internally.
Be intentional about your job descriptions.
One of the first interactions a candidate will have with your company is your job description. It's integral that you ensure your job description is attractive to a wide group of qualified people as possible. There are excellent HR tech products available to eliminate bias in job posts, source messages, and employer branding content – Textio, which uses AI to help identify biased language in job descriptions, and Greenhouse, an applicant tracking system that enables structured hiring, a more fair and equitable way to hire based on skills, experience, and potential are two great resources. A poor job posting may alienate or turn off potential candidates without even knowing it. By optimizing job descriptions, we're aiming to reach a broader audience by using inclusive language.
Be intentional about your interview processes.
Establish a structured hiring process to ensure you are providing candidates with a fair and equitable experience. Before opening a role, conduct a thorough compensation analysis, identify a targeted candidate persona, and outline a diverse team of interviewers with specific questions. That way, you can evaluate candidates based on the skills and experiences they've acquired and the potential they possess.
Be intentional about inclusive sourcing.
One of my favorite work values is "Do Your Research." Dedicate time to sourcing talent from minority-serving institutions (MSIs) and historically black colleges and universities (HBCUs), while building important relationships with community groups that serve underrepresented candidates. Also, consider implementing a referral program at your organization – more often than not, your existing talent has a powerful network of diverse talent that is well suited to join your team.
A path forward
Creating a diverse and inclusive workforce is not just the right thing to do. It's the smart thing to do to succeed. It's not surprising that a six-year study from McKinsey & Company concluded that businesses that are more ethnically and culturally diverse are as much as 36 percent more profitable than the least diverse companies. We are way past the age of "casting a wider net" because today, we must take a look at revamping the entire way we fish.
Let's work to create a workforce that highlights the unique qualities of our diverse talent – it's what's best for our people and best for our organization.