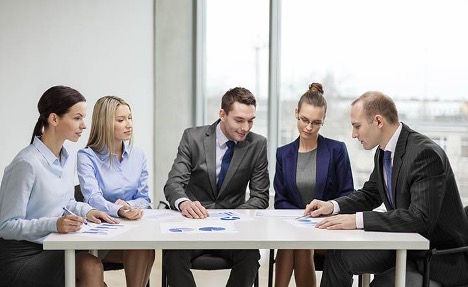 Your employees work best when you have a reliable communication ecosystem at your workplace. To make communication seamless between your team members, you can use the best communication tools.
Small to big companies growing today ensure their employees are actively engaged in the day-to-day activities and communicating with each other.
Read further to know the eight best tools you can use for internal communication in your organization.
8 Best Internal Communication Tools to Engage Employees
●      Digital Signage
Digital Signage internal communication is the best tool trending in the corporate world. Many companies found that digital signage is more effective in engaging employees. Companies display engaging content on digital signage like real-time UGC social walls, contests, birthday wishes, etc.
For example, displaying a UGC social wall captures employees' attention, engages them, and increases participation. You can collect the social media feed shared by your employees/customers/clients and then create beautiful social walls. To collect UGC and make a social wall, you need to use a social media aggregator tool like Taggbox, Juicer, etc. These social media aggregator tools can help you create engaging social barriers.
●      Emails
One of the most used communication tools in the workplace, emails remain the primary choice of communication tools. From small startups to large corporations, emails are used everywhere. Majorly, emails are used to connect with fellow employees or senior management-level people, and sending newsletters is another way to engage employees with emails.
The use of emails is widespread because it is available to everyone, easy to use, and has a professional feel to them. But the downside of using emails is that it doesn't assure instant communication or help the user know if the other person received the message.
●      Messaging Apps
Messaging apps are very engaging, and employees can easily share multimedia files on messaging apps. They have made communication fast and easy, especially for companies with large employees. One employee can quickly find the other employee from a different team or branch.
But if large groups are created, the messaging app can become ineffective. Because a group gets flooded with messages, leading employees ignore the news.
●      Blog
A blog is an excellent tool for internal communication if you use it wisely. So instead of sharing professional news and announcements on the blog, you can create engaging content. Like you can turn a company blog into a platform where people from the top-level or junior level can share something, be it a small written creative piece, any learning or experience. Invite your company's employees and CEO to share something for the blog.
●      Intranet
Companies can create a private network for communication to help their employees. Your team members can share their important files and documents on the intranet. Since the intranet network is private, the company information and communication chats are not shared on any other platform or with any third party. Employees can better engage on this private network without worrying about privacy.
Intranet can even connect your remote employees with your other team members. So you can involve your complete team in the company's communications.
●      Social Media
Social media is a great engagement tool, but most corporates don't use it for internal communication. However, you can use social media networking sites and create private groups to share different content.
Let it be your employees' hangout place. Keep the boredom away and share funny memes. You can also use social media platforms to share networking and collaboration project opportunities on your private social media groups.
●      Meetings
Face-to-face meetings and briefings are an effective way to engage your employees. Managers can follow up on tasks and share new briefs. The employees can ask their questions and share requirements for new tools or things in the workplace.
In-person meetings help employees directly engage with each other and add value to the work. If your employees work remotely, you can connect them online for the sessions.
●      Project Management Software
Nowadays, most small and big companies integrate online project management software into day-to-day activities. These tools are very effective for tracking the process and progress of tasks, creating accountability by assigning tasks, and checking the task history. Basecamp, Zoho, and Trello are some of the popular project management tools. Employees can even engage in the comments and share updates or concerns regarding any tasks.
Final Thoughts
Summing up here, the use of internal communication tools is essential for engaging the employees. A better communication channel will increase employees' productivity and avoid miscommunications. But some communication tools have their own set of drawbacks, so you should choose the communication tools wisely.