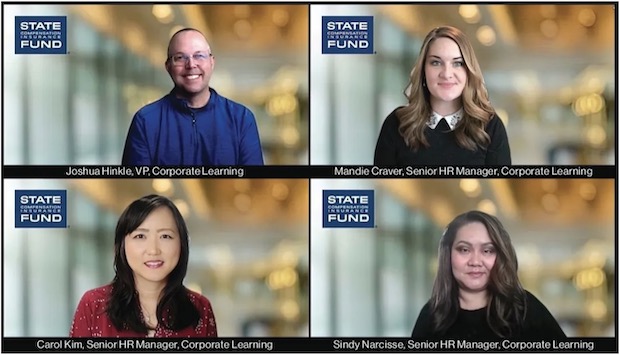 As California's leading provider of workers' compensation insurance, State Compensation Insurance Fund has played a vital role in the state's economy for more than 100 years. The backbone of the organization is its employees, who embody the key tenets of the not-for-profit agency's culture: Respect Everyone, Show We Care, Do What's Right, and Be Innovative. Training plays a crucial part in establishing and maintaining that culture within the organization, according to Senior HR Manager of Learning & Development Mandie Craver and Vice President of Corporate Learning joshua Hinkle.
"Our Corporate Learning team fosters a learning culture through strategic partnerships to ensure that every employee can achieve their highest potential in order to make State Fund the carrier and employer of choice," Craver and Hinkle say. "We work with employees and business units, helping to support our clients' employee and workforce development efforts. We also help employees learn more about themselves and the business to more easily manage their careers and changes that arise."
Set Up for Success
In particular, State Fund realizes the importance of setting new employees up for success from day one of their new careers. "New employees need to be able to learn how to complete the tasks assigned to them, gain confidence in their abilities, and understand how their role fits into the larger goals of the organization," Craver and Hinkle explain. "We use many different resources to help employees understand who we are as an organization, what we do, what we stand for, and how we operate."
The focus of the organization's improved, centralized New Employee Onboarding, and subsequent role-specific academies, is to instill in new employees the importance of the work State Fund does, and expose them first-hand to the many ways in which the organization's "North Star: Driven to Help Others and to Do the Right Thing" guides every decision that is made. "The investment State Fund makes in them from the first day of onboarding cements a new hire's decision to join the State Fund team, and has significantly contributed to our goal of recruiting and retaining talent to build the necessary bench strength and prepare State Fund for the future," say Craver and Hinkle.
Like many organizations today, the majority of State Fund's employees now work remotely most of the time. Given that new way of doing things, Craver and Hinkle note that New Employee Onboarding provides new hires with the opportunity to network and build strong connections with their peers, helping them feel connected to their work, to each other, and to the organization.
The improved onboarding program has already shown impressive results. Since the inception of this program, attrition has decreased drastically. Prior to the centralized onboarding program, an average of 19 percent of new employees left State Fund within 24 months (13 percent within 1 and 12 months and 6 percent in months 13 to 24). That was reduced by 82 percent, to a current attrition rate of 3.5 percent, surpassing the Learning team's goals for the program. Feedback from participants also shows the value of the program, as they report they feel welcomed, appreciate learning what State Fund stands for as an organization, and now know about the multitude of developmental opportunities available to them.
Telework Environment
With a small number of essential employees having remained in the office for the duration of the pandemic, State Fund initially took a conservative approach to reopening its office to limit the potential risk of exposure to COVID-19. After almost two years of its employees successfully working from home, State Fund made the commitment to offer a permanent telework program to its workforce. More than 90 percent of its workforce has elected to work from home more than 50 percent of the time.
"To help our employees continue to achieve success in a remote work environment, we've focused our efforts on developing leaders and helping them to confidently and comfortably lead and support their remote teams," Craver and Hinkle explain. To accomplish this, the Organization & Leadership Development team developed a Webinar for leaders, the "LeadAnywhere" series. Topics covered include Breaking Bias; Addressing Stress; Managing Performance; Building Resiliency; Safety in the Workplace (for leaders of essential workers); Fostering Trust, Respect, and Empathy in a Hybrid Workforce; Fostering Psychological Safety in Your Teams; and Promoting a Culture of Gratitude. "These sessions promote communication and connectedness, and provide all leaders with tools and resources to help them better develop their teams from afar," say Craver and Hinkle.
Customer Support Training
State Fund's customers are gravitating toward more easily accessible online tools, do-it-yourself platforms, and artificial intelligence/chatbot support available 24/7. To remain competitive in the marketplace, and achieve the organization's goal of becoming the carrier of choice, State Fund developed several new customer-facing tools and platforms, such as its BindNow program, which allows a broker to obtain a quote and bind a policy for their customer in a few short online steps. The organization also introduced chatbots and more digital automation to its available tools and resources. As a result, many of its employees have begun taking on new roles and responsibilities. This is where the Corporate Learning team comes in.
"In addition to upskilling and reskilling those employees," Craver and Hinkle point out, "we've also equipped our customer-facing employees with training and resources to allow them to provide better support for their customers, including troubleshooting our digital platforms and online applications, and walking a customer through how to submit their documents via our new portal."
Career Mobility
Many employees in State Fund's lower-paid classifications have been unsuccessful in their attempts to be promoted into professional classifications. Surveys and focus groups highlighted several areas that kept these employees from being promoted, including math and writing skills, resume writing, interviewing skills, and Emotional Intelligence. While State Fund has had an à-la-carte-style Upward Mobility program for a while, the organization wanted to provide interested employees with a more comprehensive training program to give them the knowledge and skills necessary to move up in their careers. In response, its first-ever Emerging Professional Program (EPP) launched in September 2021.
This 12-month, cohort-style training program features instructor-led classes in key areas, including a Career Advancement workshop with practice in interviewing skills and guided resume writing, "StrengthsFinders," innovation, business writing, and math. Participants also receive individualized training in areas identified as growth opportunities by themselves and their managers. Students have mentors and job shadow to learn about different departments where they may want to work, and complete a capstone project to address a challenge within the organization.
"To ensure tailored learning plans for our participants, we implemented a competency assessment to help individuals identify skill gaps in various areas," Craver and Hinkle explain. "We asked the participant and their manager to complete the assessment, after which an Individual Development Plan populated with recommended training was created automatically in our learning management system (LMS)."
Some 63 percent of the first cohort of participants earned promotions while in the program. "This demonstrates the effectiveness of the program, as one of the goals is to help prepare participants for lateral and promotional opportunities," Craver and Hinkle say. "Beyond promotions, EPP measures Kirkpatrick Levels 1-4 to determine the impact of the training on participants."
The survey results from the training, which measures Kirkpatrick Level 1, have maintained an average of 92 percent overall satisfaction scores. In measuring Kirkpatrick Level 2, participants have maintained an improvement in knowledge of 14 percent or better, comparing pre- and post-training knowledge. To measure Kirkpatrick Levels 3 and 4, the program utilizes focus groups and manager surveys that have led to the following results:
Application: 88 percent
Behavior Change: 87 percent
Performance: 80 percent
Employee Engagement
In 2023 and beyond, Craver and Hinkle say State Fund will focus on helping employees connect with, and be inspired by, the work they do. "This will be a challenging initiative for our Training teams in 2023. The aim is to influence and persuade, rather than instruct and inform," they note. "We will be required to formulate innovative ways to help our employees and leaders connect emotionally with the critical work they do, and help them see the impact they have every day. This will require a shift in the way we approach training. We will have to build our storytelling muscles, and look through different lenses at how to build a message that will resonate across the organization."
One way the agency plans to accomplish this is by rolling out its first-ever Employee Learning Week, aimed at fostering a positive learning culture throughout the organization. "Through this initiative, we will kick off 2023 with encouragement and allowance for employees to take time for personal development and learn something that interests them," Craver and Hinkle say. "Our goal is to inspire employees to invest in themselves."