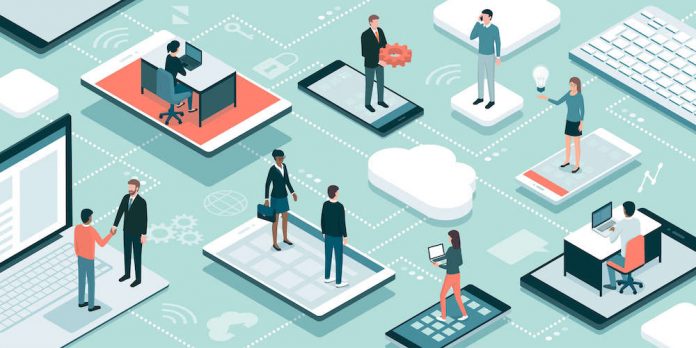 Working remotely has become a top perk for employees since 2020 validated its legitimacy. Today, more than 26 percent of U.S. employees work outside the office, and that number is expected to skyrocket in the coming years. While we have seen a few highly publicized return-to-office mandates, most organizations are wading their way through a vague gray area. They are trying to capture the flexibility and recruiting power that comes from a remote workforce while also preserving the connection, culture, and commitment of employees who work together daily.
It's a bit of a puzzle to determine how to keep employees engaged and committed in a world where they no longer interact with (or, in some cases, haven't even met) their bosses, colleagues, and peers. Employees' desires and motivators have changed rapidly, but what we do know is that people appreciate working in a place where they feel comfortable being themselves, can participate in conversations openly, and are valued for their contributions—virtually or in-person. It sounds simple to implement, but to be effective, it takes commitment from all levels of the organization, and new technology may help.
Invading Personal Space
While video meetings have become the de facto solution to keep everyone connected, they also may present issues with how we want to portray ourselves at work. For instance, not every employee has a dedicated, Zoom-appropriate meeting space, which means inviting executives and clients alike into our personal homes at a moment's notice. The background setting might convey a different perception than how we'd want to be seen by our coworkers and bosses. How might our environment affect how they view us as employees? It's nice to think that it doesn't matter, but it can easily highlight the economic disparities between teammates and may lead to stereotyping.
For some employees, their physical appearance may not match their self-identified gender, which can create confusion on a grid of video faces and may lead to our diverse colleagues feeling disadvantaged. Creating an environment of inclusion goes beyond just the block-and-tackle HR tactics and should encompass how employees are required to show up both virtually and in person.
As businesses attempt to come up with an inclusive solution, new technology is jumping in to solve the problem. We're seeing heavy hitters such as Meta and Microsoft try their hand at bridging that gap between remote workplace and in-person connection. Virtual workplaces, metaverse offices, and Oculus headsets promise a future where we can work together from home as if we were all in the same space. While VR/AR technology is promising, it's still unclear how employees will adapt and adjust to wearing heavy goggles throughout the workday or how feasible it is to provide that type of expensive hardware to everyone in the company. More than 20 percent of users also reported nausea from the immersion—another challenge the technology needs to overcome. At the very least, most will agree this type of fully immersive workplace is not ready for prime-time rollout…yet.
Middle-Ground Solution
In the meantime, what can organizations do to try to generate a stronger work culture while providing an inclusive environment for employees? The answer likely lies somewhere in between forced Zoom conversations, static Slack groups, and fully immersive 360-degree virtual reality. Taking the next step toward the workplace of the future may mean engaging with technology that integrates the core components of all three: allowing those who wish to be on video to do so, enabling customizable avatars for those who do not, and providing text integration for the times in between.
Culture can be generated with digital workplaces that allow you to see interactions in real time without the heavy burden of required virtual reality integrations. By finding better ways for employees to connect remotely while being mindful of inclusivity blockers, we can take a positive step toward retaining employees, increasing diversity, and strengthening company culture.