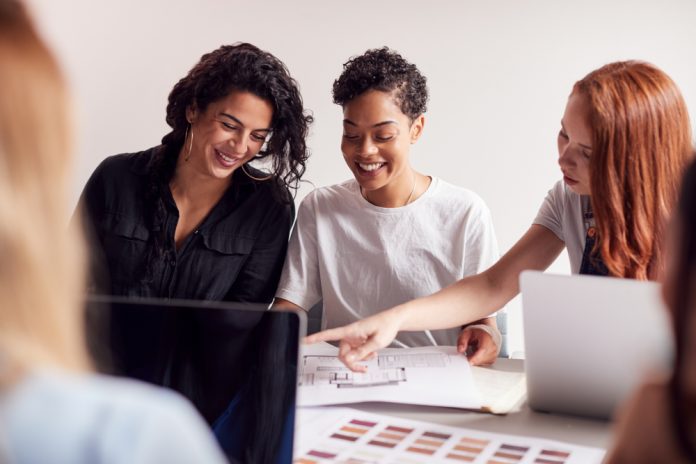 Whether you're a solopreneur, part of a team of in-house learning and development (L&D) professionals, one of the most important things you can do is build an active community around your training organization's brand. This is especially important as businesses and other organizations both large and small become more decentralized. For trainers and teams, building a community around your brand will help grow your following and open up new opportunities. For in-house professionals, this is what keeps your department relevant and sets your L&D initiatives up for success.
Keeping learners engaged requires that they embrace both a mindset — and a culture — of personal growth and collaboration. Without the right mindset and an active community, there can be no culture. And without investing in a culture where people can naturally align around commonly-shared values in a secure and modern way, there will be no brand. Uniting hearts and minds is key to success. But how do L&D professionals go about doing this?
Training course programming is key
 Some trainers are so charismatic that people are naturally drawn to them. For the other 99.9% of us, it takes work. And central to this work is creating training course programming that captivates corporate learners and keeps them coming back for more.
Now, this doesn't mean you have to pay high production costs for videos and training materials, but it does mean you'll need to give some time and thoughtful attention to your online course development, training format, and the tools you use. Streamlined, intuitive tools that provide a great customer experience are essential. But it hasn't always been that way…
Way back when L&D efforts consisted of consultants or HR managers putting an overplayed VHS tape on auto-repeat in the break room during lunch. Filled with smoke and laughter (yes, smoking was once allowed in offices!), the only thing employees really learned was that it pays well to watch movies at lunch — because it meant a break and a little social time for them. But, was any real learning happening? Or was it more a shared camaraderie around how absurd or useless the video was to the team?
I'll leave that for you to decide, but my point is that it's not just your content that's important — it's your entire training program and the client experience. Luckily, today's unified online training platforms help solopreneurs, teams, and enterprises have a greater impact, enabling L&D professionals to reach more people in more places with way less friction than ever before. What this means for you is you can scale your training business or in-house L&D operations more quickly and more cost-effectively. And you don't have to worry about getting caught up in connecting the myriad of tools out there in an effort to hack together your learner's experience, which usually leaves them feeling confused and frustrated in the process.
Unified online training platforms provide flexibility and scale
Forget about ancient Learning Management Systems that fail, or expensive prerecorded, over-produced (and cheesy) videos, print materials, and training books. Unified online training platforms enable trainers to deliver live group sessions, host one-on-one deep-dives, archive previous training for evergreen use, manage programs, build community, and market courses all from a single, unified place.
All-in-one solutions like these remove production costs because you are literally creating a library of content as you go. The only production work is planning your curriculum ahead of time so that things flow naturally and in a way that meets your training objectives.
Most pre-produced techniques require participants to go through hours of pre-recorded videos. And did you realize the old way of doing things takes around 200 hours and about $15,000, on average, to complete? By contrast, live course creation takes less than a week and can be done with little to zero production cost! Live systems also remove production headaches and enable consultants and companies to host any type of program, including classes, boot camps, group coaching, etc.
Live online training platforms even include everything needed for compliance training, skill-specific training, mentoring, coaching, and more. Programs that operate in cohorts, where a group of learners goes through a training curriculum together, make these systems great for decentralized workforces as well. Embedded surveying, journaling, and progress tracking via personalized reminders that are delivered via text message help keep remote staff engaged and accountable.
These platforms are super flexible too, unlike videos and print training programs. For example, you can edit on the fly, easily remove outdated content and add fresh programming with so much more ease.
Creating a network for brand success
The L&D industry is constantly evolving, with new programs and fresh training ideas emerging every day. Just look at all the new training books coming out each month; our learning really never ends! But that's also why it can be difficult to keep up— not just in terms of learning the latest training techniques, but also in trying to get your name or ideas out in the market. Fortunately, with some of the new tools on the market, there are more ways you can build your brand as a consultant, training department, or network of professionals.
For instance, online training platforms with CRM features or flexible integrations like community boards and events modules enable L&D professionals to keep a constant drumbeat of outreach and information going to employees, prospects, and partners. Part of building your brand as a trainer or L&D department includes keeping your network engaged with updates, incentives, continued learning opportunities, and more. All-in-one online learning platforms can even help you expand your network as well. Think of Shopify, but for L&D professionals.
Another benefit of building a training community through online platforms is that it's easier to network and build talent within the resource pool you already have. When trainers are isolated within their business units or practices, they don't get the benefit of cross-collaboration with other trainers. And we know scheduling times for like-minded trainers to meet in person, especially in today's environment, is difficult at best.
The heart of the matter: aligning mindsets, values, and culture to build an active community
Unified online training platforms help reduce isolation and give trainers a chance to share experiences, collaborate on projects and offer more value to the people they train. This is the true meaning of networking. And platforms that have collaborative team workflows are built for mutual success. Instead of waiting for the right partner to move to your area, now all you have to do is build a program together online. When you develop training networks like these, mentoring relationships grow organically as trainers learn from each other, share templates and work together to foster growth by attracting others to join.
Building an active community around your training organization's brand was once a time-consuming, expensive proposition. But now you can do this difficult work more easily and efficiently with unified online training platforms. This enables you to focus on the work you really care about: creating a learning environment that connects you with more people who share a common mindset and values. And within this community, you can build a stronger culture together — as well as benefit from increased retention.