Building Successful Internship and Mentorship Programs
A look at how the USC Rossier School of Education carved out a step-by-step plan to lay the foundation for learning and development internships and mentorships.
Posted: November 17, 2020
Transitioning from a technical, manufacturing, school teaching, or supervisory job to one that requires expertise in learning management systems (LMSs) or online learning can be challenging. An engineer at a large software company overseeing a STEM (science, technology, engineering, mathematics) outreach program in collaboration with his company may need a palette of skills in instructional design and development to create a training program for school teachers. Or a lecturer in the accounting school of a university conversant with traditional PowerPoint lectures may need the knowledge and practical experience to understand the psychology of how to motivate learners and use scaffolding as a technique to increase student engagement.
The online masters' learning design and technology program at the USC Rossier School of Education successfully graduated its sixth cohort recently, offering a comprehensive curriculum that transformed novices in talent development to individuals grounded in the theory and practice of learning design and development principles. But what was missing were opportunities for students to use internships as a stepping stone to future jobs, or mentors to guide them during their career search process. In partnership with Program Chair Dr. Helena Seli, the Learning Design and Technology Advisory Board carved out a step-by-step plan to lay the foundation for these programs.
The Plan
We first surveyed students interested in internships with the help of Career Services, tapped into all our contacts to develop a comprehensive list of organizations that could offer internships, and created a road map for students to follow. This process started in summer and took almost six months to complete. A few sample requirements for internship applicants from our Internship Guide include:
Legal
Required: U.S. citizen or permanent resident
Leadership
Preferred: Demonstrated leadership in college or the community
Professional
And here are a few tips students are encouraged to follow when applying for internships:
Research the company you are applying to for an internship—does it match your professional interests, can you meet the job requirements, or can you get to the location if needed?

Can you establish a connection with the recruiting or hiring manager through a professional organization such as an Association for Talent Development chapter in your area?

Have you developed an online portfolio you can show to the prospective employer?

Can you list five reasons why you are the best candidate for the job? Have you reviewed the top 25 questions asked by employers during interviews? (https://www.inc.com/jeff-haden/27-most-common-job-interview-questions-and-answers.html)
The Building Blocks
The building blocks for the Mentor Program followed a similar process. A small committee consisting of four members of the advisory board set out to develop a well-structured Mentoring Guide that outlined the mission, worksheets for developing a mentor and mentee profile, action plans for each of the four stages of mentoring (preparation, negotiation, enabling and closing), as well as a SMART (specific, measurable, achievable, realistic, time-bound) strategy for identifying goals for both mentor and mentee through introspection and gap analysis.
The chart below shows sample strategies and considerations that help guide a mentor and mentee during the Negotiation phase of our mentor program: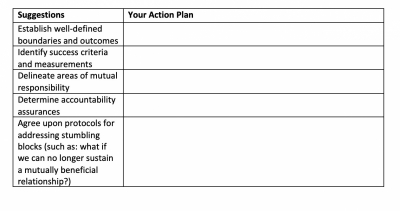 Sample questions that we recommend to monitor progress during the Enabling phase of the mentoring process include: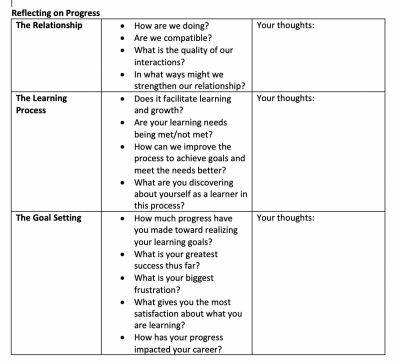 To keep the mentoring process focused on results, we kept the mentoring guide brief, succinct, and to the point (less than 10 pages). Once the mentoring guide was ready, our next step was to develop a survey for both mentors and mentees to gather information on mentor qualifications and mentee needs. Mentors and mentees then were matched (a one-to-one mentor-mentee matchup is ideal, but if there is a large group of mentees and an insufficient number of mentors, then a two-to-one mentee-to-mentor matchup can be considered).
The Execution
The internship program is an ongoing program that is overseen by our student academic advisor. Typically, students are ready to explore internships in the second year of the program after they have completed courses in instructional design, media selection, and evaluation and assessment, as well as a course in diversity, power, equity, and inclusion. Students meet with their academic advisor to discuss internship opportunities and work with their Career Services advisor to find internships that match their interests after they have completed the steps outlined earlier in Plan.
The mentoring program follows a similar pattern and also kicks off in the second year after students have completed all the steps described earlier. A fun way to kick off a mentoring program is to hold a Mentor-Mentee Mixer, where everyone can meet each other and understand the boundaries and parameters of the program
The Results
The internship program we launched a year ago has successfully placed students in the oil and gas and hospitality industries and higher education, and the benefits have been mutual between interns and employers. As Victoria Stage, former L&D manager at Chevron said, "Getting a high-caliber intern who has a thorough understanding of the instructional design process helps to get them immersed in projects right away. And we benefit by getting our projects completed, so it is a win-win for everyone."
The mentoring program that just took off matched nine mentees with mentors from the learning and development, federal government, and retail and other industries. Gary Rauchfuss, Curriculum Development manager at the U.S. Department of Homeland Security, and Janie Honeycutt, Business Transition manager at American Honda, who both have been involved with the mentoring program, say that while results from this partnership have yet to be realized, initial projections are that the program should yield long-lasting intrinsic results for both mentor and mentee.
Checklist for Building an Intern or Mentor Program
Internship Program
Have you designed a survey to gauge student interest in internships?

Have you developed a set of guidelines or guide for the internship program?

Do you have a staff liaison dedicated to the program?

Have you created a list of organizations to contact for potential internships?

Have you created an invitation or letter to send out to potential contacts?

Do students have up to date resumes and LinkedIn profiles?
Mentor Program
Have you created an invitation or letter to gauge mentor interest

from professional networks?

Have you designed a survey to gather professional and work experience

from potential mentors?

Have you designed a survey to gather information about student interest?

Have you scheduled a mentor/mentee kickoff meeting?

Do mentors and mentees understand the parameters and boundaries

of the mentor program?
Kavita Gupta is founding chair of the Learning Design and Technology Advisory Board at the USC Rossier School of Education, an author, and president of the Los Angeles Chapter of the Association for Talent Development. She is a former consultant, corporate trainer and adjunct faculty member with more than 10 years of experience in employee development for public and private sector companies such as Citicorp and IBM. As an adjunct instructor at the University of New Hampshire and Maine, she conducted workshops for professionals and mid-level managers on needs assessment, how to design training programs and the effective use of print. For the last 15 years, she has led numerous large- and small-scale trainings, publicity and communications initiatives for USC, Children's Hospital of Wisconsin, the American Cancer Society Midwest Division, private and public schools, and helped raise more than $500,000 in four states. Gupta is the original author of the best-selling book, "A Practical Guide to Needs Assessment" (Wiley/ASTD, 2007) and has presented at ATD Global conferences. She graduated Magna Cum Laude with an MS in Instructional Systems Technology from Indiana University and holds an MA in Sociology from Rajasthan University in India.