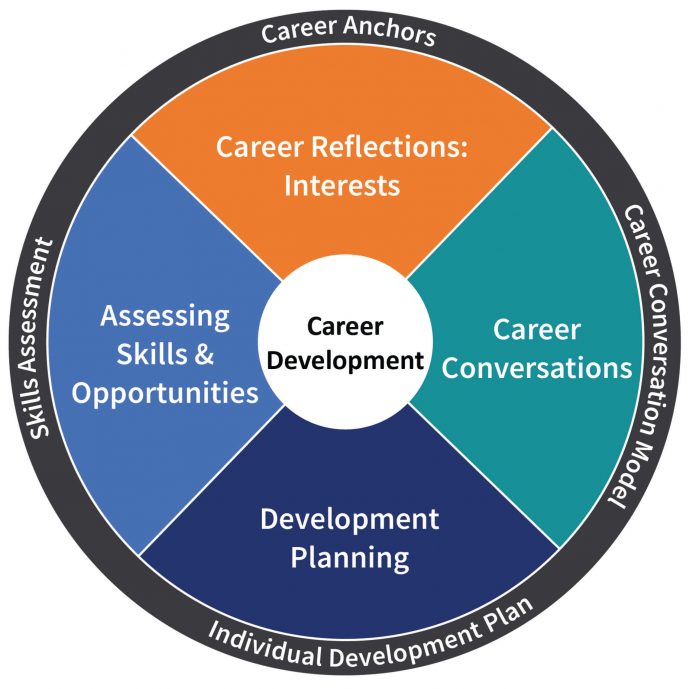 As in many organizations, employees at Pacific Western Bank expressed interest in learning ways to develop their careers. This arose during our annual employee engagement survey. But where do you start to address the various career development needs of employees across all levels within the organization?
Feedback from employees focused on their desire to learn how to manage their careers more proactively. While the career survey questions rated on par with the rest of the financial services sector, according to our survey vendor, we wanted to help employees understand how they can take charge of their careers within the organization. The Talent Development team started with a simple framework, tools, and online workshops to help both managers and employees learn how to facilitate these important engagement-boosting conversations.
Our framework promotes the intersection of an individual's skills and interests, and how those align with and can positively impact the organization's goals. We created a set of tools and workshops that introduced a career development philosophy for Pacific Western Bank. As a result, we prepared and delivered a series of four virtual, instructor-led workshops to help managers and employees begin the career development process. The course workshops are:
Career Reflections: Interests
Assessing Skills and Opportunities
Development Planning
Career Conversations for Managers
Here's a description of each topic.
Career Reflections: Interests
In this workshop, we introduce all employees to the bank's Career Development framework components, and the benefits of following the process and using the related tools. We also define the role of the employee and the manager in the career development process.
Next, we introduce a Career Anchors Assessment based on the work of Edgar Schein that helps employees identify their unique combination of motives, values, and interests. Through self-reflection and group discussions during the Webinar, we help learners consider their interests and drivers in identifying career opportunities that will bring them satisfaction. During the workshop, learners reflect on how their career anchors align with their career choices, strengths, and values. This process prepares them for the next step of assessing their skills.
Assessing Skills and Opportunities
All employees are invited to attend a workshop on assessing their skill strengths and opportunities for development. This helps to provide a baseline for a manager/employee discussion about the employee's growth in their current role or preparation for a desired future role. Employees complete a Skill Assessment during the workshop in which they rate themselves on each skill within the bank's six competency areas. As a final step to the assessment, employees identify their top three strengths, top three opportunity areas, and ideas for developing skills for career advancement.
After debriefing their assessment reflections, we help employees identify development actions that go beyond the typical "attend a workshop" learning solutions. This is where we introduced the common 70:20:10 development framework. The employees work in small groups to identify ways they can develop one of the skills they'd like to work on. Some examples for developing are: shadowing someone who performs new account openings well, or practice presenting a new service to a client and receiving feedback from a manager.
Development Planning
In this workshop, we introduce the concept of an Individual Development Plan (IDP) and how to create one using insights gained from the Career Anchors Assessment and Skills Assessment. Learners reflect on what they've learned through their career development journey, then start completing the IDP. They prepare a SMART (specific, measurable, achievable, relevant, and timely) goal for one skill they've identified; list specific actions they will take to develop the skill; identify resources needed to develop; define what success looks like; and commit to a timeframe for achieving the goal. As a result of small-group discussions during the workshop, learners can refine and update their IDP for the given development goal. The employees are advised to share their completed IDP with their managers during a regular meeting and to schedule time to check in on progress quarterly.
Career Conversations for Managers
In this manager-only workshop, we focus on helping managers support their employees in the career development process. After reviewing the roles of the employees and managers, the managers identify the benefits of a good career fit and brainstorm a list of questions they can ask their direct reports to uncover their career interests.
Managers have the opportunity to complete their own Career Anchors assessment to get a greater understanding of how their values and interests drive their career choices. This is a real insight for many managers and helps to reinforce the importance of being aware that their employees' anchors may be different than their own. We examine a sample job description, as we did in the Assessing Skills and Opportunities workshop for employees, and identify key skills required for that job, as well as ways an employee can develop those skills. Managers then work in small groups, brainstorming activities and experiences that will help an employee develop a given skill.
Finally, we provide a Development Discussion Planning Worksheet to help managers create a plan for this important conversation with employees.
Employee Feedback
This four-part training series provides a logical, informed framework to move from one step to the next in the career development process. Here's the feedback we have received from our employees:
"This year has been a drastic change—now there are tools [to help me to grow and develop], including LinkedIn Learning and other resources being integrated. This is the year of staff development."
"Helped me think about where I see myself in the long and short term, and where to work on skills to work toward those careers…"
"The Career Reflections workshop 'brought to light' exactly who I am."
Next, we are building on our momentum by finalizing a career path and specific development initiatives for our 500-plus employees who work in the bank's branch offices. While the regional banking sector went through a challenging second quarter, we are proud to have helped our employees to learn how to grow their careers within the banking industry.