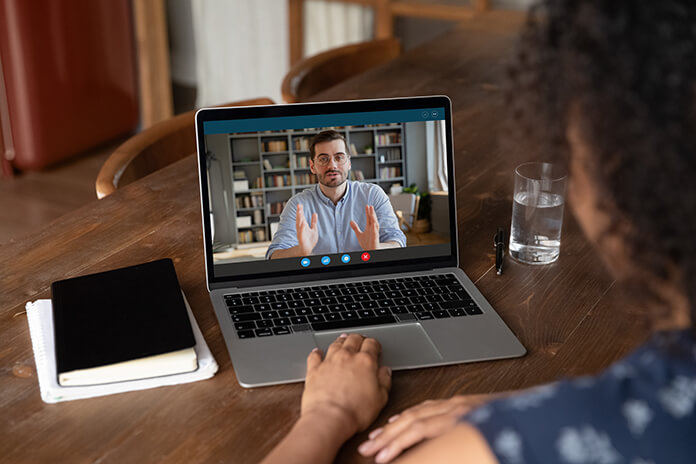 During the COVID-19 pandemic, more than 60 percent of U.S. employees worked from home. While there are definite advantages to working remotely, spending the year so far away from colleagues and friends—especially during a time marked by such grief and uncertainty—has had a significant impact on employee morale and mental health.
According to the CDC, approximately 40 percent of U.S. adults are showing increases in mental health issues related to the pandemic. Two-thirds of HR managers now say maintaining employee morale has been a challenge. More than a year into the pandemic, workers are desperate to stay connected to each other and to the world around them.
Companies are searching for ways to keep employees happy and committed to their work. At the same time, they are exploring ways to give back to their communities, and to address some of the social challenges and inequities highlighted during the past year. Deloitte is no different, but we are fortunate to have had a program in place for years that is now helping us accomplish these goals.
The Solution
Since 2016, we have collaborated with Strive for College, a nonprofit that trains employees to be volunteer mentors. The program pairs newly minted mentors with first-generation students as they navigate the college application process. Research shows just how important mentoring services can be for students, with a Strada-Gallup poll finding that having "a mentor who encourages a student's goals and dreams" ranks among the most important factors in determining whether a college graduate finds success in life and in work, but few students report having a mentor.
The benefits of volunteering on a regular basis are also well documented. Volunteering has been linked to increasing self-confidence and self-worth while reducing depression, stress, anxiety, and even high blood pressure. Adults who volunteer as tutors or mentors have been shown to experience delays in the decline of their cognitive functions. A 2017 Deloitte Volunteerism Survey, which specifically surveyed 1,000 U.S. adults age 18+ who volunteered in the previous 12 months, found that employees appreciate when companies incorporate volunteerism and community involvement into the workday. Approximately 70 percent of employees surveyed said they feel volunteer opportunities boost morale more than company-sponsored social hours, and 77 percent said they believe volunteerism is essential to employee well-being. Nearly 90 percent of the survey's respondents said company-sponsored volunteer activities create a better working environment.
Approximately 70 percent of employees said they were not volunteering as much as they would like to. Those numbers likely increased during the pandemic. Two-thirds of volunteers have stopped or decreased their volunteer activities during the pandemic. With an increase in virtual activities over the last year-and-a-half, it's not difficult to imagine why.
That's where virtual volunteering comes in.
Volunteering Goes Virtual
Strive for College's virtual mentoring platform, UStrive, has connected Deloitte mentors to 8,000 students across all 50 states. Mentors and mentees communicate via e-mail, text messaging, and video using a monitored platform. Importantly, the platform records all communications between mentors and mentees to monitor everyone's safety. Strive also offers training to mentors to ensure they are knowledgeable about the current college application process, as well as applying for financial aid and scholarships. This too is all virtual. The program was already convenient and efficient before COVID-19. During the pandemic, it has easily helped keep mentors and students connected.
The program also reflects Deloitte's commitment to helping improve equitable access to education. Approximately 85 percent of the students who engage with Strive for College are people of color, with 55 percent identifying as Black or Latino. This focus on racial diversity is crucial; Black students are less likely to have access to college-ready courses, making mentoring programs all the more important.
Our professionals across Deloitte look forward to using their experiences to help others.  "College was one of the most formative experiences in my life," notes Caroline Weatherford, a consultant at Deloitte Consulting LLP, based in Colorado. "More than just lectures, the people I met—professors, mentors, friends—made a deep impact on me and continue to be a part of my life today. I want this opportunity to be available to as many as possible. Strive for College allowed me to help students get one step closer to this experience."
Of course, it's not just the students who are benefiting from the mentoring program. Employees learn and grow just much as the students they are serving. One of our professionals—Rachel Fowler, senior consultant, Deloitte Consulting LLP—shared how gratifying serving as a mentor is for her. "As a mentor, I've learned that the biggest reward is learning about each student's incredible journey, achievements, and aspirations. Their determination and passion in pursuit of higher education leaves me renewed and inspired for a better future."
Within four months of launching as an employee engagement initiative at Deloitte, Strive for College had become our largest year-round volunteer activity. Strive has seen an increase in the number of employees volunteering year-over-year with Deloitte and other corporate relationships. And volunteerism has increased during the pandemic: The number of volunteers registering as Strive mentors from May 2020 through April 2021 was double that of the same time period the previous year.
Mentoring is embedded into all that we do at Deloitte. It's a part of our culture, from the way we help our people develop professionally to the way we engage with the community. Virtual volunteering extends the reach of our mentor-mentee networks, offering our people a way to put their talents and skills to good use outside of the organization and in the community. When the COVID-19 pandemic hit, virtual volunteerism became a way to help boost morale and provide professionals with a sense of purpose and connection when the rest of the world seemed so far away. It's helping to bring people together, fostering feelings of empathy and gratitude when they might otherwise be in short supply. That's the magic of virtual volunteering.